Club news

It's the February 100 Club Draw tonight! 18:00 in the Clubhouse. Be there!

The 2019 Southbroom International Shoot Out

The 2019 Southbroom International Shoot Out was well supported and enjoyed a larger entry this year! Thanks Again to  Colin McKay (083 279 5939) and his company Applied Outsourcing for his wonderful  ongoing Sponsorship of the International Shoot Out.

The 2 day format was more relaxed and the Saturday Valentines Dinner dance that involved all the players was a very enjoyable evening! Congratulations to the winners, the Best Friends Team of Andy & Eli with Seline & Uli, all Swiss Southbroomers members, who played fine golf and counted out the Bloody Foreigners into 2nd place Roger & Heather, Hannah & Emil, a great Scots/Austrian combo of Southbroomers!

Saturday Night saw the Southbroom Legends Band of Mel, Richard, Deon & Des encouraging a couple of guest acts to entertain the audience. Chris Ledden crooned away, together with Malcolm Greenslips. Great to see Dix Vorster singing here again and introducing them all was the legendary  Johnny Cash.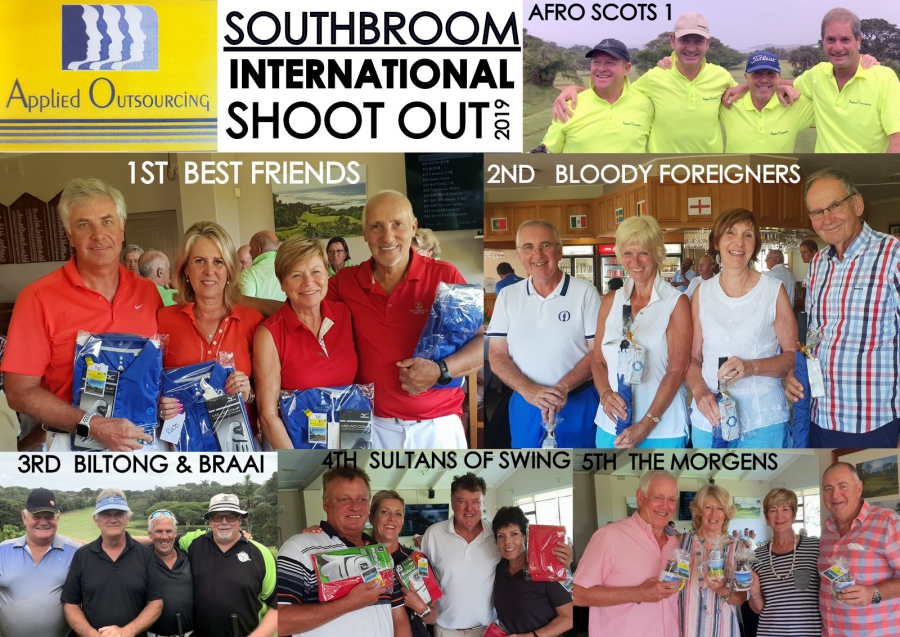 Top 5 Overall!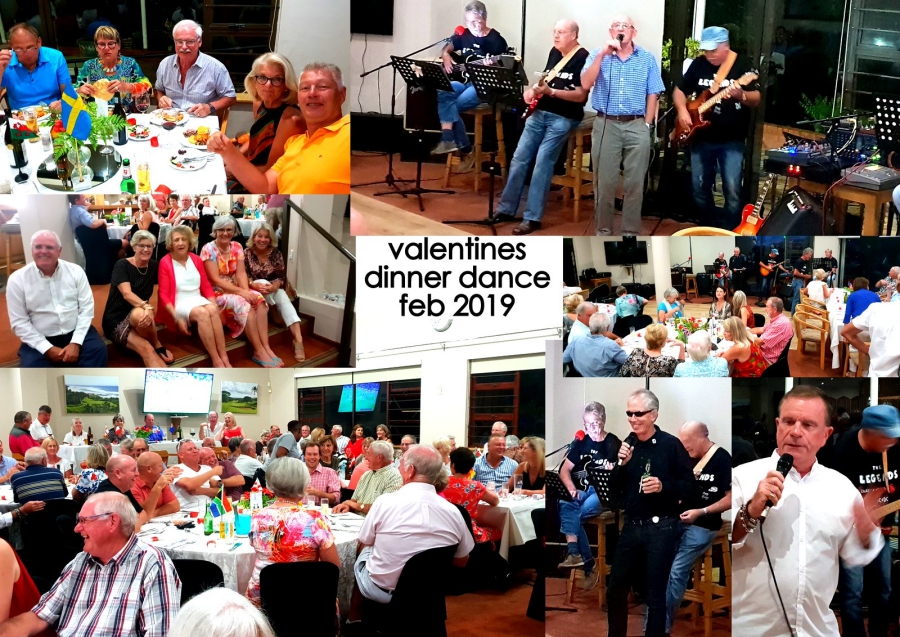 Saturday Night Fun  Valentines  Dinner Dance
Cecily Mackenzie Tournament
Southbroom hosted the Cecily Mackenzie Tournament last weekend. 56 ladies from the region enjoyed 2 days golf and congratulations to Jenny Westray & Heather Anderson who played the field convincingly.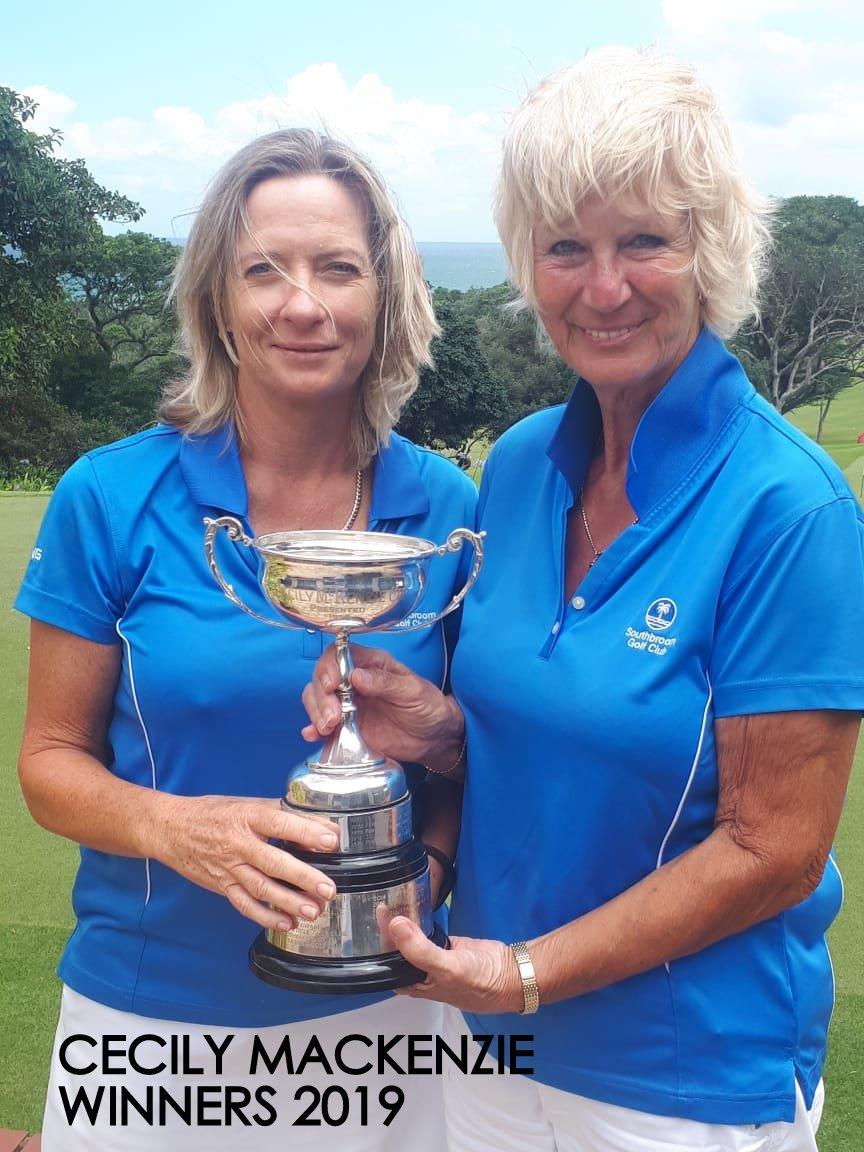 Jenny Westray & Heather Anderson
Condolences | Stuart Janvier…
Sad news received this week. Stuart Janvier passed away in Germany last Sunday 17 February. We extend our sincere condolences to his beloved wife Yvonne and daughter Georgina and to all their friends. Stuart was an avid golfer who enjoyed many, many rounds at Southbroom over the last 20 years.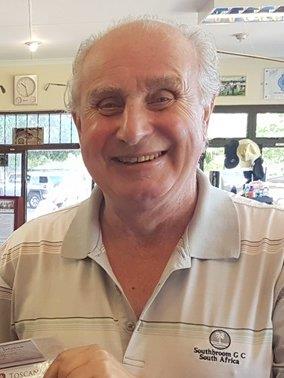 Rest in peace, Stuart Janvier
Southbroom Business Day
Winners of the February Business Day were Robert Mavundla, Cyprian Thami Xolo, Bheki Mavundla & Wonderboy Nxumalo on 97 pts. Bob Thomas won the Ladies Raffle. Well done, Bob!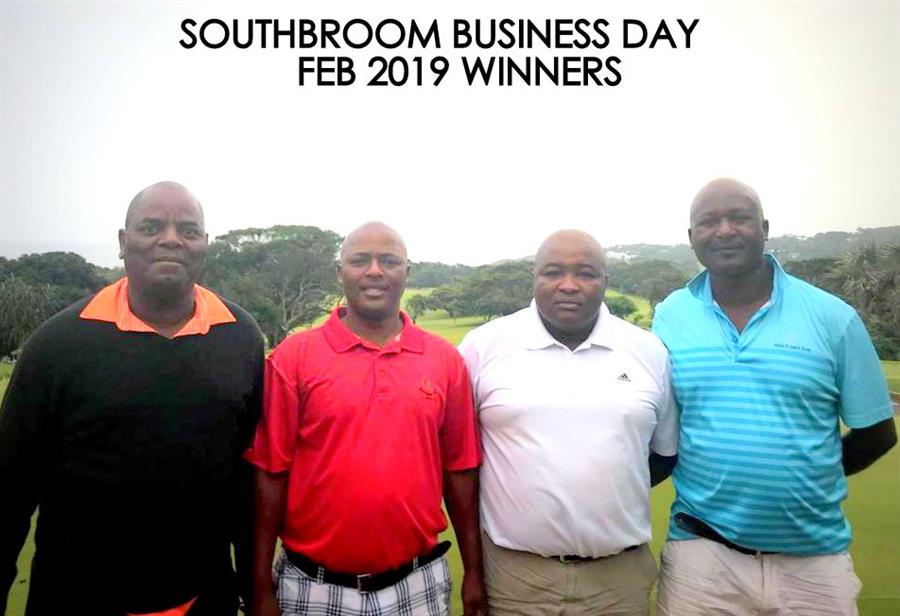 Bheki, Robert, Wonderboy & Cyprian
Do you have a spare boat?
We have had a request to ask if anyone perhaps has an old rowing boat or old dingy that may like to donate to the club that could be moored on the 13th Dam and used by course staff for maintenance. Thanks to Justin Klusener for the great pic of the 13th hole.
Upcoming events
Wednesday 27th February: Men's Monthly Med & Stab | Ladies  Monthly Med & Stab
Saturday 2nd March: Men's BB Stab | Ladies Swiss Day, BB Stab
Wednesday 6th March: Men's BB Stab | Ladies BB Stab
Saturday 9th March: Men's | Monthly Med & Stab | Ladies Cora Hicks Ind Medal Draw
The Score Card
Friday 8th February
1st Anton Panhofer, Karin Schmidt, Heleen & Roger Hissey, 82 pts
2nd Chris Miller, Paul Lawson, Vic Pretorius & Geoff Skelton, 82 pts
Saturday & Sunday 9th & 10th February 2019 – Applied Outsourcing International Shoot Out
Saturday – Combined BB Stab
1st Sultans of Swing – Martin Hutton, Glynnis Hutton, Leanne & Andre Ollewagen, 89 pts
2nd  Bloody Foreigners – Roger Phillips, Heather Anderson, Hanna & Emil Hierhold, 86 pts
3rd Afro Scots 1 – Colin Mckay, Russell Mackenzie, Fred Van Zyl & Gary Purtell, 84 pts
Sunday – Alliance (2 Scores to count, 3 on the Shorts)
1st  The Strugglers- Jurgen Feeder, Anton Brehm, Ruth & Stephan Egbert, 98 pts
2nd The Morgens- Sandy FitzGerald, Gerald FitzGerald, Jean & Paul Cole, 96 pts
3rd Best Friends- Andy Bossard, Eli Bachmann, Uli & Seline Matzinger, 96 pts
Overall
1st Best Friends – Andy Bossard, Eli Bachmann, Uli & Seline Matzinger, 178 pts (96 Last Day)
2nd Bloody Foreigners – Roger Phillips, Heather Anderson, Hanna & Emil Hierhold, 178 pts (92 Last Day)
3rd Biltong & Braai – Eugene Orsmand, Nic Van Deventer, Kevin Murray & Andre Steyn, 177 pts (95 Last Day)
4th Sultans of Swing – Glynnis Hutton, Martin Hutton, Andre & Leanne Ollewagen, 177 pts (88 Last Day)
5th The Morgens – Gerald FitzGerald, Sandy FitzGerald, Paul Cole & Jean Cole, 176 pts
Wednesday 13th February
Ladies – Ind Stab
1st Arlene Bailey, 33 pts
2nd Heleen Hissey, 29 pts
3rd Heather Anderson, 29 pts
4th Jenny Westray, 28 pts
5th Madelaine Schmidli, 27 pts
Men – Ind Stab
1st Roger Hissey, 34 pts
T2 Russell Mackenzie & Malcolm Greenland, 33 pts
4th Bob Bosshart, 32 pts
5th Andre Steyn, 31 pts
Friday 15th February
Business Day – Alliance – 2 scores to count & 3 scores on the 3's
1st Robert Mavundla, Thami Xolo, Bheki Mavundla & Wonderboy Nxumalo, 97 pts
2nd James Fergus, Jan Kleinhans, Danie Schutte & Sheldon VD Merwe, 94 pts
3rd Eugene Orsmand, Guy Yeadon, Osie Osborne & Nic Van Deventer, 92 pts
4th Peter Van De Walle, Rob Meydell, Bob Thomas & Ghost, 91 pts
Saturday 16th February
Open BB Stab
1st Mike & Gary Lig, 44 pts
T2 Dave & John Fox, 42 pts
T2 Uli Matzinger & Marcus Luetolf, 42 pts
T2 Marcus Loeffler & Urs Diethelm, 42 pts
T2 Peter van de Walle & Rory O'Donnell, 42 pts
Cecily McKenzie Trophy
Day 1 – BB Stab
Day 2 – Greensomes Stab
1st Heather Anderson & Jenny Westray, 77 pts (Southbroom GC)
2nd Wilna Olkers & Barbara Jackson, 72 pts (Margate CC)
3rd Yzelle Greyling & Kim Strauss, 71 pts (PSCC)
Wed 20th Feb
Alliance 2 to count
1st 91 pts  Roger & Heleen Hissey, Gary & Lesley Godley
2nd 88pts  Russell & Lorna Johnson   Heather Anderson & Roget Philips
3rd 87 (on a count out ) Gian  & Erica Saratz, Jurg & Anita Landolf
How right we were:
The new Srixon Z-STAR Golf Ball
We said this was a golf ball that was 
beyond expectation
. If you want everything (soft, fast, far, spin, durability, and now add stability in the wind) then the Srixon Z-STAR Series is your golf ball. Beyond expectation is one week, three tours, three wins, one golf ball. J.B. Holmes (PGA Tour), Ryan Fox (European Tour) and Miguel Angel Jimenez (Senior Tour) all won last week using the new Srixon Z-STAR Series Golf Balls.
Make it your business to try the new Z-STAR this week. Whether it's your fourball or the club competition, the winner's circle awaits. Call us in the shop.
Feel the thrill
Enjoy some speed
There's no getting away from the fact that speed matters.
But the great news is that the smallest increase, translates into lots of distance.
And the even better news is that the smallest changes can create greater speed increases than you thought possible.
Increasing your clubhead speed by
just 1mph adds 2mph to
ball speed, and that results
in 4 extra metres.
Just look at how many ways we can add to your clubhead speed:
Upper body
rotation
Downswing
sequence
Shaft Length
Shaft flex &
performance
Weight
We're delivering thrills
Creating the perfect match of ball speed, launch angle, and spin rate, maximises the distance you'll get off the tee. A change of just 1° and 500rpm can unlock 20 metres. How much potential can we unlock for you? Act now.
Contact us >
How good could you be?
A reason to stay connected
This might be one of the most compelling reasons to practice together with at least one friend.
If you've set out on a "Deliberate Practice Plan" to acquire a new skill or master a particular shot, then you need feedback. Get someone to video your swing. Now you can observe your setup, swing, and focus on the new movement you're after. We might think we're making a full shoulder turn, but what does the evidence show us?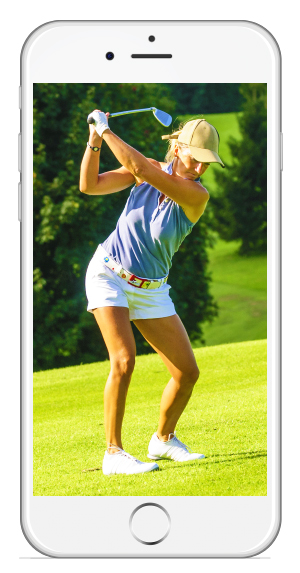 You need someone to share a drink with
Getting friends to practice, provides the opportunity for fun competition, feedback, and a shared experience afterward. We'd be happy to help make your sessions as productive as possible with some extra advice and feedback.
Contact us >
Regards,
Derek and Sheena