Weekly Newsletter from the Southbroom Pro Shop
Club news

BMW Golf Cup

A quick reminder that this Saturday the 13th is Round 1 of the BMW Golf Cup (normal comp fee, Ind Stab). The 3 overall winners (Men's A Div: hc 0-12, Men's B Div: hc 13-28 and Ladies Division: hc 0-28) will head to Round 2. This will be held at Durban Country Club on 11 September 2019, from where the top three in each division will progress to the BMW Golf Cup International Final. Round 3 is part of a 3 day, 2 night fully paid for getaway to a 5-star destination in Southern Africa to compete in the National Final. With the eventual winners having the opportunity to compete in the Golf Cup International World Finals which have previously been hosted in countries like Mexico, Dubai, Australia, South Africa and Thailand. This is an unbelievably exciting opportunity for South African amateur golfers and a historic first for the tournament.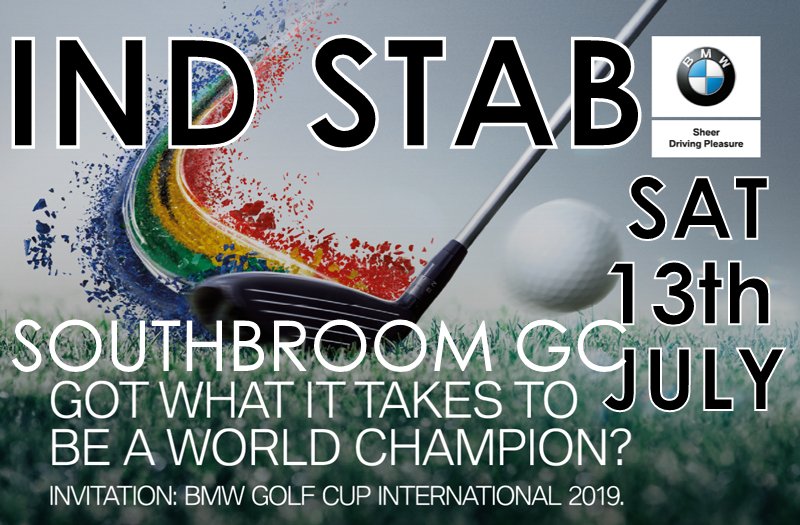 BMW Day. Tomorrow!
Tuna Angling Club Fundraiser Golf DaySunday 14 July is the Annual Tuna Angling Club Fundraiser Golf Day. A shotgun start at 8am. This is always a festive, colourful fun day! Comp fee isR120.
The 2019 Southbroom Amateur Classic
The 2019 Southbroom Amateur Classic was once again a wonderful golf tournament. We extend our grateful thanks out to Barry Elliot and Hibiscus Brokers for their fabulous umbrella sponsorship of the Classic. Barry and his guests put up a very good performance with Red Shuttleworh & Chris Naidoo finishing in 8th place tied on the same score in 9th place as Richard Mills & Michael Anthony.
There were 144 men enjoying a great week of golf in a good combination of really easy or really tough conditions. In the end a very good win for the Fox brothers, Greg & Andrew who made 43 points on the last day in the worst conditions. They finished on 171 points, three ahead of past champions Robbie & Melchior Botha who are always competitive, especially in windy conditions coming from Mossel Bay. Last year's champions Ig Erasmus & Rudie Venter ended up 3rd with 164 points closely followed by a number of teams, so it really did all go down to the wire.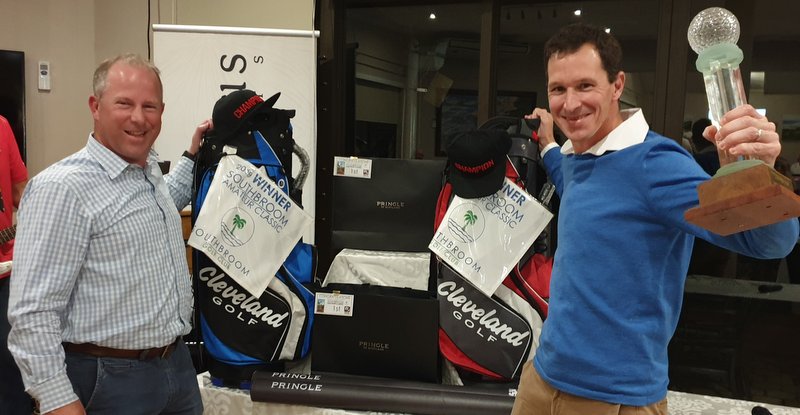 Delighted Classic Champions! Brothers Greg and Andrew Fox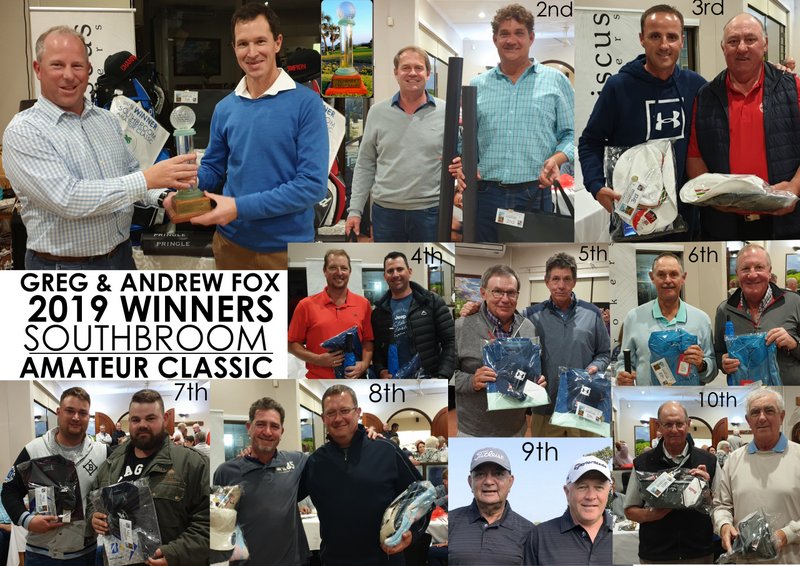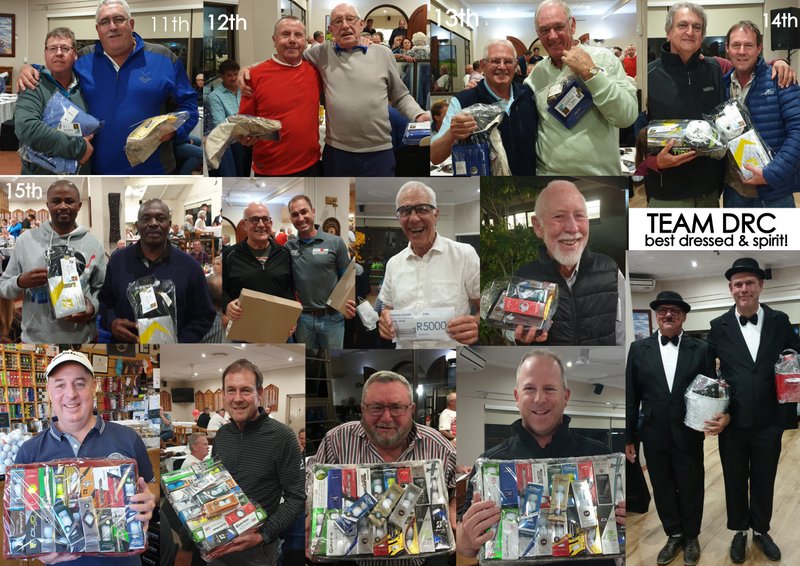 The Classic was enjoyed by all and very festive in the evenings with great music by our local band 'The Legends' on Monday evening and on the final two nights, ace entertainer Winston Smile got everyone rocking. The whole week had a wonderful vibe as can be seen in the incoming mail feedback below. Thanks also to the on-course sponsors who spoilt the players on the tees. And to all our incredible Pro Shop suppliers for sponsoring the Top 15 Overall Prizes.
Incoming Mail
Southbroom Amateur Classic 2019
Thank you for a wonderful and extremely organised Classic. I have played in a number of golf events over the years and have yet to play in one as enjoyable as this. I can only imagine what kind of dedication and planning it takes. Very well done and I hope to be back next year. Thank you.
– Ken Ford
Don't know how to thank you for a great week once again. The two of you are very special. Southbroom Classic is the only place on this planet of which I am aware where everyone seems happy for six days long. Now that is adding value to life.
– Johann Blignaut
Once again, many thanks for a most enjoyable week at Southbroom. As per usual the tournament ran smoothly and ensured a superb week. Always a pleasure seeing you guys and look forward to seeing you next year (Hopefully before).
– Grant Harding
Many thanks for all your teams hard work again this year. Another superb event and see you next year.
– Andrew Fox
Thank you so much for yet another superbly organized Classic. You always make us feel so at home. See you next year.
– Dave Donald
Congratulations and compliments to you and the entire team for another great Classic Tournament Week! We'll be back next year. Thank you for the pictures on Facebook great reminders of a most enjoyable time had by all.
– Bill Swailles
Upcoming golf days
Sat 13th July – BMW Golf Day  Ind Stab
Sun 14th July – Tuna Angling Club Golf day
Sat 20th July – Southbroom Conservancy Fundraiser
Mon 29th July – Southbroom Ladies Open Day
June 100 Club Winners
The July 100 Club draw is on Friday 26 July at 6pm.
Congratulations to June winners…  all the Ladies!
1st No 39  Allyson Thomas  who won R2000
2nd No 14  Sandy Fitzgerald who won R500
Attendance Prize No 79 Jean Corfe who won R1000
The Score Card
Friday 28th June
Chicken Run – Ind Stab
Norman Farrell 20 pts
Michelle Viljoen, Eileen Neilson, Shirley Jeffery & Nic van Deventer 19 pts
Saturday 29th June
Ladies – Alliance
1st – Louise Leal, Lyn Doveton, Felix Lund & Jeanette Peyios 82 pts
2nd – Jean Corfe, Trish Amm, Karen Bridgeford & Allyson Thomas 81 pts
Men – Alliance
1st – Norman Farrell, John Neaves, Mike Lig & Don Osbourn 93 pts
2nd – Piet Joubert, Malcolm Moorley, John Lison & Arthur Lee 92 pts
3rd – Chris Miller, Erwin Schanda, Tony Routledge & Ghost 87 pts
4th – George Wright, Dave Page, Gordon Moody & Ghost 86 pts
Wednesday 3rd July
Ladies – Alliance
1st – Jenny Du Preez, Di Morris, Augi D'ewes & Tammy Murphy 83 pts
2nd – Sharon Turnbull-Jackson, Jeanne Powell, Lee Mutch & Ghost 82 pts
Men – Alliance
1st – Arthur Lee, John Lison, Piet Joubert & Malcolm Moorley 82 pts
2nd – Geoff Skelton, Gavin Sole, Graham Sole & Ghost 81 pts
Saturday 6th July
Ladies – Alliance
1st – Jo Ledden, Jill Webster, Heleen Hissey & Janet Humphrey 84 pts
2nd – Solange Fox, Coleen Daly, Allyson Thomas & Ghost 84 pts
Men – Alliance
1st – Piet Joubert, Malcolm Moorley, Arthur Lee & John Lison 86 pts
T2 – Malcolm Greenland, Colin Mckay, Alex & Ken Crawford 84 pts
T2 – Peter Van De Walle, Werner Duggan, Bruce & Derrik Matthew 84 pts
T2 – George Haswell, Doug Butcher, Art Germs & Colin Steyn 84 pts
Soutbroom Amateur Classic
Monday  Day 1
1st 44pts Malcolm Greenland, Colin McKay
2nd 43 pts Chris Miller, Tony Routledge
3rd 43pts Robbie Botha, Melchi Botha
4th 42 pts Terence Barkhuizen, Xavier Pollet
Tuesday Day 2
1st 47pts  Greg Fox & Andrew Fox
2nd 45 pts Louwrens Meintjies & Adriaan Englebrecht
3rd 45 pts Cyril  Botha% Wiehan van Niekerk
4th 44 pts  Dillan Farndell & Brandon Shiers
Thursday  Day 3
1st 45pts Jaco Spamers, Jan-Hendrik Marais
2nd 45 ptsTerry Eyles, Mike Collins
3rd 45 pts Tony Singleton, Patrick Hansen
4th 44pts Brian Blackstock, Sam Roets
Friday   Day 4
1st 43pts Grant Harding, George Farndell
2nd 43pts Piet Human, Stan Barber
3rd 42pts Bob Thomas, Derek Lawrance
4th 42pts  Gary Purtell, James Johnstone
Over All Top 15 for the Tournament
1st Greg Fox, Andrew Fox – 171 pts
2nd Robbie Botha, Melchi Botha – 168
3rd Ig Erasmus, Rudie Venter – 164
4th Louwrens Meintjies, Adriaan Engelbrecht – 163
5th Danie Gouws, Johan Blignaut – 160
6th Terry Eyles, Mike Collins – 160
7th Dillan Farndell, Brandon Shiers – 160
8th Red Shuttleworth, Chris Naidoo – 159
9th Richard Mills, Mike Anthony – 159
10th Chris Miller, Tony Routledge – 159
11th Kevin Schmidt, Paul Turner – 158
12th Malcolm Greenland, Colin McKay – 158
13th Bob Thomas, Derek Lawrance – 157
14th Steve Jones, Mike Downie – 157
15th Simon Shusha, Thokozani Shusha – 157
Celebrate The Open with Srixon
In celebration of The Open taking place next week, Srixon Golf is offering you a fantastic deal on their Srixon Z-STAR and Z-STAR golf balls. You use your golf ball on every shot your play so the Z-STAR Series is a great investment in your game if you're looking for distance, feel and stopping power!
For a limited time only, you can buy any Srixon Z-STAR & Z-STAR 6-ball pack as well as a leather glove for only R349.99. Reserve yours here.
Centre of Gravity (CoG) matters

So much written hype
How often do you read about amazing new driver crowns or faces that allow the CoG in any club to be made lower and deeper? They promise "easier launch" and "greater distance".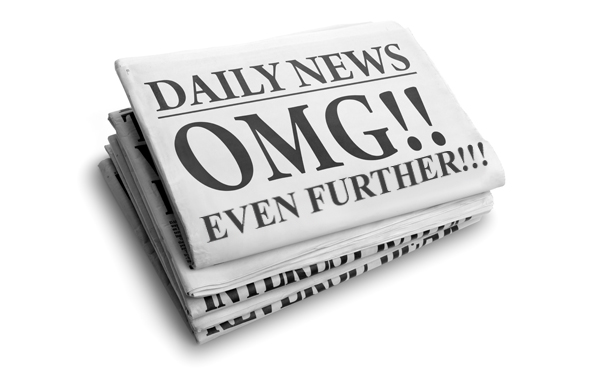 The authors of these shrieking product headlines are right, but the definition of deeper or lower is marginal. A Golf Spy analysis revealed that the difference in CoG location between the CoG in a Titleist D2 Driver and a Callaway GBB Epic Driver (depending on setup) was less than 2mm!


Fix your millimetres and metres
Get every metre off the tee your potential deserves. Come and have a tee shot assessment and let's see how we can add 20, 30 and even more metres to your tee shots.
Contact us >
Who is XXIO for?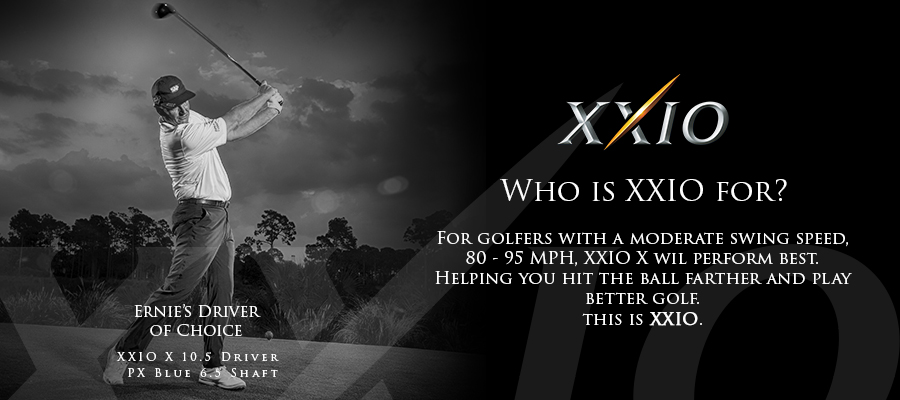 A better life for them
Have we reached a crisis point?
Our children are becoming slaves to social media. A 2016 study in North America concluded that the AVERAGE number of social messages a teenage girl processes in a day is 1,700. Yes, seventeen hundred. Unbelievable, isn't it?
How do you process SEVENTEEN HUNDRED messages per day and do everything else? You need the hieroglyphics of the 21st century.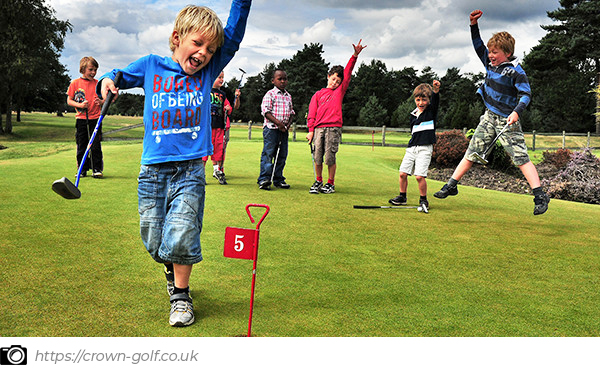 Let us add balance to their lives
Have your child enroll into one of our group sessions to learn to play golf, and we'll have them outdoors, interacting, learning new skills, and having a whole stack of fun they can take out onto the golf course. They won't stop playing computer games, but for a couple of hours each time we'll have them off the phone, out from in front of the screen, engaging in fun activity.
Contact us >
Regards,
Derek and Sheena
Previous Newsletters
For more info click here. Club News Club Championships rained off…. We had some fabulous rains leading up to Club Championships last weekend, with over 120ml falling in 18 hours. The course was totally saturated and we had to postpone the Club Championships. We... read more