Weekly Newsletter from the Southbroom Pro Shop
Greetings from Derek
Sunday, 25 February 2018

100 Club Draw Friday 23rd Feb 6pm: Attendance Prize R3000

I had a wonderful day on Wednesday playing in the Ladies SA Masters Pro Am at San Lameer. Stacy Bregman was our Pro. What a lovely lady and brilliant golfer she is. She cruised around the course in 69 blows, making it look easy. Also in our four ball was Lukas Potgieter, who has been very influential in the development of San Lameer, and Peter Matkovich who designed and built the San Lameer golf course. Peter has built many courses in SA and around and was very entertaining to play with. His knowledge of building and maintaining golf courses is endless.

San Lameer is in great shape and there will be some wonderful golf on show with the final round being Saturday. Make sure to go and watch the Ladies playing. There is plenty of talent from both South Africa and around the world!


Peter, DJ, Stacy & Lukas  @ San Lameer

Congratulations to all involved in the Bar and Kitchen alterations, it's looking amazing! It is almost finished and the new space created in the bar, with simply shortening the one long extended side of the Bar.  It is just fabulous and will most certainly enhance the total flow & usability of the whole area. One member quipped that he should now be able to sit at a table with his 4 ball when he comes in at the back of the field. Thanks to Mike Cole of Coles Kitchens, (Our great Nearest the Pin Sponsor on the Business Day!)  Thanks to John Fox & the Committee and to all the staff and members involved in getting it all done in such a short time.

The Audi Centre Margate Business Day last Friday was won by Kevin Murray, Brian Joliffe and Ross McKay and a steady ghost.


Kevin, Brian & Ross  Winners in the Audi Centre (Margate)
Southbroom Business Day

Last weekend the ladies thoroughly enjoyed playing in The Champagne Day BB stab sponsored by Christa Sistermanns. Thanks again Christa, much appreciated! 'Prost' to you and Nik from all the delighted winners!

| | | |
| --- | --- | --- |
| Heather, Jenny, Lorraine, Margot, Candida, Mariaan & Ursula | | |

The popular Gallery Café in Trafalgar is going to sponsor some members golf days throughout the year and we look forward to working with Avril and Peter. The first one is this Saturday 24th February.

Next Saturday 3rd March, we have The Swiss Day!
6 of our Lady members from Switzerland are looking after the Ladies BB Stab comp and this year Southbroom member, Juerg Landolf, is spoiling all the men who will be competing in an Alliance!
Thank you to all involved.

We have an amazing number of overseas members that really bring a most valued added spirit to Southbroom during the summer months. Brilliant! (It will be a good day to bring out your red & white outfits !)

60th Birthday Milestones!
Congratulations to Cleve Walker and Jannie Ackerman who both recently celebrated turning 60!.

| | | |
| --- | --- | --- |
| Jannie Ackerman | | Cleve Walker |

Many members will recognise Mike Haswell below (Merridy & John sSon  and Georges'nephew.
Mike had a Valentine's Day with a Royal difference. He was invited to meet Her Majesty, where he received great recognition for Service to his Community in Shrewsbury UK. Lovely to see your pics Mike!  What an Honour!

| | | |
| --- | --- | --- |
| Mike Haswell | | |

QUIZ NIGHT IS FILLING !
CONTACT JULIE AND CLEVE WALKER ON  083 273 6840 TO BOOK.

Look out for junior Golf on most 

Sunday afternoons!

 Local juniors are invited to come and play at junior member rates from 2pm. Littlies need to be under the supervision of their parents and we are going to start including some 9 hole Ind Stab junior comps.

Next one is Sunday 18th March!

Friday 16th February
Audi Centre Margate Business Day
Alliance
1st – Ross Mckay, Brian Jolliffe, Kevin Murray and Ghost 101 pts
2nd – Rodney Lowe, James Fergus, Karl Beck and Jan Kleinhans 96 pts
3rd – Dave Fox, Solange Fox, Rene Matthew and Dane Adendorff 94 pts
4th – Jenny Westray, Augi D'ewes, Di Morris and Heleen Hissey 93 ptsSaturday 17th February
Ladies – Champagne Day
BB Stab
1st – Jenny Westray and Heather Anderson 42 pts
2nd – Lorraine Cook and Candida Amm 42 pts
3rd – Ursula Spoerri and Mariaan Padrutt 42 pts

Men – BB Stab
1st – Gordon Moody and Kerry Fielden 51 pts
2nd – Glen Usher and Bobby Jones 48 pts
T3 – Pierre VD Walle and Bob O'Callaghan 47 pts
T3 – Malcolm Greenland and Ossie Osborne 47 pts

Wed 21st February
Mens' Ind Medal
1st –  64 nett Gerald FitzGeraldMens' Ind Stab
1st – 43pts Russel Mackenzie
2nd – 41 pts Joseph Stoellinger
3rd – 40 pts Dave Fox
4th – 39pts Gordon Moody on c/o Bob Bosshart & Malcolm Greenland (75 best gross)

Ladies' Ind Medal
1st – 68 nett Heather Anderson

Ladies' Ind Stab
t 1st – 39pts Ursula Spoerri & Anita Landolf
3rd – 37 pts Janet Humphrey




Cleveland have brought metalwood forgiveness and distance to the Cleveland Launcher CBX Irons.
They've also brought short game precision.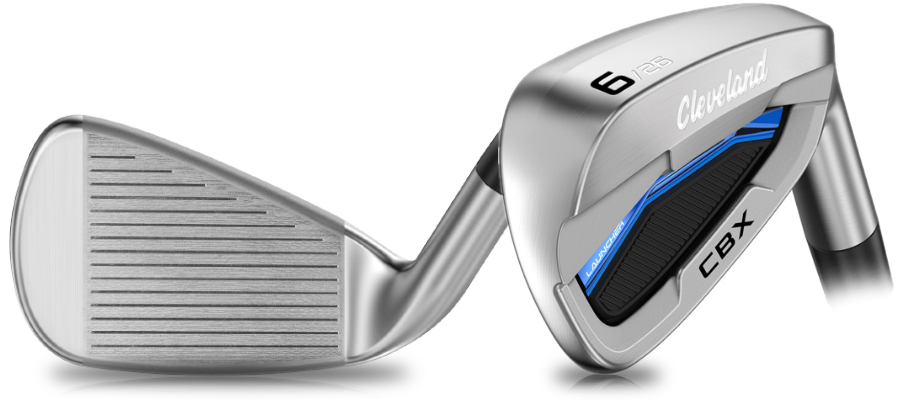 You're looking for consistently solid contact, and a ball flight that is less vulnerable to debris and water.
As in the Cleveland Wedges, the
sweet spot is moved more central to the face
(face balancing). You'll find the
hitting zone more frequently.
Tour zip grooves then create a more
consistent spin on the golf ball
even in light rough
and / or wet conditions.
 And, as you'd expect from the leading Wedge designers,
a sole design that works more effectively
with the turf at contact.

We think that hitting great mid and longer iron approach shots is an exhilarating feeling.
We think hitting precise shorter approaches, even from the light rough, provides real fulfillment out
on the course. We want to upgrade as many golfers' approach shots as possible this year.
The right fitted equipment or a better swing or both.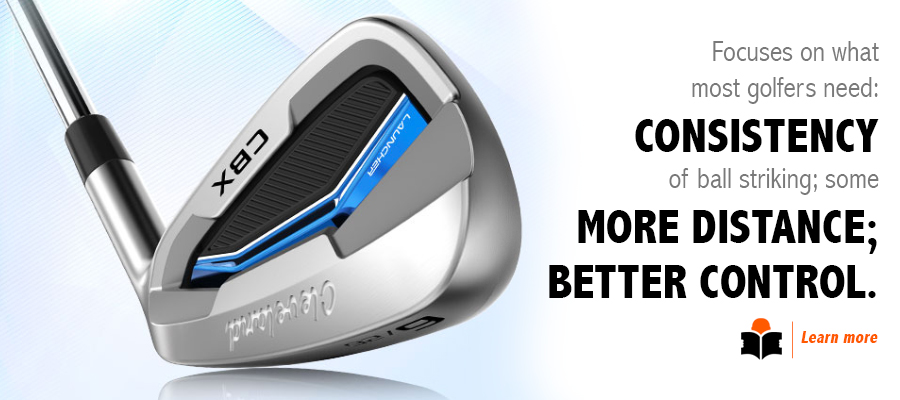 If you're shooting above 89 on most visits to the golf course, then now is the time to make a leap.
In the last two weeks we've provided two tips for those looking to break 90 every round.
Both of those tips have been linked to keeping the ball in play. But the fact is that, if you're a
regular or inexperienced golfer, then you will rarely be hitting greens in regulation. So…
| | |
| --- | --- |
| | On almost every hole you'll have a 10-to-50-metre final shot into the green. This is a shot you should perfect so that you never take more than 3 to get down. Getting up and down in 2 is a bonus. |
| | |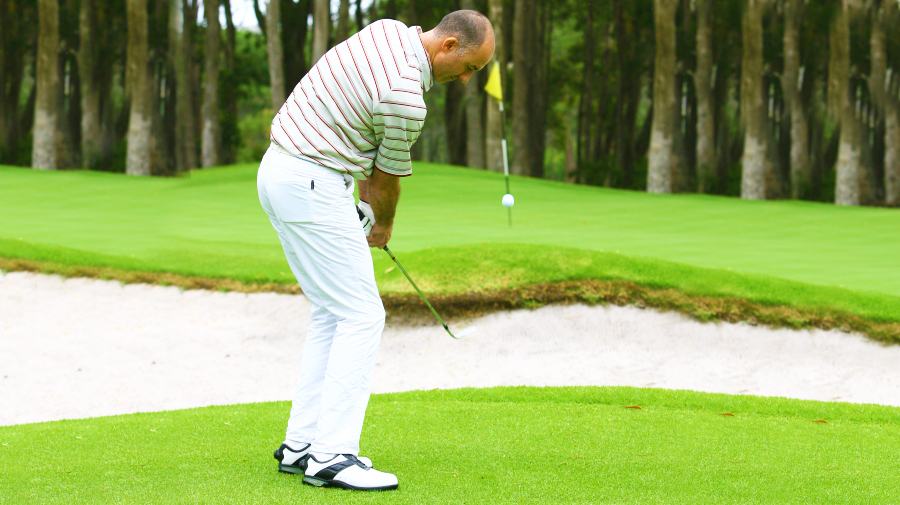 Three suggestions:
Learn a good short pitch shot and chipping technique.
Practise your short pitch shots and chipping. Never get greedy
(make sure you're on the green before worrying about how close).

If you've never had a pitching / chipping lesson, and you're not Breaking 90 on each visit to the course,
then we're betting this is an area where you can make up shots. If you don't have a technique or ability
to get down in 3 or less every time from within 50 metres, then











Regards,
Derek and Sheena
Previous Newsletters
Greetings from Derek Saturday, 16 December 2017 Once again we have had rain during this past week with great sunny days in between, so the course is looking superb – albeit a little wet. The greens are putting beautifully and true. A tad on the slower side,... read more