Weekly Newsletter from the Southbroom Pro Shop
Greetings from Derek
Monday, 28 May 2018

It was wonderful to see our newer members, Riaan Croucamp & Brian Joliffe, winning The Roel Germs Trophy with 48 points last Saturday. Also super to see that Roel & Art had so enjoyed playing as well coming in with 44 points. Roel hasn't been able to play much lately, so it was great to see him feeling good again!Our Lady Captain Michelle Davies and Solange Fox are now the triumphant holders of The Noelle Edwards Trophy with 45 points. Well played!


Riaan Croucamp, Living Legend Roel Germs & Brian Jolliffe
Roel Germs Trophy Winners 2018

Solange Fox & Michelle Davies
Winners of the 2018 Noelle Edwards Trophy! 

We have put in a bunker on the 16th hole to protect the corner after the beautiful tree blew over and the new transplanted fig is gradually finding its feet. The Metzler Bunker is sponsored by our swiss members, Lukas and Erika Metzler, and is going to go a long way towards making golfers think a little more about how to play the hole, and it is stroke two.


The Palm Nut Vultures were spotted on
wed sitting atop of the raffia palm flower 

Metzler bunker taking shape on the 16th

It will be in play for long hitters from the tee and shorter hitters trying to cut the corner. Thank you Lukas & Erika!

Spend your next vacation in a holiday home in Southbroom! Click here.

What a good win for 

Webb Simpson

 at the Players Championship last week. So good to see a slightly built slim guy win such a big tournament. It is always good to be fit and strong, but I see too many youngsters today lifting heavy weights when they would be better off hitting balls and Webb is proof that you don't have to hit the ball miles to win on the biggest stage. His short game and putting was amazing and totally separated himself from the rest.I always say if you want to improve your scoring, get rid of your driver and improve your short game. Not every golfer can drive 300m, but everyone can chip and putt. Speaking of chipping and putting, we have Southbroom Members, 

Frank Thomas and Valerie Melvin

 enjoying a 10 week break from Florida USA! See ***Member News below.

It's been a bad week for Southbroom with the sad news of 3 good men passing after illnesses so bravely fought. We extend our sincere sympathies to the families and many friends.

| | | | | |
| --- | --- | --- | --- | --- |
| Alan Logan & Lan Yeadon and their family | | Jimmy & Lyn Doveton | | Sharon & Trevor Turnbull-Jackson |

Alan Logan,

 partner of Lan Yeadon. Alan was a former chairman of Southbroom Golf Club in 2010 and 2011. He was passionate about business and always happy to chat and impart his great wisdom especially if it was over a good coffee. They moved to Selborne a while back but he always enjoyed coming back to visit good friends on the South Coast. There will be a memorial for Alan on 

Sat 26th May

 – more details to follow next week.

Trevor Turnbull Jackson,

 72yrs old – beloved Husband of Sharon Turnbull Jackson and owner of Beachcomber Bay B&B. Trevor hadn't played much golf during the past few years as his health failed him and he will be sorely missed by all his friends and family. Trevor's memorial will be next week as all the family are arriving from around the world.

Jimmy Doveton – Beloved Husband of Lynne Doveton, father to Michelle, Gary & Sean. Jimmy was a keen golfer, fisherman & friend of Southbroom. A legend in the Port Edward golf and farming community. A wonderful guy who will be missed by all his friends. There will be a service for Jimmy on Tues 22nd May at the Margate Baptist Church on 11am followed by a wake at Port Edward CC.

The Lower South Coast Ladies have been in St Francis Bay for the 2018 Senior Nationals. Here is Augustine D'Ewes 2nd from left with the LSC team where she finished in the runner up team for the Alliance Competition. Upcountry Southbroomer Biffy Dunn won Best Nett in her section. Well done ladies!

| | | |
| --- | --- | --- |
| Go Lower South Coast Ladies    Augustine D'Ewes 2nd from the left | | Frank & Valerie loving their time in Southbroom |

***

Frank Thomas & his wife Valerie Melvin

 are back from the states and enjoying 10 weeks holiday here in Southbroom . Frank is the founder of Frankly Golf, and one of the world's leading golf equipment experts and innovators. In 1969 he invented the graphite shaft, a piece of technology found in the bag of nearly every golfer today. Frank was Technical Director of the United States Golf Association (USGA) for more than a 25 years, he issued thousands of rulings on equipment and was instrumental in rewriting or modifying all the rules that govern the implements used in the game. He also directed the development of today's Golf Handicap and Information Network (GHIN), the Indoor Test Range (ITR) to measure golf ball aerodynamics now used industrywide, and redesigned and introduced the Stimpmeter to quantify the speed of the greens, now used worldwide.

Valerie Melvin is co-founder and Managing Director of Frankly Golf. They produce a great newsletter every week, here is their latest one – 

click here.

QUIZ-PLAYERS, please remember to book your tables for the next quiz which will be held at the golf club on Wednesday 30th May, starting at the earlier time of 6pm.

The menu is chicken schnitzel, chips and salad with cheese and mushroom sauce @ R80pp.

Many thanks to Felicity Cotton for sponsoring prizes for the winning team of four. The challenge is on to knock the highly successful Cotton/Osborne pairing off the top. Extra players are permitted, but larger teams are not eligible for the prize. Maximum 15 tables.

Usual format, eight rounds including current affairs, music, map, vocab, pictures and general knowledge. Cleve has gone to town on an all-singing, all-dancing PowerPoint presentation of the questions and answers which will be displayed on the big tv screen. Note, no Googling!

Please let Julie  Walker  0830273 6840 or the office know your teams by Monday 28th May to help with printing and catering.

The Chicken Run – Friday 11th May
Ind stab Front 9
Colin Mckay, 23 pts
Jan Roos & Danie Schutte, 21 pts

Saturday 12th May
Ladies – Noelle Edwards Trophy – BB Stab
1st – Michelle Davies & Solange Fox, 45 pts
T2 – Lorraine Cook & Candida Amm, 43 pts
T2 – Carol Lamb & Annie Davidson, 43 pts
T2 – Jean Corfe & Solange Fox, 43 pts

Men – Roel Germs Trophy – BB Stab
1st – Riaan Croucamp & Brian Jolliffe, 48 pts
2nd – Piet Joubert & Arthur Lee, 48 pts
T3 – John Fox & Dave Smith, 47 pts
T3 – Heinz Seiser & Rob Meydell, 47 pts

Wed 16th May
Men's Medal / Stab
Ind Medal – Winner Paul Lawson, nett 62
Ind Stab – 1st 40 pts Gavin Sole 2nd 39 pts John Lison 3rd 38 pts Roger Hissey

Ladies' Medal / Stab
Ind Medal Winner – Rene Matthew, nett 63
Ind Stab – 1st 39 pts Mari Fielden t2nd 34 pts Meryl Chambers & Janet Humphrey

All the Final Ladies Classic Results can be viewed here.

---

More emails received

Grateful thanks to you all for another wonderful 4 days of fun, friendship, golf & gorgeous weather. The Gatsby theme was a great success & congratulations to everyone involved in the fabulous entertainment!! Southbroom certainly exceeds expectations..We look forward to returning again next year!! Best wishes 

Rose Bishop & Mel Kempe

Dear Irene, Michelle, Allyson, Deanne, Derek, Sheena, Dane, Gavin and the entire Southbroom team!
Every year we say it can't get better but every year somehow it does! Thank you all for all that you do to ensure that the ladies have the most wonderful time at the Ladies Classic! We are all so totally spoilt and well looked after for four days!
This year was no exception and you even organised the weather for us – what superstars you all are!
We hope that you all enjoy the rest that we hope you have for the remainder of the week and we are already looking forward to next year's Classic. Kind regards Wendy Huddy and Sue van der Riet

A Huge thank you Sheena & your wonderful club for yet another amazing tournament
It was fantastic as usual! Thank you! Thank you. Take care & hope to see you next year. All the best Jill Bobbert

Wow . . . another fantastic performance all round. You guys are incredibly good at what you do!!
Well done, and thank you so much for a fabulous few days! I can't wait for next year to roll in!! Lee Anne Varrie

Dear D & S & all the Wonderful girls in Southbroom, Thank you so much for the most delightful few days spent in glorious Southbroom. It was really such a wonderful tournament and thoroughly enjoyed by all of us. "Hats off" to all of you who contributed to making it the success that it was and our appreciation for the hard work and effort that you always put in for our entertainment and enjoyment. Thank you for the amazing pictures.
Lots of love and best wishes. Isobel (Issy) Fyfe

Thank you all for a wonderful tournament – so well organized and really a great event – loved every minute of it! You all did a splendid job to make it a very memorable occasion! Look forward to next year.
Best regards Wendy Lamb

Thank you so much for a fun filled and lovely classic – again!
No wonder that it is one of the highlights of our golfing calendar. Always awesome!!
Already looking forward to next year. Keep well, kind regards Rieks Tiley

Dear Southbroom
I just wanted to thank you all again for the incredible weekend at the ladies classic. It was the most fun I have had in the longest time and it was such good clean fun too! I cannot imagine how much hard work and effort went into that event by you 3, Gavin and the entire ladies committee…it must have been a LOT of work. So thank you…very very much! I am officially booking our 4 ball for same time next year!

To the Pro Shop , you have made the very best team in the history of Southbroom golf club professionals. You are an amazing team!!! See you in December…Hoping to convince Ken to play in the mixed classic with me. Xxx Lindsey Owen

**Thank you making 2018 and my first Southbroom Classic a wonderful experience. I had such fun. Romy Davis

Thank you for a wonderful few days golf during the Ladies Classic. Kath and I are always amazed at the hard work and care you put into the tournament and we certainly always enjoy every minute of our time at the Classic. Our thanks to you both and all the hardworking people behind the scenes. Lots of fun was had and we so look forward to the show that is put on by all the local members – Derek has definitely missed his calling!!.
Many thanks and take care. Kind regards Heather Steppe and Kath Jarvis

I have been meaning to write to thank you and the team for a great Classic. I have an inkling of the time and energy that you all need to put in to make it the success it is. Thank you – we had a blast.
Kind regards Yours sincerely Anabel Mackie



 

Srixon have developed and evolved a proprietary SpinSkin technology.
The cover of the golf ball has a skin that literally allows the grooves of your club face to grip the ball.
That creates additional friction and MORE SPIN.

Those looking for tour
performance
with leading spin rates?
Tour performance for
moderate swing speeds.
The most spin for your money?
A 2-pce ball with SpinSkin has
distance AND great greenside performance.

If you haven't played a Srixon golf ball with SpinSkin technology, then give it a try.
Practice around the greenside. Feel the ball remain on the face for longer.
Notice how much extra spin you can create.








We're two weeks in to some simple advice on how to improve your
scorecard using the Par 3 holes. They're an opportunity for everyone.
Removing risk helps.Simple Tip #3
Where's the easiest and safest target? Before you even look for the flag,
find the point on the green that gives you the largest room for error.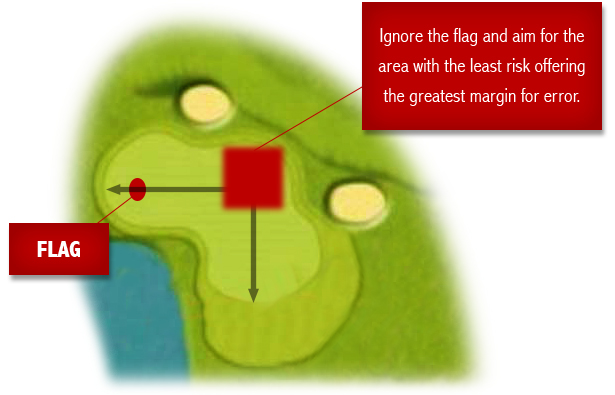 In this example, even going over the back of the target area marked will leave
you a chip and putt for a 3, so you're looking at a 4 at worst. Go at the flag and the
consequences of a miss could be much greater. Even if you fly the flag and land in the bunker,
you're then faced with a bunker shot back towards water. Going at the flag is a 2 or bust!

You'll be faced with a course management challenge on all approach shots,
not just Par 3's. Try playing a round where you take a 'safety first' approach to every shot.
Check out your score. Is it an improvement if you play within yourself?
Course management is an important part of your game; if you'd be interested
in an accompanied round to help with your course management,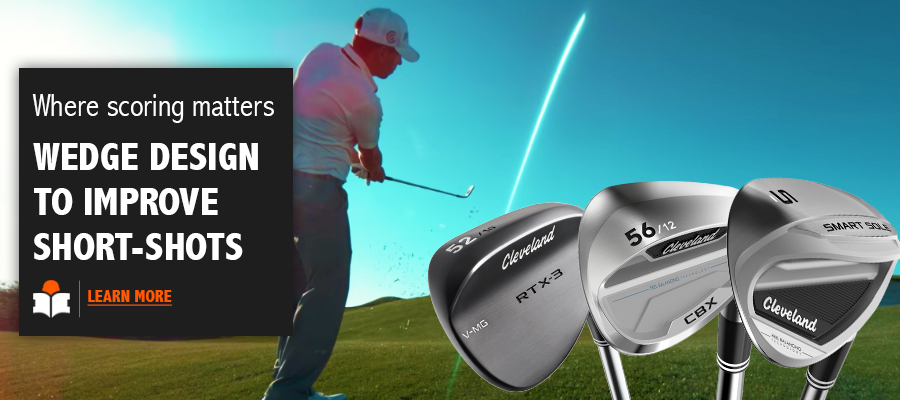 Regards,
Derek and Sheena
Previous Newsletters
Greetings from Derek What a fantastic win for Jordan Spieth in the Tour Championship. His putting was amazing and it set him apart from the rest of the field. It's going to be really exciting to watch the Presidents Cup next week and if the Captains match Spieth... read more