Weekly Newsletter from the Southbroom Pro Shop
Greetings from Derek
Sunday, 13 May 2018

The 2018 Ladies Classic was a blast! The Fairways and Club house were full of feathers, laughter, sparkles and great fashion! 124 ladies enjoying a great break from routine and playing 3 days of golf in the most amazing calm balmy May weather, together with friends, good food and entertainment. Derek is away for a few nights, so I am writing your news up this week!

Hearty congratulations to Trish Anderson & Anne Barrow who shot a great 142 BB Stab points to finish 4 ahead of Patsy McDonic and Diane Schlebusch. Trish quipped between her and Anne they have 149 years! Admirable!

The Pro was understandably a tad nervous with so many Golfing Ladies to look after, but once again he pulled it off! What with running a great tournament, heading up the Pro Shop fashion show, appearing as a surprise guest act in the main entertainment evening and giving a fabulous entertaining and informative 1920's Golf Clinic as well as being MC etc etc.  Well Done DJ, what a Pro &  such a good sport! The Ladies just loved it and are all going home to challenge their Pros!

Derek was very ably assisted in all areas by our ace assistant & chief scorer, Dane, who has just started his 5th year with us in the Pro Shop! The anniversary is always during the Classic week! Wow, that  certainly was an interesting week to start  with us! Congratulations Dane and we look forward to seeing you enjoying your new sponsored clubs from Cleveland & Srixon!


Dane Adendorff

A tournament of this stature is just not possible without the amazing work and input from the Ladies Committee. As DJ said in his speech, a massive thank you to  his 3 leading ladies Lady Captain Michelle Davies, Vice Captain Allyson Thomas and her team for the superb interior décor and to Lady President Irene Schanda and her amazing husband Erwin for making all the props!

The Gatsby Girls, DJ and Dane put on another great Gatsby themed skit that just had to have a repeat encore. Many thanks to Deanne Purtell of Realty1 Southbroom for her hours of  expertise choreography and to Janet and Deon for the use of their Changing Gears  Gym room for all the many  practice sessions.

And to all our ace Southbroom dancers – Michelle, Allyson, Solange, Lesley, Augi, Rene, Sandy, Di, Jean, Janet & Candida, Singer Val, Spotter Irene, DJ, Dane, You all looked so good!Well done to The Club House Staff, Gavin, Brandon, Wilson and their teams and to Charl and Nick and their teams. It all ran like clockwork and the comments and thank you letters coming in say it all. Thanks to the registration ladies

,

 Angela Karen and Jeanne, starters Bob and Mel, announcer Kerry Fielden and Mafia Marshals Tim and Roy. Richard Bridgeford was just everywhere with his fabulous camera and the Southbroom Legends, Mel, Des, Richard and Deon entertained 'till late on Saturday night!

The prize table was laden with quality prizes and our heartfelt thanks to all the local and up-country Sponsors who were involved – absolutely invaluable. More details on Facebook will be uploaded with all the pics soon!

Southbroom rocks! Thanks to all! Here is to the 2019 Ladies Classic…and now to start planning for the Mens Classic in July!

Happy Mother's Day to all our moms & grans out there and enjoy the Players Championships this weekend!

Warm Regards 
Sheena 

---

Here are some of the emails received recently:

I would like to congratulate Michelle and her ladies committee on an excellent Ladies Classic. To all her helpers, Derek, Sheena and Dane and Gavin and staff thank you for a job very well done. From talking to a number of ladies they can't wait to enter for next years classic. The organizing committee for next year have got a hard act to follow.
– Gerald FitzGerald

Dear Irene, Michelle, Allyson, Deanne, Derek, Sheena, Dane, Gavin and the entire Southbroom team!

Every year we say it can't get better but every year somehow it does! Thank you all for all that you do to ensure that the ladies have the most wonderful time at the Ladies Classic! We are all so totally spoilt and well looked after for four days! This year was no exception and you even organised the weather for us – what superstars you all are!

We hope that you all enjoy the rest that we hope you have for the remainder of the week and we are already looking forward to next years Classic.

– Wendy and SueDear Sheena, Derek, Dane, Michelle, Gavin, Charl & your teams
Grateful thanks to you all for another wonderful 4 days of fun, friendship, golf & gorgeous weather.
The Gatsby theme was a great success & congratulations to everyone involved in the fabulous entertainment!! Southbroom certainly exceeds expectations……We look forward to returning again next year!!

– Rose Bishop & Mel KempeA big thanks to all at Southbroom who made my first Classic memorable. You are all amazing with the effort you put in…and especially the smiling faces. Look forward to new year!!

– Cheryl GerberJust wanted to drop you a Mail to thank you most sincerely for another incredible "Ladies classic"!
Dont know how you do it….year in and year out with every attention to the tiniest detail….
You guys are just awesome 🙂 Thanks again!

 – Rosheen Kok

Saturday 13th May
Roel Germs Trophy BB STAB
Noelle Edwards Trophy BB Stab

Wednesday 16th May
Men: Ind Stab & Ind Medal
Ladies: Ind Stab & Medal

Friday 18th May
Audi Margate Open Day

Saturday 19th May
Royal Wedding Screening in the Clubhouse at 12 noon
Open Comp BB Stab

Saturday 26th May
The Pam Quarmby Trophy Day

Friday 4 May – The Chicken Run (Ind stab Front 9)
19pts John Fox
18pts Chris Miller, Tim D'Ewes Colin McKay & Phil Verwey

Saturday 5 May – Men BB Stab
1st 51 pts Colin McKay & Rory O' Donnell
2nd 50 pts Dave page & George Wright
3rd tie 48 pts Johan Wentzel & Riaan Croukamp and 48 pts Arthur Lee & Pieter Joubert

Ladies
1st Mari Fielden & Jean Corfe 45 pts
2nd Lorrain Cook & Jeanne Powell 43 pts

Ladies Classic 2018 Overall Results
1st 142 Trish Anderson Anne Barrow
2nd 138 Patsy McDonic Diane Schlebusch
3rd 136 Gwen James Heather Clarke
4th 133 Michelle vd Hoek Lizzie Currie
5th 132 Sandy FitzGerald Gill Huddy
6th 131 Liezel van Achterbergh Mariette Pieterse
7th 129 Sue van der Riet Wendy Huddy
8th 128 Rosheen De Kock Bronwen Lambert
9th 127 Lindsay Owen Heather Kruger
10th 127 Leigh Thackwray Marion Heaney
11th 127 Marian Ledingham Val McKenzie
12th 126 Natalie Clayton Tanya Bell-Jenje
13th 126 Helene Linder Rhona Topka
14th 126 Lynette Stais Ashley Bester
15th 125 Rene Matthew Kathy Bush

Wednesday 9 May – Alliance
1st 91pts Vic Pretorius, Olliver Ransome, Paul Lawson, Derrik Matthew
2nd 86pts Gordon Moody, Kerry Fielden Colin McKay & Malcolm Greenland

Alliance Ladies
1st 90 Lorraine Cook, Mari Fielden, Karen Bridgeford & Ghost Jeanne



If you're a moderate swing speed golfer, you still want a golf ball to offer
you performance everywhere, with no compromises.

The Srixon AD333 Tour is specifically designed
to give you distance off the tee, stable ball flight in windy conditions, stopping power on approach shots,
check and control around the green, and all
with the feel the best golfers demand.

This is a premium performance golf ball without the premium price. If you're a regular golfer,
playing probably a 2-pce golf ball, then trial a sleeve of the Srixon AD333 Tour.
Check the all-round performance, but especially note the greenside spin.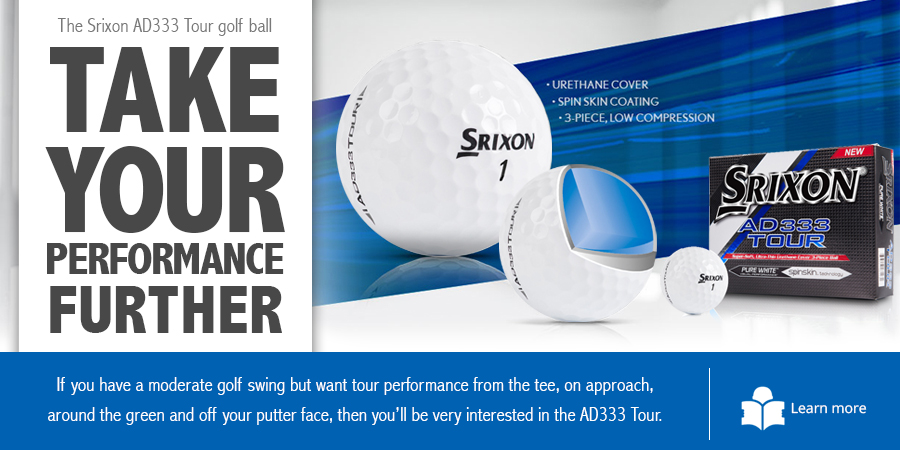 We're trying to help you make more 3's on the Par 3's.
Better decision-making is going to improve your scores.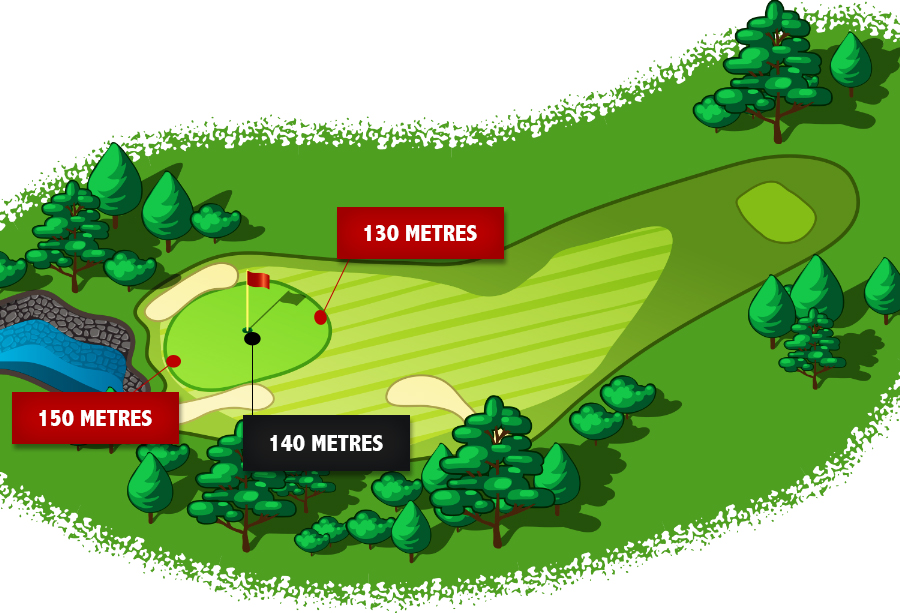 Despite the increased amount of GPS data available, regular and inexperienced golfers still,
on the majority of occasions, come up short.Even when a golfer knows the "yardage" on each of their clubs,
their misses are mostly short.

Simple Tip #2
Why are you expecting the perfect golf shot? What is your level of consistency?
 If there's no trouble behind
the green, then ignore the
distance to the flag, and pick a
club that, when struck well,
will get you to the back of
the green. That way a less
than perfect ball strike has
a chance of getting to
the green. Rarely do even
good ball strikers
make perfect contact.

Where are the majority of your misses on all approach shots?
Would aiming for the back of the green (assuming no trouble behind the hole)
be a course management strategy that would improve your whole round?
Improving your performance on Par 3's will probably increase your enjoyment
throughout the round. Think about improvement. If we can help,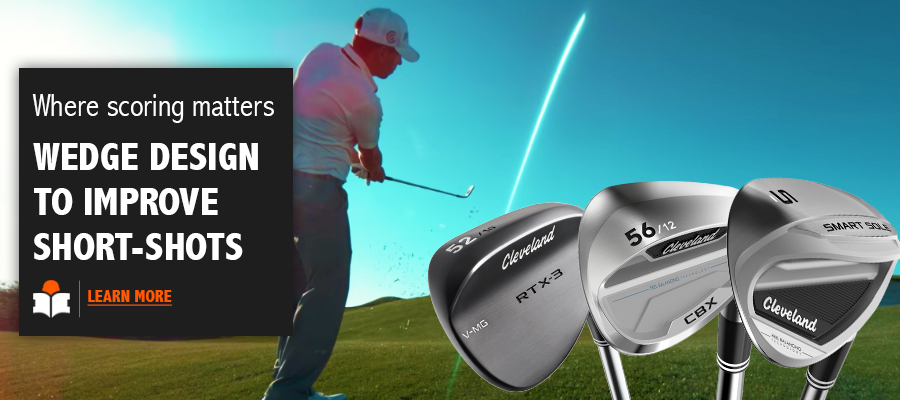 Regards,
Derek and Sheena
Previous Newsletters
Greetings from Derek Saturday, 05 May 2018 It's been another non-stop week! Congrats to John & Jenny Fox on winning the April 100 Club drawn last Friday. The fast R 5000 was won by Bob Thomas!    Southbroom Club House 2018 The Ladies are pleased with their... read more