The Southbroom Amateur Classics
DIARISE THE 2018/2019 EVENTS : Ladies 12-14 May 2019 : Men's 1-5 July 2019 : Mixed 12-13 October 2019
The ongoing success of the Men's Amateur Classic, which began under the guidance of Hugh Purtell in 1991, led to the inaugural Ladies Amateur Classic in 2004, and Mixed Amateur Classic in 2014. Golfers come from far and wide to participate in the better-ball stableford formats of the men's tournament over 4 days and the ladies' tournament over 3 days. The mixed tournament is played in Greensomes and BB format over 2 days. The fields fill up early in the year and invitation/booking is essential.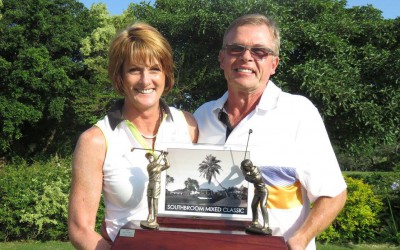 17 and 18 October 2015
The second Southbroom Mixed Classic presented by Pharaohs Construction was a wonderful event. We had a full field, sunny skies, a beautiful golf course and fantastic sponsors. Sure, there was some wind but that just makes for challenging golf. Judging from all the happy feedback, the Southbroom Mixed Classic was certainly enjoyed by all.
read more
Honours Board
YEAR
GENTLEMEN
LADIES
MIXED
2018
Ig Erasmus & Rudie Venter
Anne Barrow & Trish Anderson
2017
Guy Barkhuizen & Graham Barkhuizen
Queenie Steyn & Maritha De Beer
Mike & Bev Riemer
2016
Bob Thomas & Patrick Cronin
Tessa Hinton & Jo Morley-Jepson
Errol & Trish Amm
2015
Bob Thomas & Patrick Cronin
Lorraine Cook & Janice Lang
Mike & Bev Riemer
2014
Melchior Botha & Robbie Botha
Lorraine Cook & Janice Lang
Bob & Allyson Thomas
2013
Bob Thomas & Pat Cronin
Irene Schanda & Rochelle Myers
2012
Phil Hollick & Brian Harris
Jeanne Rosenburg & Cathy van Blerk
2011
Robbie Botha & Melchior Botha
Natasha Anthony & Geraldine Treherne
2010
Grant Richards & Rob Dye
Ronel Broodryk & Sophia Whitehead
2009
Mike Anthony & Errol Rudman
Sandi Burger & Yzelle Greyling
2008
Mike Anthony & Errol Rudman
Kate Currin & Sandy Luus
2007
Robbie Botha & Johan Schnetler
Dora Vosloo & Jane Barclay
2006
Roy Hales & Dave Page
Joy Crutchfield & Dora Vosloo
2005
Graham & Craig Barkhuizen
Meryl Chambers & Jenny Germs
2004
Tie: Derick Zolyomi & Mike Anthony; and
Vernon Raath & Lloyd Rowlands
Joy Crutchfield & Dora Vosloo
2003
Winston Sahd & Kevin Cahi
2002
Rohan Summers & Fred Weigelt
2001
Elton Chatterton & Derek Lawrence
2000
Abel Bezuidenhout & Gian Wessels
1999
M Buchling & A Vehlow
1998
M Buchling & A Vehlow
1997
Hugh Purtell & Jimmy Walker
1996
Firmin & Franklin
1995
Lloyd Blankensee & Rod Barcley
1994
Gerald Fitzgerald & Les Civin
1993
Gerald Fitzgerald & Les Civin
1992
Gerald Fitzgerald & Allan Halstead
1991
Peter Brandsma & Hugh Reece-Edwards