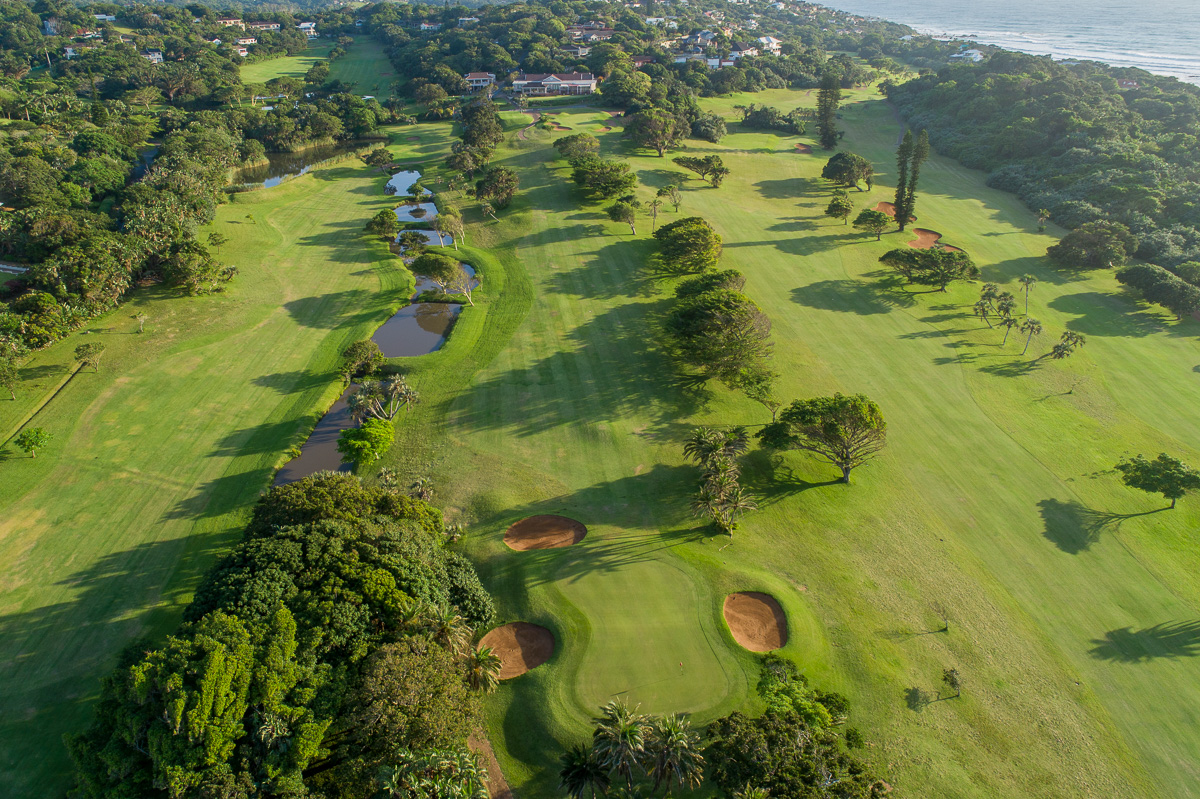 'Play' the course with Derek James
Southbroom golf course is a pleasure to play. It is a fairly short course where varying coastal conditions contribute to the exciting challenge. Derek James, Resident PGA Professional and Golf Director, takes you through it hole by hole.
Hole 1 – Par 4; 340m, Ladies – 308m, Stroke 13
A simple opening hole but be careful of the water down the right side. Keep your tee shot left. There is a double-tiered green with bunkers on both sides. A nice welcoming hole.
Hole 2 – Par 4; 342m; Ladies – 293m; Stroke 5
Your tee shot, sometimes even with an iron, must be kept up the right side to make the approach over the water easier. The green is bunkered on both sides. Don't go long with your approach. Actually, left and right are not too good either!
Hole 3 – Par 4; 367m; Ladies – 298m; Stroke 1
A world class Par 4 Stroke 1. There is a lot more fairway than there appears to be from the tee but, with out of bounds on both sides, it can be quite scary into the south wind. The right side is preferable and then a demanding shot over water to a well-shaped green is quite a challenge.
Hole 4 – Par 3; 113m; Ladies – 109m; Stroke 17
A very short but under-rated Par 3. Take extra time whilst on the tee to absorb the magnificent ocean view! Bunkers surround the green. Be careful not to be caught by the length of the green.
Hole 5 – Par 4; 247m; Ladies – 228m; Stroke 15
A very short Par 4 that can be driven but this is not always the right decision! If the length of the hole doesn't get you, the pin position might. The tree-guarded green is double tiered and getting your tee shot into the right position is key!
Hole 6 – Par 5; 434m; Ladies – 377m; Stroke 11
A short Par 5 with a fairway that slopes severely to the right, makes for a tough second. Either you lay up short of the stream in front of the well-guarded green or have a go at a small target with the stream flowing down the right hand side. Pin position is important.
Hole 7 – Par 4; 378m; Ladies – 311m; Stroke 3
A great Par 4 where getting over the road can mean decision time. Lay up or go for it? A water hazard, trees and bunkers must be carried in order to hit the green. A par here is a bonus.
Hole 8 – Par 3; 159m; Ladies – 125m; Stroke 9
A tough Par 3 where short or left is dead. Hitting from an elevated tee to a large green with bunker right and water front and left, is not easy!
Hole 9 – Par 5; 413m; Stroke 13 (Ladies – 395m; Stroke 7
One of the best golf holes you will ever play! A short Par 5 with bush left and water right. Water runs the entire length of the hole and needs to be carried in approaching the green. The fairly large green, with a wonderful water hazard to the left, needs to be well thought out.
Hole 10 – Par 4; 274m; Ladies – 273m; Stroke 12
The toughness of the hole is dependant on the pin position. The greens' three tiers make this a tough Stroke 16. The tee shot also creates choices – either tiger line over the tree or the conservative line to the left hand bunker.
Hole 11 – Par 3;150; Ladies – 114m; Stroke 10
A superb Par 3 which always seems to have crosswinds. With water front and right and well-placed bunkers left, aiming back left of the green is a good choice.
Hole 12 – Par 4; 293m; Ladies – 275m; Stroke 18
A short and straightforward Par 4 until you reach the well-bunkered green. There will definitely be more "woeful putting stories" emanating from this green than any other. Club selection is key!
Hole 13 – Par 4; 311m; Ladies – 289m; Stroke 4
It is important to hit your tee shot into the right spot on this hole. Level with the bunker and a little right is best. The green is well defended by a bunker left and a whole lot of water right!
Hole 14 – Par 3; 186m; Ladies – 148m; Stroke 8
One of the best Par 3's I have ever played. The small well-bunkered green is a really tough target under any conditions. Playing conservatively for the front edge is not a bad idea.
Hole 15 – Par 4; 327m; Ladies – 268m; Stroke 16
One of the toughest 'easy' Par 4's you will play. It is a straight hole that feels like a dog's leg, with a well-shaped green. Hitting the fairway is key.
Hole 16 – Par 4; 358m; Ladies – 340m; Stroke 2
This is definitely a dog's leg. A tee shot up the left is best. If you end up on the right side, my advice is play percentage golf or the trees will get you!
Hole 17 – Par 5; 444m; Ladies – 410m; Stroke 14
Two par 5's to finish, how tough can that be? Well, 17 has ruined many a scorecard! The fallen tree left opposite the fairway bunkers has narrowed the hole somewhat and with bush up the length of the hole, some good hitting is needed. When you get to the small slightly angled green, choosing the right line is not easy.
Hole 18 – Par 5; 427m; Ladies – 409m; Stroke 6
From this tee you can see the Bar which is both a relief and a good line! The right side is best. The second shot is toughest as you are either having a go at a very small well-bunkered target or laying up onto a sloping fairway where everything goes right and into a bad spot behind trees! Enjoy the challenge.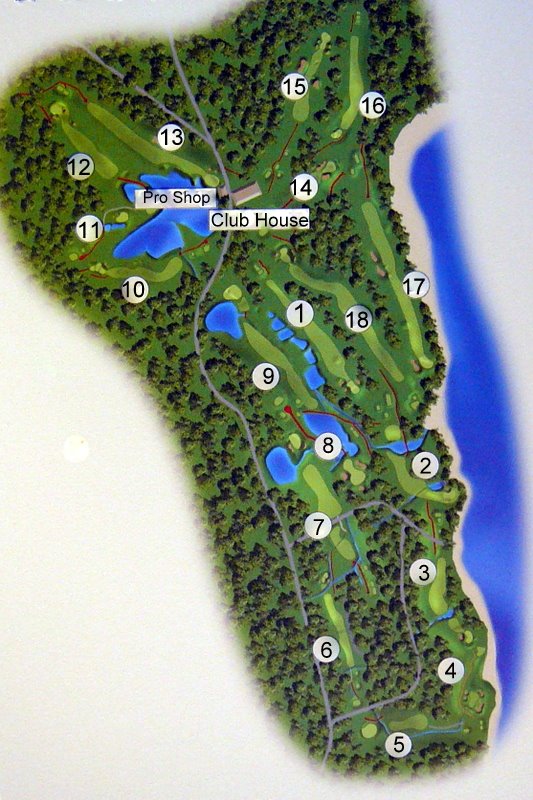 Key holes
Hole 4 – Par 3 – 114m – Stroke 17
This is one of the most talked about holes in Southern Africa. Whilst on the tee, take an extra second or two to absorb the magnificent view. The tee is perched above the Indian Ocean and sightings of whale and dolphin are common in winter. Whilst a short Par 3, it is difficult into a south-east wind and the green is deceptively long.
Hole 8 – Par 3 – 155m – Stroke 11
A spectacular hole played from elevated tees over water to a green that has a bunker right and water left and in front. There are superb views over the course and the ocean from all the tees. With 3 men's tees, 3 ladies tees, and changing winds, it's a new hole every day!
Hole 17 – Par 5 – 443m – Stroke 18
A narrow Par 5 between trees and bunkers that plays either directly into, or with the wind, with 'trouble' left and right. This is a straightforward, really good hole where the well-guarded green hides subtle slopes.