DEREK JAMES – PGA GOLF PROFESSIONAL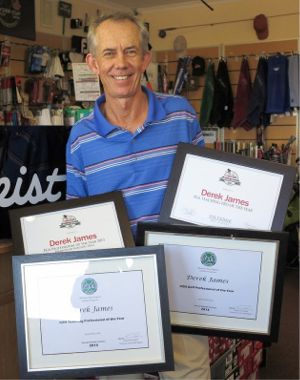 Derek James, PGA Club Pro of the Year (2002), Teaching Pro of the Year (2008), and awarded both accolades again in 2013, was an outstanding amateur and spent 13 years on the professional circuit prior to joining Southbroom Golf Club.
At 20 years of age, Derek James was the leading Amateur in the South African Masters (1980) and, prior to turning pro in 1984, he had represented South Africa as a 'Springbok' on 5 occasions, played in 3 British Amateurs and the World Amateur in Switzerland (1982).
Among his many achievements on tour, Derek won the Tournament Players Championship in Canada (1994), 3 tournaments in America including the Holy Oak Pro Am, 8 tournaments on the South African Winter Tour, and came second to Ernie Els in the South African Open (1992).
Derek retired from the professional circuit prematurely in 1997, due to family commitments, and the tour's loss was Southbroom Golf Club's gain. Not only did the Club score a PGA Professional capable of being elected to serve the board of the SA PGA (2005 to date), his wife Sheena is the backbone of the Southbroom Pro Shop success story.
Derek runs coaching clinics for all levels of golfers and is coach to professionals Jaco van Zyl (former South African Amateur Champion), Hennie Otto, Andre Cruse and Andrew Curlewis. Derek also coached the Natal Provincial Golf Team in 2001.
Derek and Sheena have two children, Courtney (1996) and Connor (1998).
---

 Member of the Professional Golfers Association of South Africa
Who better to help you score well?
Book a personal lesson with Derek James or attend one of his clinics, either way you'll score better when next out on the course.
Although highly regarded as an expert in every aspect of the swing, it is as a short-game coach that Derek James is best known.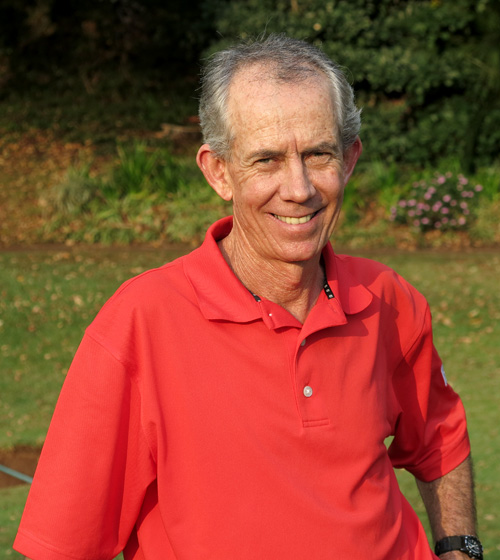 DEREK & SHEENA EXCEED EXPECTATIONS
Southbroom Golf Pro wins two top PGA Awards: 2013 Club Pro of the year and Teaching Pro of the year
Click on the image below to view the pdf article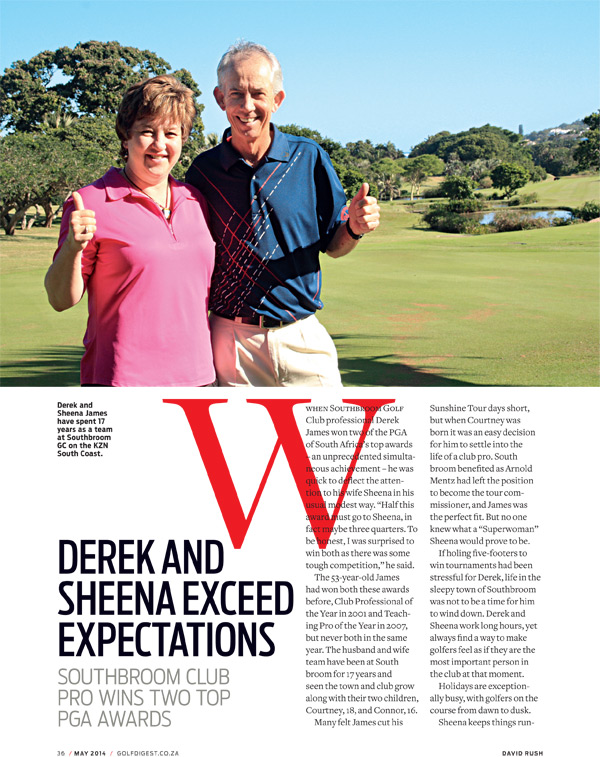 DEREK JAMES – 2007 TEACHER OF THE YEAR
Derek James, the Teacher of the Year, has spent 11 years at Southbroom GC on the KZN South Coast. The first PGA Professional to win both the Club Pro of the year (2001) and teacher awards, he is a former Springbok and SA Strokeplay champion and won eight times on the Sunshine Winter Tour.
Renowned for a superb short game, and teaching that aspect of the game to pupils, the highlight of his playing career was winning the Canadian TPC in 1994 and finishing second to Ernie Els in the 1992 SA Open at Houghton.
James now juggles the roles of golf director, club professional and teaching pro at Southbroom and serves on the PGA Board. "I'm flat out teaching these days," he says. "I have a problem saying no, so find myself coaching five to six hours a day." James helps the KZN Junior team prepare every year for the IPT and guided them to a hat-trick of wins between 2004 and 2006.
Golf Digest April 2008
DEREK JAMES – 2001 CLUB PRO OF THE YEAR
s a touring professional, Derek James won eight times on the Sunshine Tour, won two major pro-am events in the USA and, while campaigning in Canada, became the Canadian Tournament Players champion.
Although highly regarded as an expert in every aspect of the swing, it is as a short-game coach that he is best known.
Together with his wife Sheena, Derek runs an excellent teaching facility and pro shop at Southbroom Golf Club. It would be difficult to find a more popular choice as Club Pro of the Year.
Complete Golfer March 2002
SOUTH COAST HERALD – MARCH 1997
Seasoned Sunshine Tour Player, Derek James, has joined Southbroom as its resident professional.
Derek is no stranger to Natal and South African golfing circles. He is a class player in his own right and represented South Africa five times before turning professional in 1984. He described himself as a consistent performer on tour with the highlight of his career being winning the Canadian Tournament Players' Championship at Royal Woodbine, Toronto in 1994.
One of South Africa's top amateurs, Derek made his provincial debut, ironically for Western Province, while in the navy there. He also represented Transvaal and played for Natal for three years.
Although not a golfer herself, to say that Derek's wife Sheena knows a fair amount about the game would be an understatement. Sheena has caddied for Derek in at least 50 tournaments and Derek says they work very well together.