Member News

The Ladies Champagne Day on 26th January was certainly a bubbly gathering. Thanks to Silvia Westermannfor her lovely sponsorship. It's always great to see the growing Westermann family enjoying their Southbroom time together and we wish Hendrik & Silvia safe travels back to their international work!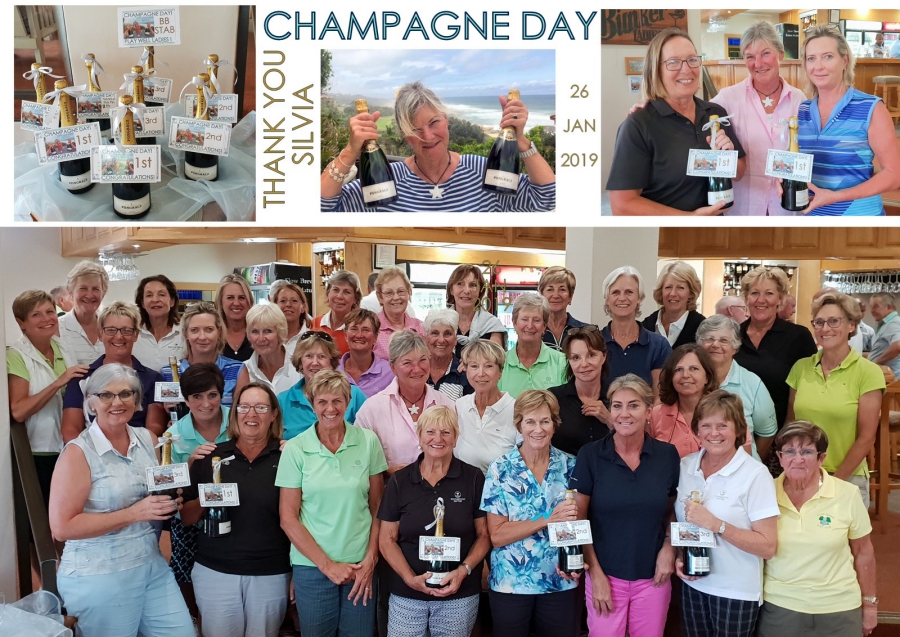 Ladies Section Celebrating The Champagne Day
The first Casa Toscana Day of the year was well supported and the meal vouchers will be enjoyed! Thanks to Mario & Marisa for their sponsorship.  Don't forget to book at this popular Trafalgar restaurant as it's a busy time of year with all our European visitors here escaping their wintery months.  They have a great new website.
Casa Toscana: 078 541 8234 | 
www.casatoscanaristorante.com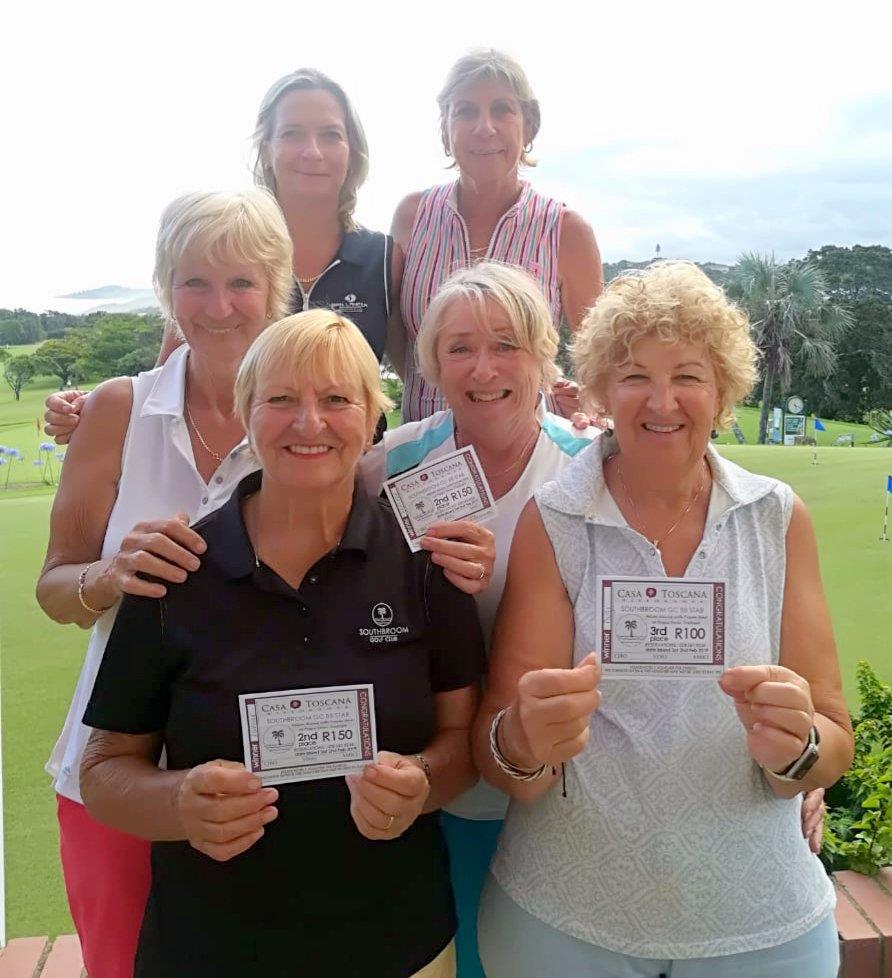 Winning smiles from back to front: Jenny, Di, Heather, Lorraine, Augi & Jeanette
Such excitement on the course last Wednesday 30th January with the news of a hole-in-one!  Heleen Hisseyand her playing partners so enjoyed watching her perfect shot land on the 11th green and roll straight into the cup. It was Heleen's 3rd Ace, but as she quipped – by far her most enjoyable!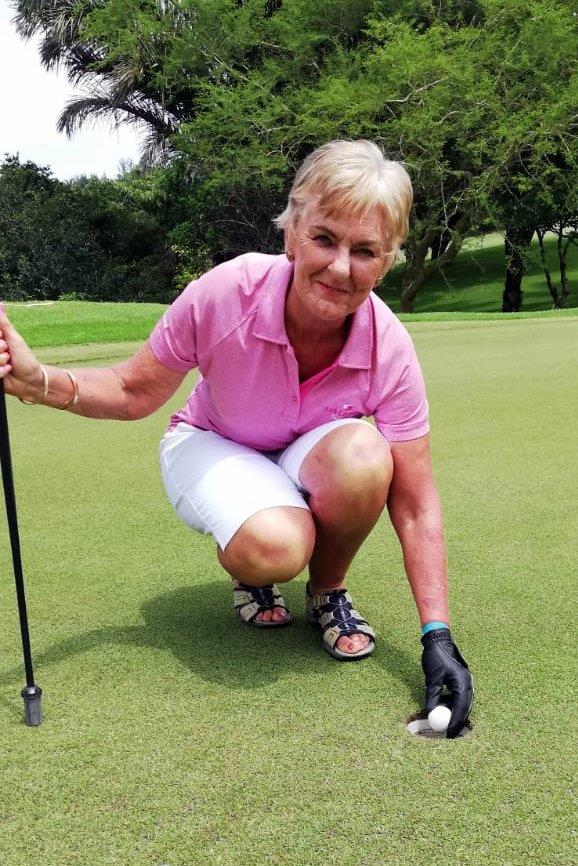 Hole-in-one for Heleen
Congratulations to our January 100 Club Winners!
The first Dad's Army Competition for 2019 was played on the 22nd of January. Congratulations to the winner Tony Hollness and the runner-up Arthur Lee. Well done Gentlemen!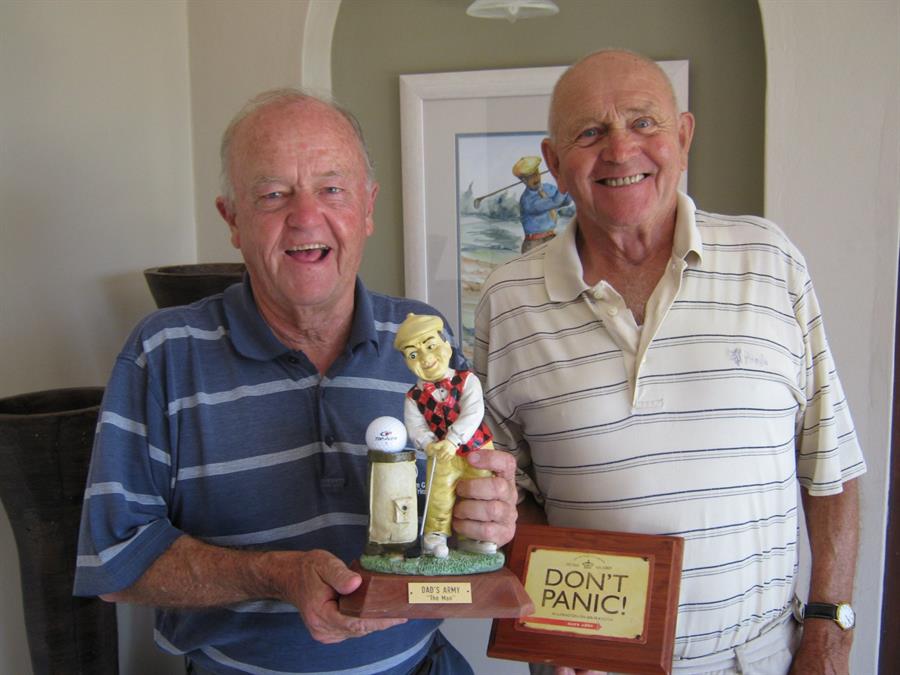 Tony & Arthur
Condolences

Sad news this week was the passing of Swiss Member Fritz Biber after a sudden illness bravely fought. We will always remember Fritz as a happy man, just loving his golf & South Africa, looking after people and always enjoying his friends. We extend our sincere Condolences to his famly & many friends. Swing Free Fritz, Rest in Peace.
Course News
Thanks to member Graham Holford for taking these superb drone pics this week. Paradise!
| | | |
| --- | --- | --- |
| | | |
| Club House & Surrounds | | 4th Hole |
The 10th tee enjoyed a much needed relevelling this week and it shouldn't be too long before it looks A1 again.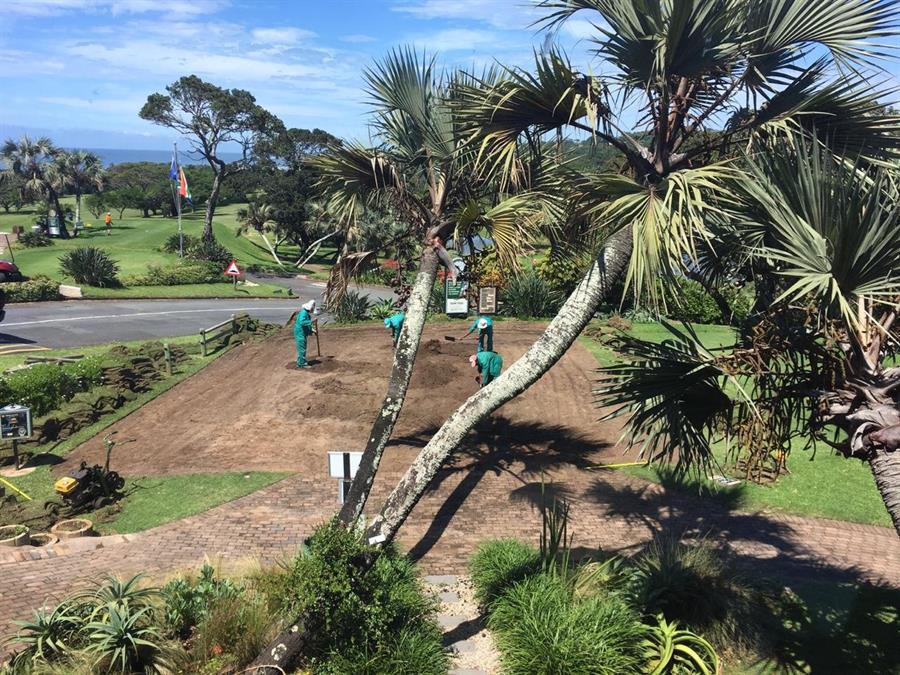 10th Tee TLC
Upcoming events
This weekend we are set to enjoy a bumper weekend with the 2 day The Southbroom International ShootOutsponsored by Colin McKay & Applied Outsourcing!
The Saturday evening Valentine's function is fully booked and the Legends and guest artists have all been tuning up!
The Score Card
Saturday 25 January
Chicken Run –  Ind Stab
19pts Chris & Alexandra Huber
17 pts   Chris Miller
Saturday 26 January
Ladies – Champagne Day BB Stab
1st – Jenny Westray & Rita Kinghorn 45 pts
2nd – Lorraine Cook & Solange Fox 39 pts
3rd – Rene Matthew & Allyson Thomas 38 pts
Men – BB Stab
1st – Piet Joubert & Malcolm Moorley 45 pts
2nd – Brian Hoggart & Vernon Duggan 44 pts
T3 – Norman Farrell & Andrew Leckie 43 pts
T3 – Piet Joubert & John Lison 43 pts
Wednesday 30th January
Ladies – Alliance
1st – Regina Bosshart, Anita Landolf, Alexandra Huber & Ursula Spoerri 88 pts
2nd – Heleen Hissey, Jeanette Peyios, Rita Kinghorn & Ghost 83 pts
3rd – Heather Anderson, Lorna Johnson, Jean Corfe & Janet Humphrey 82 pts
Heleen Hissey: Hole-in-one on 11th Hole.
Men – Alliance
1st – Jonathan Shaw, Richard Bridgeford, Brian Brasher & R Robinson 84 pts
2nd – Nick Dreyer, G Scott, Martin Hutton & Andrew Dore 84 pts
3rd – John Fox, Joseph Stoellinger, Steve Wells & Bob O'Callaghan 83 pts
Friday 1st February
Chicken Runners
Lorna Johnson 21 pts
John Fox, Eileen Neilson & Cyprian Xolo 20 pts
Maeve Mullane, Gary Purtell & Dave Neilson 19 pts
Saturday 2nd February
Ladies – Casa Toscana BB Stab
1st – Di Morris & Jenny Westray 43 pts
2nd – Lorraine Cook & Heather Anderson 43 pts
3rd – Augi D'ewes & Jeanette Peyios 43 pts
Men – Casa Toscana BB Stab
1st – Russell Johnson & Tim Hitchins 44 pts
2nd – Graham Holford & Urs Diethelm 43 pts
3rd – Riaan Croucamp & Johan Wentzel 43 pts
Wednesday 6th Feb 2019
Ladies – Alliance  2 to count
1st – Jill Webster, Pauline Tillcock, Solange Fox & Janet Humphrey 88 pts
2nd –  Karen Schmidt, Margaret Stoellinger, Jenny Holford & Glynis Hutton 77pts
Men – Alliance   2 to count
1st – Gordon Moody, Jonathan Shaw, Brian Hoggart & Bob Carmichael  93 pts
2nd – Derek James, Graham Holford, Joseph Stoellinger & Anton Panhofer  90 pts
3rd – Craig Treherne, Andre Steyn, Christer Solgevick  & Leon Van Schalkwyk  89 pts
Feel the thrill
The sweet spot matters
One of the best feelings in golf is when you make contact out of the "hitting zone" with your driver.
It's an exquisite moment. There's satisfaction in watching the ball speeding down the fairway.
It's not easy though. You're swinging the club with the longest shaft.
The ball might be teed up, but it's going to be over 40 inches away from where your hands are gripping the club.
It used to be you had to find the sweet spot in a much smaller head. Now the head and face are larger,
and the manufacturers work to extend the hitting zone.

We're delivering thrills
Our passion is helping you experience the thrill of contact out of the hitting zone.
If you're looking for more thrills, come and spend 30 minutes with us.
Contact us >
Beyond our expectation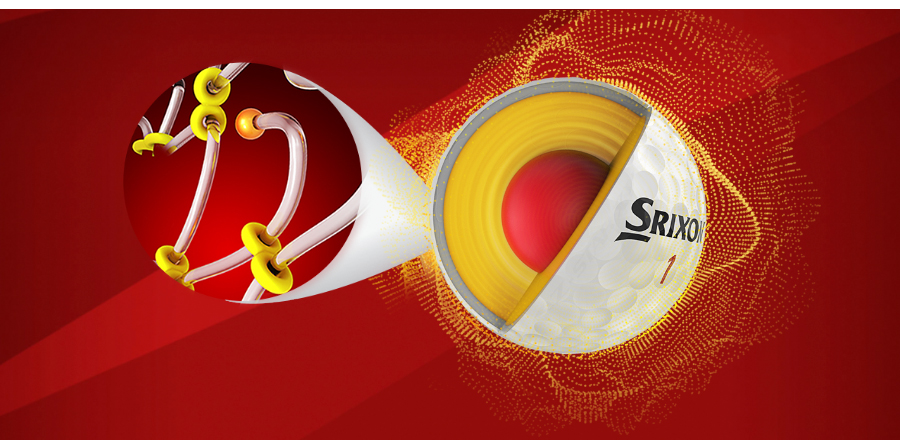 How does a golf ball deliver it all;
Soft, fast, distance, spin, durability?
Watch the video >
How good could you be?
Talent is overrated
Geoff Colvin, in his theory of "Deliberate Practice", contends that you can all be so much better at golf,
and much quicker than you imagine, with a better approach to practice.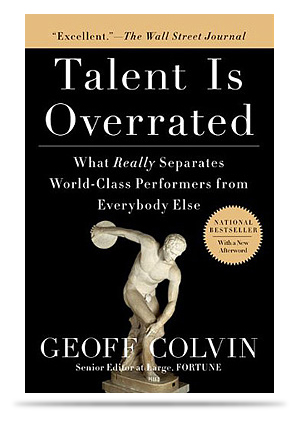 This isn't about beating balls until your hands bleed.
It's about having a sensible structure that accommodates the commitment you feel you can make.
There are four essential steps according to Colvin's principals:
| | | | |
| --- | --- | --- | --- |
| A personal plan that starts from your current reality, identifying the areas you can most easily improve, quickly. | Go beyond your comfort zone, practicing shots you are not comfortable with. Choosing to hit shots you can't execute properly or consistently might not seem like fun, but you need to deliberately push your boundaries. | If you don't have a lot of time for practice, then limit the new skills you're trying to develop. You need, through repetition, to sear the new movements required into the brain. | You need continual and specific feedback. You need to record your swing in practice, or have a coach present. If the result is bad, you need the diagnosis as a feedback. If the result is good, you need the positive affirmation of the movements that created the result. |
Start your journey. We want to help.
We want to help you on your quest for a better playing experience. Let us start you off with an assessment. Then, involve us in your progress. Let us provide feedback and guidance. Better golf shots, more often, is a great payoff.
Contact us >
Regards,
Derek and Sheena