Monday, 01 October 2018

Some great golf coming up on tour
Congratulations to Bryson DeChambeau for winning the first leg of the FedExCup Playoffs. This weekend, the players will take on TPC Boston. With 30 of the 100 players not progressing to the BMW Championship next weekend, there is a lot to play for. We have two South African's who have made the top 100; Branden Grace (91st) and Louis Oosthuizen (69th), and let's hope they both have strong tournaments so that we can support them again next week!


Thanks to Dane Adendorff for the great twilight pics above, taken this week
Member News
The September 100 Club Draw has been moved from Friday, 31st August to Saturday 1st September at 6pm due to the busy corporate golf day (The Trafalgar Presbyterian Fundraiser Golf Day). The attendance prize is R2000.
Name our new entertainment lounge – a great room with a view!
As we slowly choose the right décor etc, we are also running a competition to name it! We are looking for a catchy, classy, easy name – unique to Southbroom.The person who submits the final name chosen will win a meal for 2 sponsored by Southbroom Club & a dozen Srixon Ulti Sof golf balls sponsored by Southbroom Pro Shop.  Some great suggestions have been flying in! Thank You
Click here to enter.

It's time to switch your golf balls
The Srixon special at the moment: Buy 1 dozen Srixon and stand a 1/100 chance of winning R10 000 to spend in the Southbroom Pro Shop!

Spring Day promises to be buzzing with activity here in Southbroom…
There will be 12 teams of 10 people spinning in 30 min heats. Monies raised from entries will be going to the Pro Deo Care Group – Click here for more information.
The section of road in front of the Square will be closed for the day and there will be lots of vendors as well as kids activities, non-spinners are encouraged to come along and join in the fun. (Some of the vendors include: Not Sheep Boutique, Café LM, O'Nellys, Vanpe, Artisans Republik, It's Party Time, Giant & BMW Supertech)
It's all for an awesome cause and there'll be giveaways and prizes on the day for people to enjoy!
Followed by the Spring Alliance here at the Golf Club with a Dinner Dance party in the club house after play. What a way to bring in Spring!
Starters
Butternut Soup, Green Salad,
Caprese Salad
& Home Made Bread

Main Course
Roast Pork with Apple Sauce
Roast Beef with Horseradish
Roasted Med Veg
Roast Potatoes
Broccoli and Cauliflower Bake

Desserts
Apple Crumble with Cream and Custard

For bookings, please call
039 31 66 026
The quiz night was a great success!
Thanks to Cleve and Julie Walker for another successful Quiz Evening, there was a full house of 10 teams and much fun was had by all!

Saturday 1st September – Open Spring Alliance

Monday 3rd September – Wednesday 5th September-
Course Closed due to spring treatment

Thursday 6th September –
Ladies- 5 Clubs Individual Stab
Men- Individual Stab

Friday 7th September – Chicken Run

Saturday 8th September – Open Combined Stableford Alliance

Wednesday 29th August
Ladies- BB Stab
1st– Lesley Godley & Jo Ledden 44 pts
2nd– Lorraine Cook & Di Morris 42 pts
3rd– Mari Fielden & Jo Ledden (Pivot) 40 pts
Men- BB Stab
1st– Rory O'Donnell & Paul Lawson 48 pts
T2– Kevin Ponton & Nic Van Deventer 48 pts
T2– Chris Miller & Erwin Schanda 48 pts
Monday 27th August
Southbroom Ladies Open Day – Waltz Alliance
1st– Felicity Robertson, Augi D'ewes, Alicia Hilt & Di Morris 80 pts
2nd– Yzelle Greyling, Annie Stoppel, Cecelia Verster & Barbara Rousseau 78 pts
3rd– Sandi Johnston, Shannon Gotlieb, Heleen Hissey & Lesley Godley 77 ots
4th– Rene Matthew, Michelle Davies, Sharon Schutte & J Mostert 75 pts
5th– Jenny Hulley, Beryl Olden, Di Nadauld & Vicki Nott 75 pts
Saturday 25th August
Open Alliance
1st– Mike Lig, John Neaves, Tim Hitchins & Malcolm Moorley 91 pts
2nd– Gordon Moody, Kerry Fielden, George Wright & Dave Page 91 pts
3rd– Rob Meydell, Olliver Ransome, Don Osbourn & Paul Lawson 90 pts
Friday 24th August
Chicken Run
John Fox 21 pts
Mark Torlage 19 pts
Rory O'Donnell 18 pts
Chris Miller 18 pts




Even at the simplest level, there are over 600 fitting options for a single iron.
Many will have 4 (or more) shaft flex options.
That pushes the number of options closer to a thousand.
Some will have more than just 2 shaft options. Now we're way past a thousand.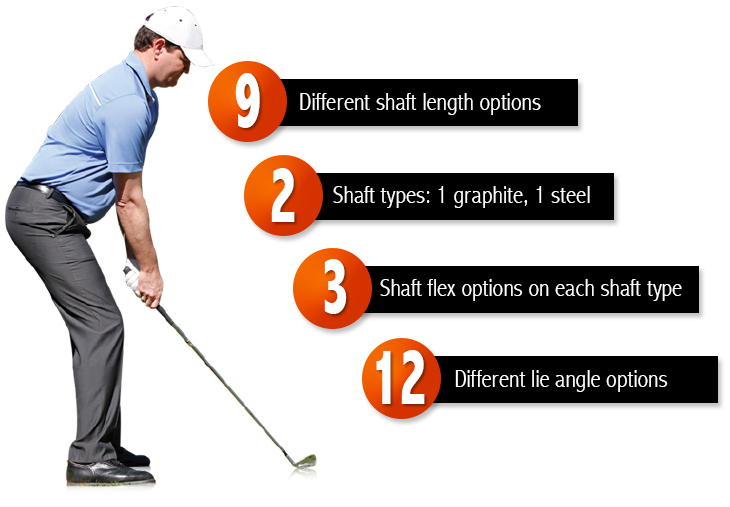 Now consider that's all before we
look at the size of grip you require.

We're not asking you to rush out and buy a new set of irons. But when it does come time for you to invest in
improvement and more great shots, remember you're 1 in a thousand.
Take the time. Take the care.










Regards,
Derek and Sheena