| | | |
| --- | --- | --- |
| | | Congratulations to Maser on their recent award. Voted Best Home Security Company in the South Coast! |
Club News

Congratulations!

Congrats to Maser on their recent award. Voted Best Home Security Company in the South Coast!"Voted best Home security company! Thanks to our loyal clients and especially to out loyal and hard working staff for the continued support. We very proud of or team and what they are achieving on a daily basis."

AUDI Margate, sponsor of Southbroom Business Day

Congratulations to our most recent November AUDI Margate Business Day winners. Thanks to Johan Kinsey Allers, pictured below with the Nov Business Day winners Nic Van Deventer, Graham Sole, Eugene Orsmond,  & Kevin Murray. Well played Gentlemen!

The Ladies Section Lucky Draw winner was Pierre van de Walle – who was just so delighted when his name was drawn out of the box by his wife Tanya!

The final Audi Margate Business Day is on Friday 14 December. Don't forget to get your name down!
 Audi Margate Business Day Winners
Nic, Graham, Eugene, Johan & Kevin
 Lucky Draw Winners Pierre & Tanya
Rules evening
The Rules discussion evening was well attended last Friday by over 60 members – and the fish and chips afterwards was delicious! Here is a quick summary below of the changes:
Course update
The 5th hole improvements are coming on steadily! Liz Norton's magic touch and green fingers are transforming all and it is really going to be a massive improvement for the hole! Thanks to everyone involved in the upgrade!
Dad's Army News
Our Competition was played on the 13th of November. The winner was Piet Joubert on 38 points and Malcolm Moorley was the runner up on 35 points. Well done gentlemen!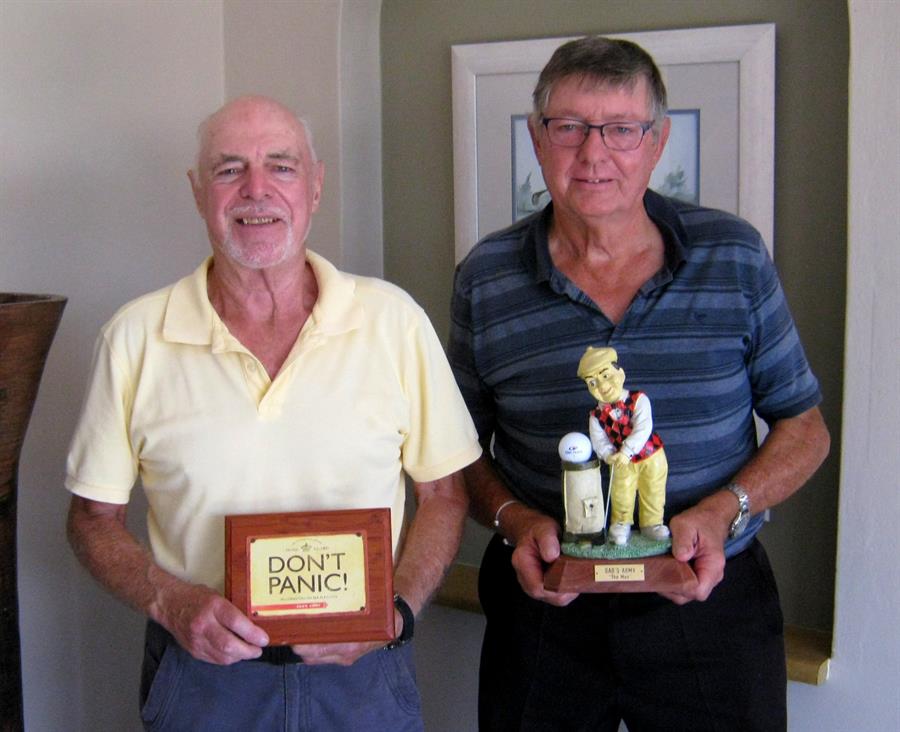 Malcolm Moorley & Piet Joubert
Club house improvements
The new Coffee Bar area is gathering praise as surrounding folk are finding the Club a great place to come and relax! And this week a new dance floor was laid which will really help with functions in the bar! With the added seating area gained from reducing the size of the bar counter earlier on this year. It's great to have the extra space for tables etc!
 Beaver Creek coffee brewing especially for you!
Pam is our trained barista
Ready to party …
Village News
The Annual Library Raffle is underway, you gotta be in it to win it! Also, see poster below for Tennis Club News regarding Sunday 2nd Dec!
Upcoming Events
Friday 30 November at 6pm is The November 100 Club Draw! Followed by the Chicken Run Order Most Fowl Presentation & Chicken Run Year End Dinner!
Sunday is another early 5km fun run, see poster lower down!
There will be a Srixon Demo Day next Wed 5th Dec! Join Garath, Dj & Dane on the practice tee from 9am – 13h00.
The Ladies are looking forward to their annual Christmas golf & lunch on Thurs 6th December!
The Score Card
Audi Centre Margate Business Day
Alliance
1st Nic Van Deventer, Kevin Murray, Eugene Orsmand & Graham Sole 95 pts
2nd Guy Yeadon, Simon Lee, Pravesh Lograth & Ghost 92 pts
3rd Norman Farrell, John Fox, John Neaves & Gerald FitzGerald 89 pts
4th Hans & Gjertrud Kok, Heiner & Ursula Spoerri 88 pts
Friday 23 November
Chicken Runners
Uli Matzinger 23 pts
James Fergus 19 pts
Karen Bridgeford 19 pts
Bob Carmichael 19 pts
Geoff Skelton 18 pts
Saturday 24 November
Open Alliance
1st George Haswell, Jean Corfe, Colin Steyn & Doug Butcher 85 pts
T2 Norman Farrell, John Neaves, John Fox & Brian Brasher 85 pts
T2 Nic Van Deventer, Christer Solgevik, Bob O'Callaghan & John Hearst 85 pts
Wednesday 28 November
Men's BB Stab
1st 42 pts Piet Joubert & John Lison c/o
t2nd 42 pts Malcolm Greenland & Mike Lig,
t2nd 42pts Gary Godley & Christer Solgevick
The direction of technology
Tracking everything
Most of us think that the advances in golf equipment must come to an end.
Especially as the design of clubs (and golf balls) is now so tightly regulated.
But, we suspect there's another big change on the horizon.
The data gathered from launch
monitors blew away some myths,
and opened the eyes of club
designers, fitters, and golf coaches
to what produced the biggest improvements.
Launch angles, spin rates, smash
factors, rise angles, face angles,
angle of attack can now all be
used with different clubs, to
create an exact fit to your
performance in the fitting bay.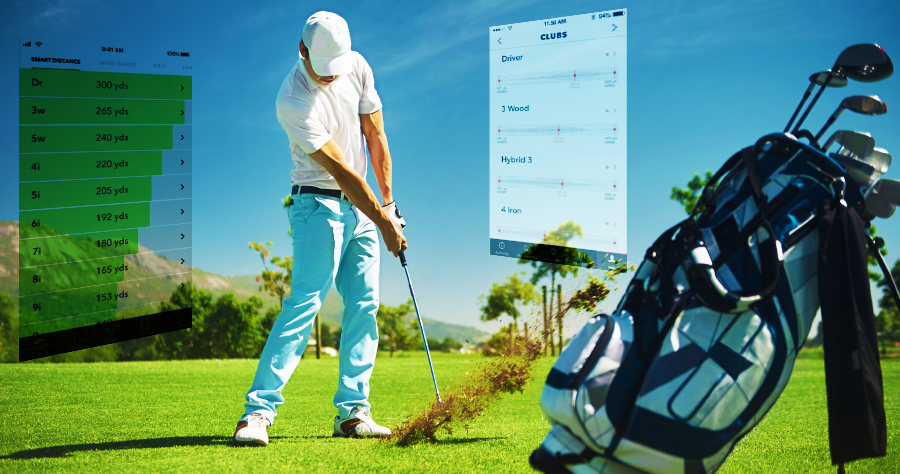 But, what's coming is the capture of your data on every single shot you play. There are already clubs and gadgets that allow the collection of some of the data required to fit you.
As that is filled out and refined, when you come into have a fitting we'll be able to download your on-course data and know the exact specifications that will help improve your playing performance.
Experience the impact on your game now
If you haven't been for a fitting, then we'd encourage you to at least schedule a driver assessment.
With the knowledge we now have about ball flight and what creates the optimum result,
we can often create quite spectacular improvements.
Contact us >
Get your precision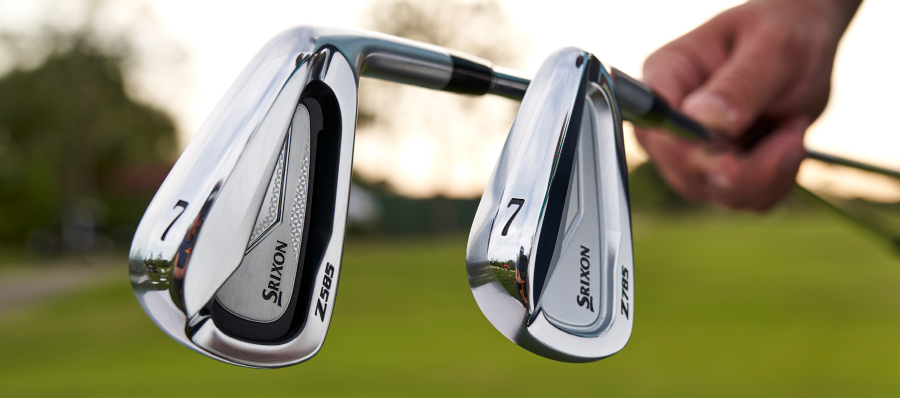 Srixon Z 785 and Z 585 Irons
 The new Srixon Z 785 and Z 585 both offer exciting new advancements in technology
designed to provide precision into the greens.
Learn more >
What motivates you?
The social experience or …
We're very interested in gaining a better understanding of what's important to you.
Over the next three weeks, we'd like you to answer a simple question each week.
We won't store any personal data, indeed you won't even have to give us your name (unless you want to).
But we will collate the data to gain a better understanding of what we need to improve.
So starting this week:
| | |
| --- | --- |
| Social | Competition |
| | |
| | |
Let us know
For you, what is the relative priority of the recreational and social experience vs golf as a sporting competition?
Let us know now.
Click here >
Cleveland Golf RTX4 Wedges
The new Cleveland Golf RTX4 Wedges deliver ball-stopping spin and control, along with designs that offer you options.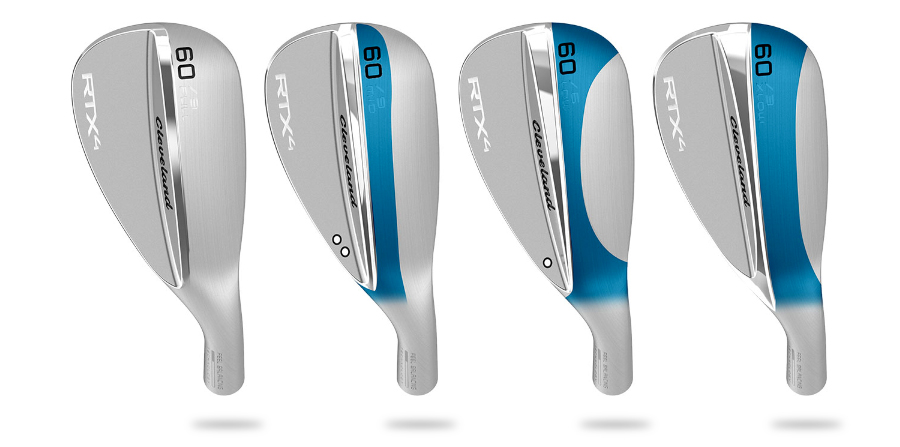 If you haven't upgraded your wedge set in a while, the Cleveland Golf RTX4 Wedges and the number of options they offer you greenside should be an inspiration to improve your short game.
Learn more >
Regards,
Derek and Sheena