Greetings from Derek
Tuesday, 25 July 2017

Don't miss the 100 Club Draw tonight @ 6pm,
together with the Chicken Run Braai!

The Southbroom Men's Amateur Classic is upon us with the welcome Registration and Welcome Cocktail party on Sunday evening and then the Toyrnament starts with the morning field teeing off at first light on Monday morning.

Once Again, We are very privileged to have Barry Elliot of Hibiscus Brokers as our main sponsor. Barry has supported the Southbroom Amateur Classic for well over 20 years now. We also have Theo van Vuuren of Mopar, Jeep and Alfa Romeo bringing the legendary energetic Team Climax group down to the tournament with their great spirit & good sponsorship as well. Thank you Theo!

Our Southbroom Pro Shop suppliers are fabulous supporters of this event, always sending us quality prizes which really all adds to a great event that is spoken about country wide.
Thank you Titleist, FootJoy Nike TaylorMade, Srixon, Pringle, Cutter & Buck, Puma , Mizuno Bandit Golf, Stegman Golf, Best of Golf, Kenasco Shirts. Barrel Barnic Sports & Emthunzuni Hats.

And thanks to our local sponsors who are always so enthusiastic  San Lameer Golf Course ,Riptide Restuarant, Beaver Creek Coffee Farm, Tamarind & The Estuary Country Hotel & Spa  & a special thanks to the Purtell family and Realty 1 Southbroom who really go the extra mile and add so much to the event….

The golf course is a little dry but very good. Links golf with some bump and run skills will be needed to firm greens. It does look like good weather is predicted to go with great food and entertainment, plenty beer and friends.

The Defending Champs who will be playing hard are Bob Thomas and Patrick Cronin but there are many out there who want to challenge the Trophy  away from them! Play well Gentlemen!


Defending 2016 Classic Champions   Bob Thomas & Pat Cronin
& Winners in 2013 & 2015

We have got some wonderful specials in the shop with some FootJoy & adidas shoes deals, ball deals and clubs so please come in for a look see.  Limited numbers available.


New Social Members  Justin Matthew and Barry Wood escaping the cold Gauteng weather
for the weekend and enjoying the Southbroom potjie & Rugby evening!

The Club has been buzzing with the Saturday night International Rugby Matches being televised. Last week's Potjies were great.  Thanks to Meneer Nick van Deventer & Anri for their culinary expertise! It was pronounced  delicious and it was great to see a full happy bar. Go Bokke!


Casa Toscana BB Stab Golf Day Ladies showing off their winning vouchers. Contrats Margi, Candida Meryl Rene & Julie!


Some of the talented Casa Toscana BB Stab Winners!
John Whitnall, Garth Strong & Malcolm Greenland!


Congratulations to the latest Casa Toscana Golf Day winners!

 We know you are going to enjoy your meals at the award winning restaurant in Trafalgar! 

Learn more about the Restaurant here

The Annual Southbroom Conservancy Fundraising Golf Day is on Saturday 15th of July. Please book now as it is always a very popular day.  Our Southbroom Conservancy Committee are always busy protecting our beauriful village. This mornings excitement was news that a 2yr old newly weaned, very curious baby elephant seal was taking a breather on the beach as he explores our coast line.  The area he was in was cordoned off and Conservancy folk & honary officers were protecting him and keeping an eye on him.

Fun Run Walk –Sunday the 16th July 7am we are holding another 5km or 10km walk/ run around our beautiful golf course followed by breakfast on the Patio, and that afternoon at 3pm I am holding a free junior golf clinic, (see poster) so lots of of activity is on the cards these holidays!

Please note the Junior Clinic is on Sun 16th (not the 23rd as was originally advertised last week.) The 16th is a better holiday date to hold it on especially as the Ladies Senior Golfers have postponed their Championships.

Christmas in July Tues 25th July


Week at a glance 

Fri 30 June
Chicken Run & Chicken Braai
100 Club Draw @ 6pm

Sat 1st July
Men: BB Stab
Ladies: BB Stab

Sun 2nd July
Southbroom Men's Amateur Classic Practise Round
Registration 16h00 -18h30
18h30 Welcome Cocktail Party

Mon 3rd July
Mens Amateur Classic – Round 1

Tues 4th July 
Mens Amateur Classic – Round 2

Wed 5th July
Men: Alliance
Ladies: Alliance

Thurs 6th July
Mens Amateur Classic- Round 3

Fri 7th July
Mens Amateur Classic – Round 4

Sat 8th July
Men: Alliance
Ladies: Alliance

Sun 9th July
AM Purtell Trophy u18



You're interested; we're interested?
We have some simple questions about your wedges.
If you can take a few minutes to answer them, then you'll go into a draw with the chance to win prizes.





Friday 23rd June
Chicken Runners
Dawie Schutte 21 pts
Gerald FitzGerald 14 pts
Saturday 24th June

Ladies- Casa Toscana BB Stab
1st– Jean Corfe & Julie Walker 47 pts
2nd– Rene Matthew & Meryl Chambers 46 pts
3rd– Candida Amm & Margret Sherratt 45 pts
Men- Casa Toscana BB Stab
1st– Cyprian Xolo & Garth Strong 49 pts
2nd– Guy Yeadon & Ghost 49 pts
3rd– Malcolm Greenland & John Whitnal 48 pts

Wednesday 28th June
Ladies : Alliance
1st– 92 Joy Crutchfield, Shelley Myers, Sandy Luus & Irene Schanda
2nd– 82 Sharon Turnbull Jackson, Julie Walker, Di Morris & Janet Humphrey
Men- Alliance
1st– 96 Gordon Moody Kerry Fielden, Brian Hoggart & Cleve Walker
T2nd– 94 Piet Joubert, John Lison Graham Sole & ghost
T2nd– 94 Errol Amm Norman Jeffery Gerald FitzGerald & John Fox




Putting the 'game' into your short-game
If you've got short-game practice time with a friend or family member, then make it more fun with a Par 18 Challenge.
This will test how well you're likely to transfer the short-game skills you've improved out to the golf course.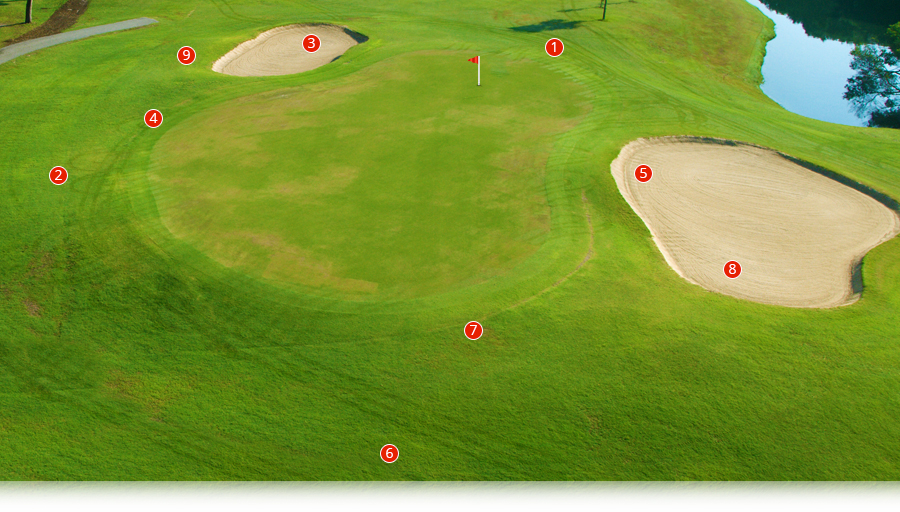 You have 9 holes from 9 locations. Three test your chip and run skills. Three test your greenside bunker skills.
Three test your short pitch shots. With each skill there's an easy, medium and hard test.

Make sure you putt out competitively as this should also put pressure on your 3, 4 and 5' putting technique and ability.

How close can you get to 18? Are you hitting it close enough, but not sinking putts?
Or are you just not putting the ball close enough to make an up and down?

 Invest in your short-game, it pays off. Invest in your knowledge and technique, invest in your practice,
invest in concentration. Expect more, and enjoy your golf.

You're putting out and keeping score. How close can you get to 18? Or, if you're competing with friends,
who wins or who takes the money?
This is a great game and a lot of fun.










Regards,
Derek and Sheena