Monday, 06 August 2018

The Southbroom Conservancy Fundraiser Golf Day is on Saturday 4th August!

Comp fee is only R100. Come and play in a great day! We extend a huge thank you Southbroom Conservancy for all you do in keeping Southbroom beautiful and always so special!
President's Trophy Winners
Hearty Congratulations to Riaan Croukamp & Johan Wentzel who won the President's Trophy last Saturday.
Vic Pretorius is our Club President. He is also Chairman of Greens and it has been wonderful to see his passion for the golf course. The course has really flourished under his leadership.
| | | |
| --- | --- | --- |
| Riaan Croukamp & Johan Wentzel with The Presidents Trophy | |  Club President – Vic Pretorius |
What a feast of golf we have been able to watch on TV over the last five weeks!
So special to see Brandon Stone winning the Scottish Open and other young South Africans doing so well. It has been Links golf time of the year which I enjoy to both watch and play. The Men's Senior Open was great with Gimenez beating Langer by a shot around the Old Course. Tom Watson beat his age and the standard of golf in very tough conditions was superb. Langer was amazing at Carnoustie shooting -1 for the week up against all the youngsters. There is no other sport where that can happen.
| | | |
| --- | --- | --- |
| Brandon Stone , Dj & Leonard Loxton from Titleist | | Southbroom 2nd Green |
Well done Meyer!
Our great neighbour Meyer Du Toit at San Lameer has just been awarded 
Golf Club Manager of 2018
 by the PGA of South Africa and he so deserves the recognition. Well Done Meyer!
San Lameer is looking great having just hosted a 2 day KZN PGA  Pro Am and the Mark McNulty Pro/ Junior day which was a great success.

The Junior Pro Junior Day at San Lameer last  Saturday
Growing the game of golf
Ongoing junior programs are vital so we are doing free golf on Sunday afternoons for juniors out of season and hopefully our numbers increase. Golf in general needs more youngsters and I'm not sure that youngsters and their parents totally understand what a life skill golf is. I do think that the success of our younger players on tour will create more interest.
The Annual Round-Table Golf Day
Last weekend was well supported and it was a very festive enjoyable day as always! Well done to  Ettiene and his Round table team who organised the day.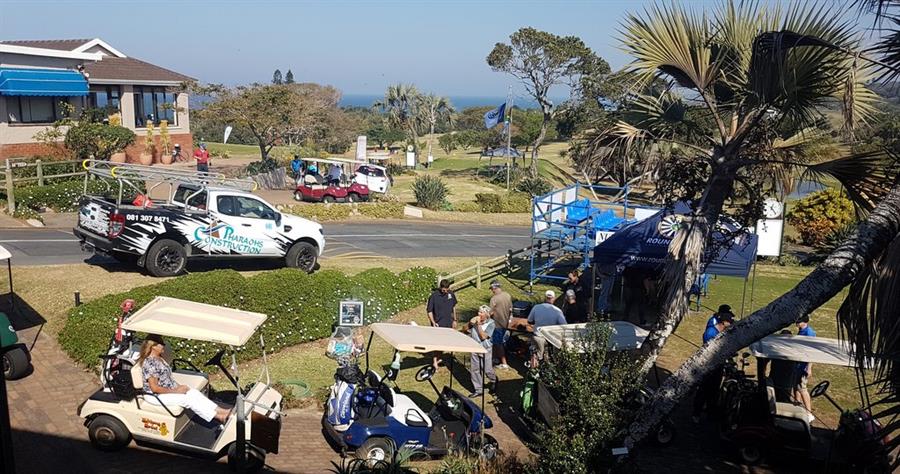 Nu Form grandstand on the 10th tee!
July 100 Club Draw
Our Sunday Junior Special is growing!
After 12 noon school kids play at no charge and adults playing with them, pay members rates!

Congratulations to proud Grand Parents Wendy & Gordon Huddy – a bouncing new grand son!
Griffin Edgar Huddy arrived safely on the 27th July, Congratulations to delighted parents Dale & Madonna Huddy.
Congratulations to Grand Parents Glynis & Rob Nisbet. Their daughter Nicole & husband Brett Eloff were just delighted to introduce little Catherine Glynis to big brother Jonathan.
We look forward to seeing all the new babies visiting Southbroom soon!
| | | |
| --- | --- | --- |
| Dale, Madonna & baby Griffin Huddy | | Brett, baby Catherine, Jonathan & Nicole Eloff  |

Calling all Home Owners & friends of Southbroom!
Richard Bridgeford is doing a sterling job of trying to have our roads in Southbroom repaired and upgraded.
He has asked us all to send a strongly worded complaint detailing problem areas to:
services@rnm.gov.za
These complaints are registered and improve our position of having our roads repaired. Please ask your friends to do likewise.
The Ramsgate Book and Art Festival  2nd to 5th August is in full swing! And great to see the support happening!
Visit
www.ramsgatefestival.co.za

Save the date! Saturday 1st September is a special Spring Alliance!
The Comp will be followed by a delicious dinner and dance with the Southbroom Legends Band! Book in the office.

Friday 27th July Chicken Run 9h Ind Stab
23 pts Malcolm Greenland
22pts Paul Cole
20 pts Danie Schutte
Saturday 28th July Ladies – BB Stab
1st – Rene Matthew & Candida Amm 46 pts
2nd – Felicity Lund & Rita Kinghorn 44 pts
3rd – Janet Humphrey & Michaela Fletcher 42 pts
Mens – Presidents Trophy BB Stab
1st – Johan Wentzel & Riaan Croucamp 49pts
2nd – Gavin Sole & Brian Jolliffe 47 pts
T3 – Craig Pitt & Mike Woolridge 46 pts
T3 – Bob Thomas & Peter Volck 46 pts
Sunday 29th July Round Table   Alliance 2 to count -Scramble Drive
1st 114pts Edwin Steyn, Elvis Khawula, Pat Mavundla & T Martin
Wed 1st August Men's Ind Stab
1st – 36 pts Roger Hissey
t2nd 34 pts Jim Cook, Malcolm Greenland & Gordon Moody
Ladies' Ind Stab
Incredibly windy day!
1st 27pts Jean Corfe
2nd 23pts Tammy Murphy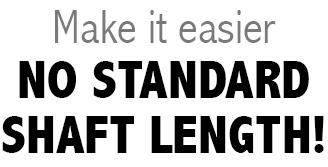 We want to help more of our golfers experience the joy of a sweetly struck, accurate iron shot more often.
That means increasing consistency, and how square to target line the club face is at impact.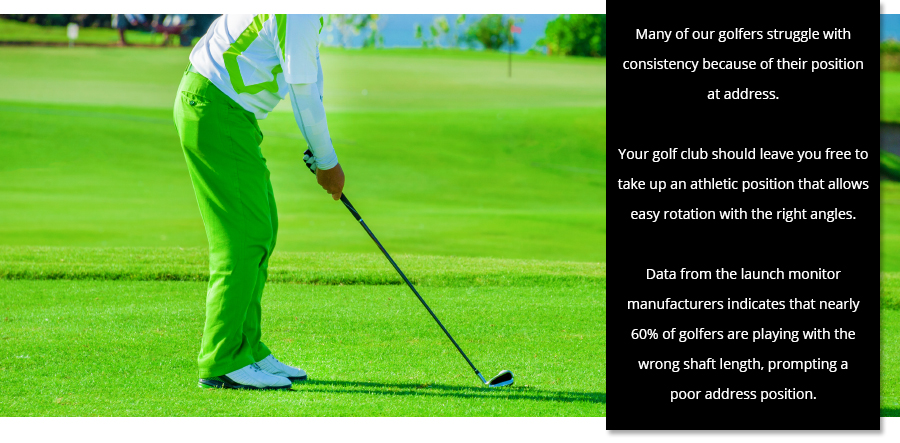 None of this is helped by manufacturer's all having different 'standard' lengths on their clubs.
We reviewed four models from four major manufacturer's and there was nearly an inch between
their standard #7 iron lengths.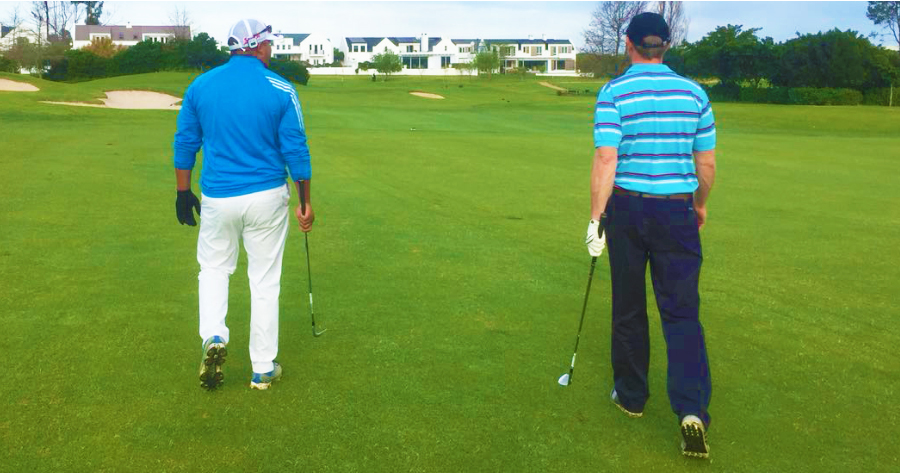 Get fitted. "You're worth it", especially if you're inexperienced, or inconsistent in your ball striking.
Experienced and supremely skilled athletes can make swing adjustments to poorly fitted irons. The rest of us can't.

This is a 'no-brainer'. Every golfer should play with golf equipment that makes it easy to repeat a golf swing;
that brings the club face back to the ball; square to the target line. Inexperienced and learning? Make it easier.
Improving and aspiring? Make it easier. Good and competitive? Make it easier.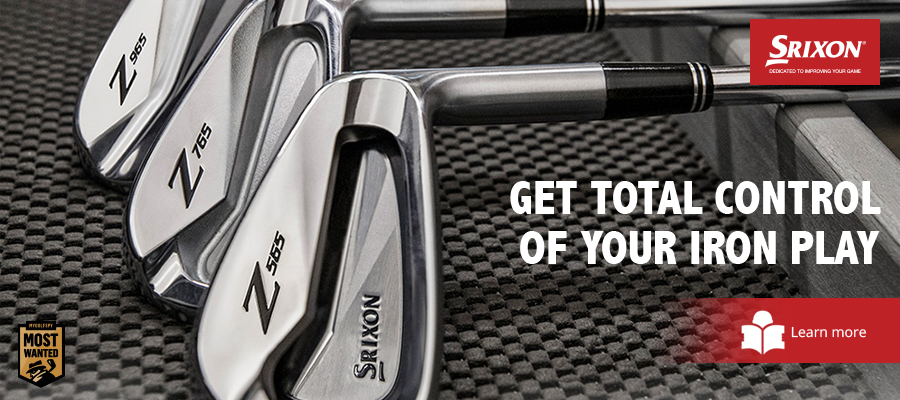 We want everyone; irrespective of their background, their gender, or their age; to experience
golf as potentially the greatest social and healthy activity available to them.
To do that, we've had to catch up with the changes in the world.
 This is a great advert that highlights how
much more important healthy, social,
outdoor activity is to married couples
as they approach retirement.

This sort of social commentary (and advertisers
who understand their market) clearly
demonstrates that past-times are
shared by couples. Less and less
does a husband or wife disappear.
 If you have a spouse who doesn't play golf; they may have had a negative experience previously;
then let us introduce them to a world of healthy, outdoor, very social enjoyment.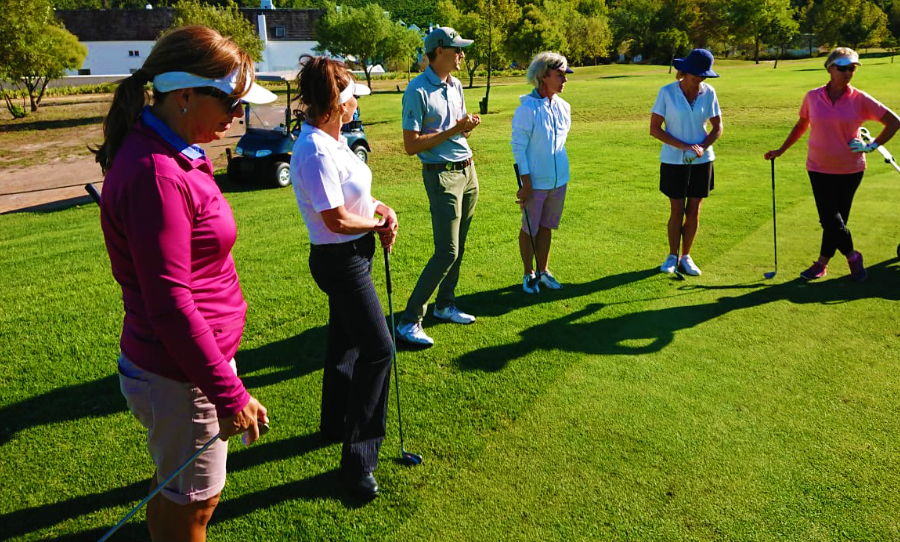 We need to keep our current participants playing the game, and even make it possible for them to play more often.
We also need more golfers. So, two birds and one stone. If you have a partner who doesn't play golf,
then send them to us, and let us introduce them to the best outdoor activity forever!







Regards,
Derek and Sheena