Monday, 01 October 2018

100 Club Draw  Friday 28th Sept at 6pm! Attendance prize R3000.
The Sun setting over the 14th Green.  Super pic from Dane Adendorff
The greens are beginning to come through beautifully after spring treatment. As we start to cut them down with new blades, they will transform into a great surface. The 
Mixed Classic
 in two weeks time is full and will be a great weekend of golf, food and entertainment!

The last 2 weeks have been pretty non-stop…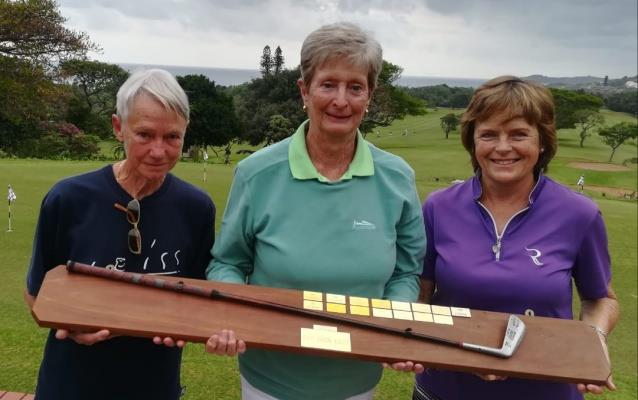 Elizabeth Cochrane, Jeanne Powell and Michelle Davies

Iron Lady 2018
Congratulations to the Iron Lady 2018 Jeanne Powell (centre) who won the Famous Five comp and was presented with the Iron Lady Trophy from Elizabeth Cochrane on Wed 26th September.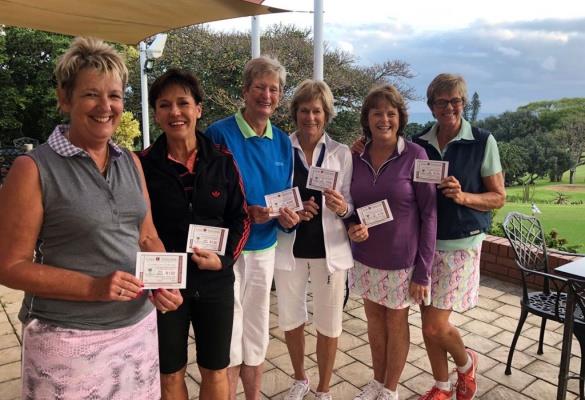 All the Lady Casa Toscana Voucher Winners from  Sat 15th Sept

Casa Toscana BB Stab
Recent Ladies section winners of Casa Toscana meal vouchers , unfortunately some of the men who won were not at prizegiving!
Thanks to Mario and Marisa for the Casa Toscana day The next one is on Sat 6th October. Please see  The Casa Toscana Menu below the fixture list for the specials they are running at the moment.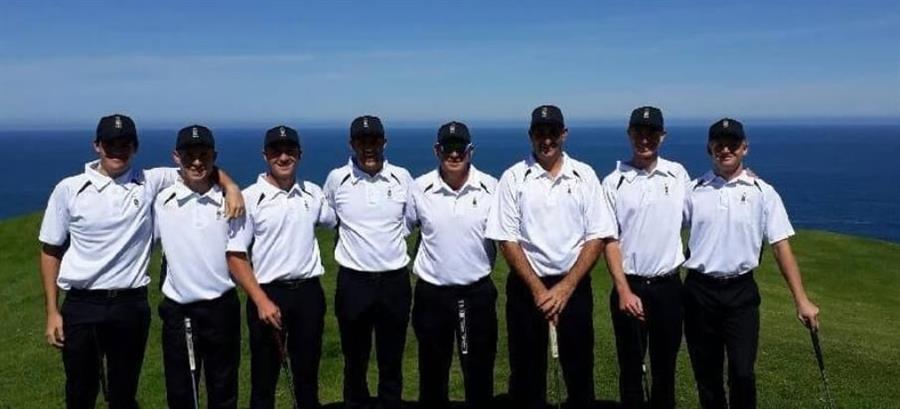 KZN Team at the Inter Provincial Tournament    Captained by Gavin Sole!
Natal Inter Provincial Tournament
Gavin was away captaining the Natal Inter Provincial Team at Oubaai Golf Club in the Cape. The team played really well but ended up finishing 4th overall.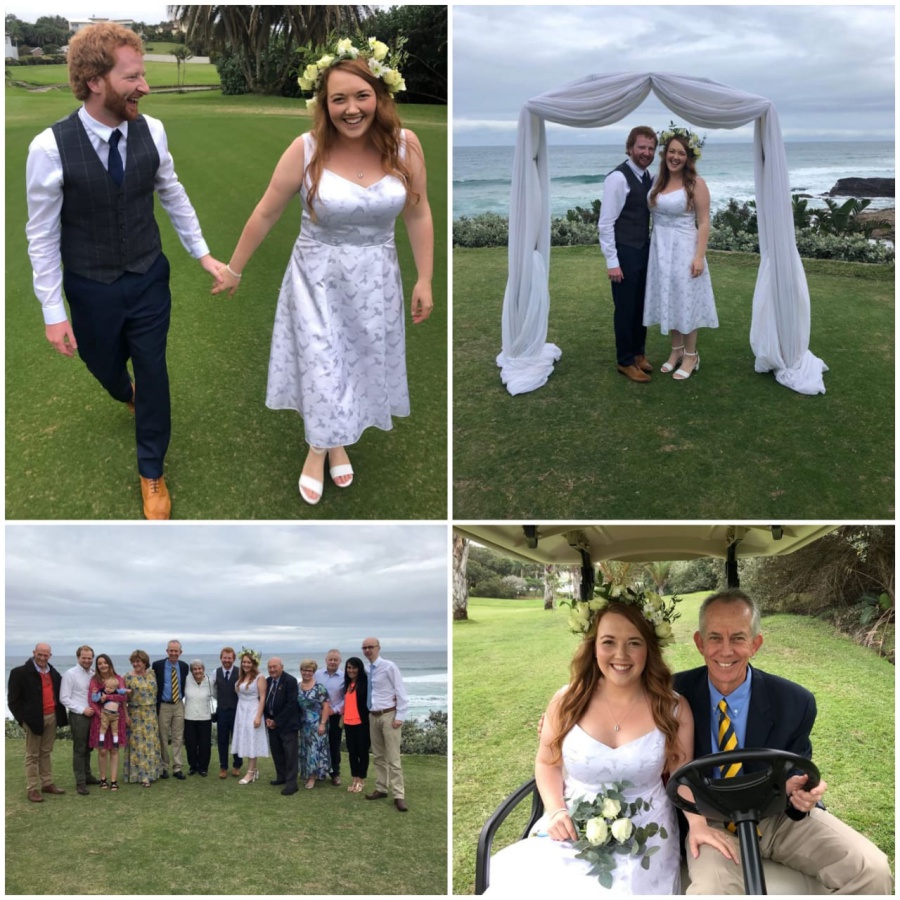 Our very special wedding at Southbroom

Courtney and Steven tied the knot
Courtney James and Steven Lamont were delighted to be able to exchange their wedding vows  on the 4th tee late on Thursday afternoon 20th Sept.The rainy day weather cleared in time for the small wedding party and the whales put on a brilliant show for all! The international family guests (from Ireland) were just wowed by Southbroom. We wish the happy couple all the very best!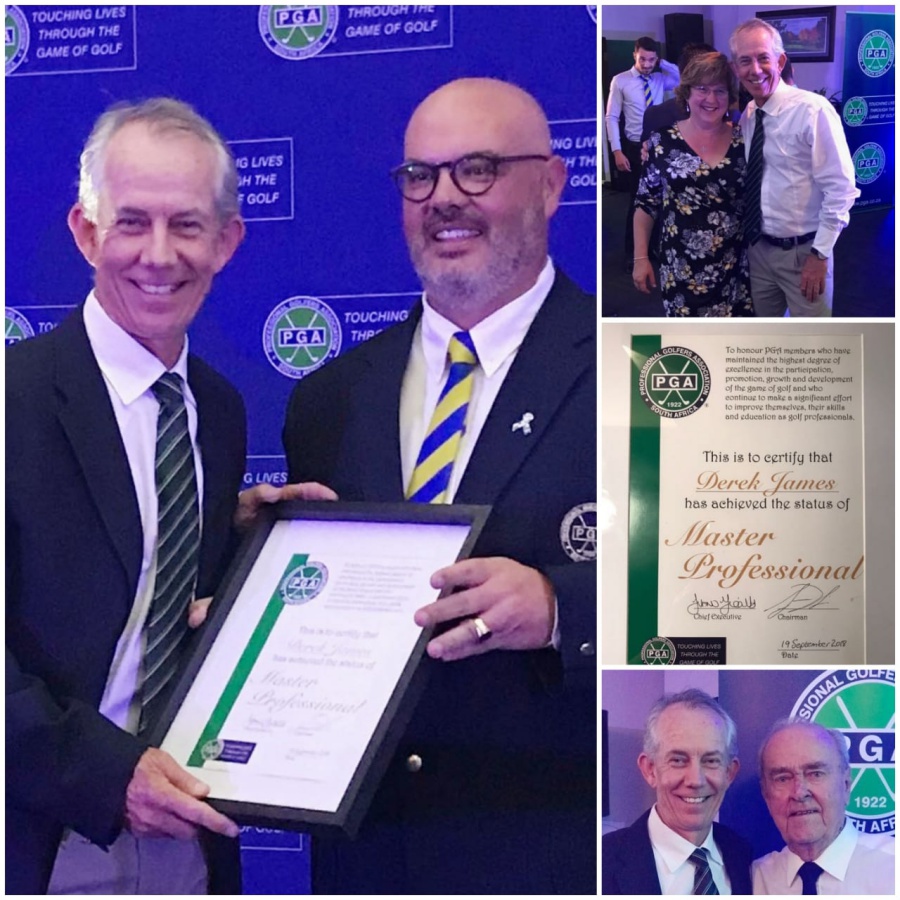 Derek James recently awarded Master Professional Status by PGA Chairman Louis FW Destroo

Annual PGA Awards
At the recent Annual PGA awards evening in Johannesburg, it was great to share in Kenneth Dube being awarded the PGA Club Professional of the Year, and our ace neighbour Meyer du Toit won the PGA Management 2018 category. He was also the runner-up to Kenneth Dube! Congratulations Meyer! I was honoured to be awarded Master Professional Status. It was fabulous to see every one in the golf industry at the evening, especially Denis Hutchison.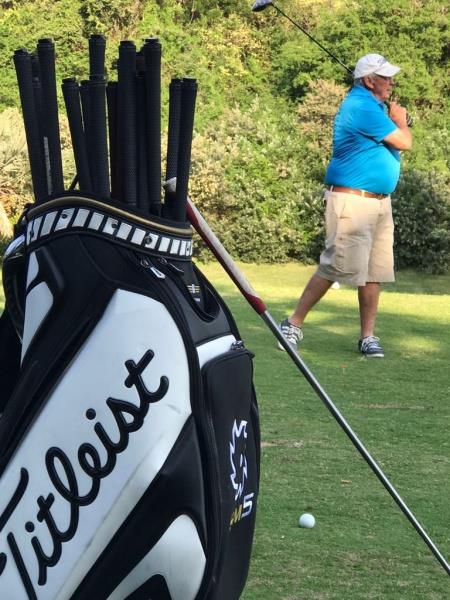 Vic Pretorius trying out the new Titleist TS Range
The new Titleist TS Range is here
Vic Pretorius, our Club President, testing the new Titleist TS3 and TS2 drivers and fairway woods. They really are amazing clubs with wonderful technology, easy to hit, and with the correct setting and shaft, they are longer. It is sometimes hard to believe that equipment can get much better but this new range of TS3 and TS2 are very impressive. They are about to launch in SA so come in and test them out. Even the sound of the ball off the face is exciting.
Audi Centre Margate Business Day
Thanks to Dave Phillips from Callaway who set up a fantastic Ball/Cap/Glove Special for all who played in the Audi Day last week Friday. There is still some stock left, so check out the Callaway Special in the Pro Shop.  Johan Kinsey allers won the Ladies Raffle for the second month in a row! Well Done Johan.   There is no Business day in October due to Mens Interclub.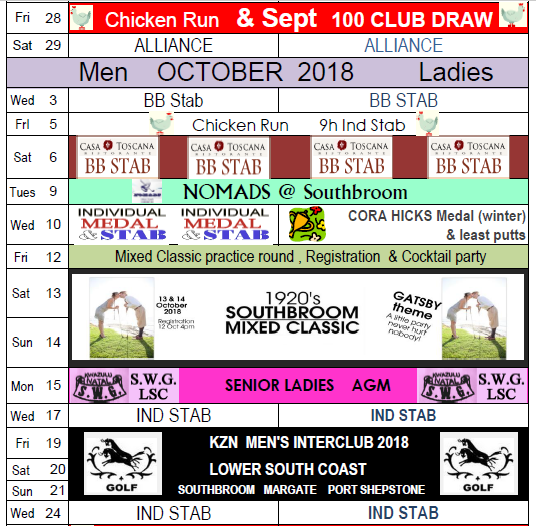 Casa Toscana
Light Lunch Menu
From Wednesday to Friday October – November 2018
Option 1: 1 small glass of wine (160ml). Starter and Main or Main and Dessert R120.00
Option 2: 1 small glass of wine (160ml). Starter Main and Dessert R 150.00
Starters
Bruschette al pomodoro e mozzarella (v)
or
Piccola insalata mista
or
Olive ripiene fritte
Main Course
Spaghetti or Tagliatelle al ragù Bolognese
or
Penne alla puttanesca
or
Tagliolini al pomodoro
or
Tagliatelle / Penne ai funghi con panna
or
Straccetti di pollo al limone con fagiolini
or
Carpaccio di manzo classico
Dessert
Gelato Italiano or Creme bruleé or Gelato affogato alla vaniglia
Please contact Casa Toscana on 078 541 8234

Chicken Run
Colin Mckay 18 pts
Lee Mutch 18 pts
Geoff Skelton 16 pts
Malcolm Greenland 16 pts
Saturday 15th September
Ladies Casa Toscana BB Stab
1st– Solange Fox & Jeanne Powell 45 pts
2nd– Janet Humphrey & Jill Webster 45 pts
3rd– Rene Matthew & Michelle Davies 41 pts
Men's Casa Toscana BB Stab
1st– Mike Lig & Jim Dimambro 45 pts
2nd– Brian Richards & Malcolm Moorley 45 pts
3rd– Olliver Ransome & Gordon Moody 43 pts
Wednesday 19th September
Ladies
Front 9 winners– Janet Humphrey & Di Morris 25 pts
Back 9 winners– Jo Ledden & Jill Webster 23 pts
Men's BB Stableford

1st– Bruce & Derrik Matthew 45 pts
T2– Peter Leeming & Colin Mckay 44 pts
T2– Jim Dimambro & Paul Lawson 44 pts
Friday 21st September
Audi Centre Margate Business Day- Alliance
1st– Gary Purtell, Malcolm Greenland, Rory O'Donnell & Colin Mckay 92 pts
2nd– Eugene Orsmand, Nic Van Deventer, Kevin Murray & Fellow Albertyn 91 pts
3rd– Di Morris, Augi D'ewes, Jenny Westray & Rene Matthew 89 pts
4th– Norman Farrell, Don Osbourn, John Fox & John Neaves 85 pts
Saturday 22nd September
Ladies Alliance
1st– Lorraine Cook, Lee Mutch, Jill Webster & Michelle Davies 84 pts
2nd– Lorianne Williams, Augi D'ewes, Jenny Westray & Di Morris 83 pts

Men's Alliance
1st– Allan Woods, Tim D'ewes, Doug Butcher & Terry Sheppard 85 pts
T2– Bob Thomas, Don Osbourn, John Neaves & Norman Farrell 85 pts
T2– George Wright, Dave Page, Gordon Moody & Ghost 85 pts
T2– Derrik Matthew, Tim Hitchins, Geoff Skelton & Jim Cook 85 pts
Wednesday 26th September
Ladies- 5 Club Individual Stableford
1st– Jeanne Powell 40 pts
2nd– Karin Asbock 35 pts
T3– Rita Kinghorn 33 pts
T3– Sandy FitzGerald 33 pts
Men's BB Stableford
1st– Craig Treherne & Jim Cook 47 pts
2nd– Piet Joubert & John Lison 45 pts
T3– John Neaves & Chris Miller 44 pts
T3– Peter Volck & Graham Volck 44 pts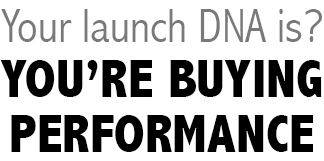 No improved performance? No purchase. That's the beauty of a driver fitting.
You're not buying a new driver, you're trying to buy a better tee shot performance.

We get golfers, especially those who were fitted for the correct launch DNA, playing drivers several
years old that still perform as well as the latest and greatest.
In that case, there's improvement elsewhere we should be looking for.

There's a Driver DNA – ball speed, launch angle, & spin rate. We need to match those when fitting you for a Driver.
How close is your Driver to your Launch DNA now? Do you have 20 metres or more of performance in the right DNA?
Come and see us. Let's unlock your potential to thrill.





Over the first three weeks, we covered the importance of using bounce correctly.
It certainly improves consistency on chip and pitch shots.

The final most important feature of bounce is helping you get up and down more often from the sand.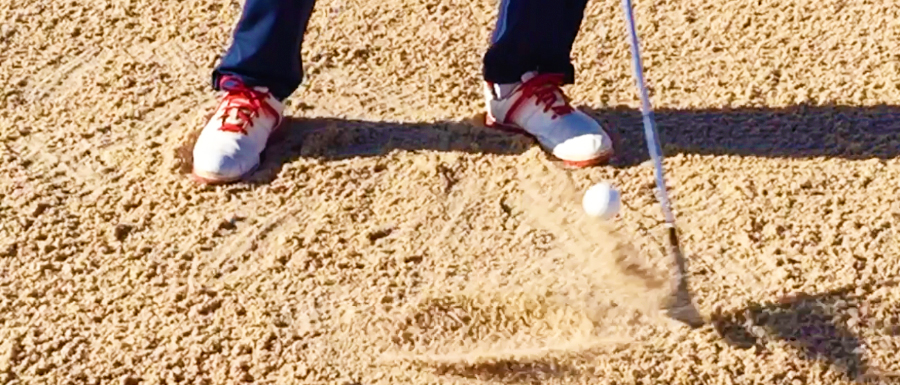 To play a splash bunker shot and get out the bunker stress free you must use
Your bounce by approaching the ball with the correct technique.

You'll often read, "Enter the sand between 1 and 2 inches behind the ball."
It's almost useless advice, if you don't know how to use the bounce on your wedge to allow the
sand to drive the ball out and onto the green. This is a fundamental you should all learn.






Regards,
Derek and Sheena