Monday, 30 July 2018

100 Club Draw | Friday 27 July 6PM
Good luck to Our Sanlam Cancer Challenge Southbroom qualfiers who is going to play in the Regional Finals Umdoni this Sunday! Gavin Sole A Div, Eugene Orsmond in the B Div & Chris Ledden in the C Div.
Well done to new Lady Member 
Felicity (Felix Lund)
 above Left  on winning the 
2018 Ladies Adamson Trophy.
Felix had a great round of 39pts, closely followed by Augustine D'Ewes on 38pts
Malcom Greenland
 won the 
2018 Frank Eyles Trophy
 with a fabulous 43 pts.
Audi Margate Business Day was  happily won with 96 pts Kevin Murray, Eugene Orsmond, Jaco Das, Nic van Deventer.

2 holes-in-one in 2 days! Both on the 8th hole! What are the odds on that!
With his first shot of the day playing in the Surf to the Turf Fundraiser Day on Sunday, Gawie van der Westhuizen aced the 8th hole.
Then playing with his dad Nic van Deventer, Abie Cronje enjoyed his first Ace also on the 8th. What a special moment.
| | |
| --- | --- |
| Abie Cronje | Nic and his great family |
Southbroom is lucky to be enjoying the varied talents of this hard working family! This picture was taken during the Amateur Classic on the Thursday night where the whole field enjoyed the Famous Nic's Potjie evening! Cooked by the Van Deventer/ Cronje Team.
Thank you!


Enter the Titleist British Open Draw by buying 1 DOZEN TITLEIST BALLS… to win the Titleist Limited Edition Golf Bag!
The Srixon special at the moment: Buy 1 dozen Srixon and stand a 1/100 chance of winning R10 000 to spend in Southbroom Pro Shop.

 Sat 28th July is the Men's Presidents Trophy.
The Ladies Presidents Trophy has been postponed until the Lady President is back in Southbroom!
The Annual Round-Table Golf Day promises to be a great day on Sunday 29th July.
Shotgun start at 9am, R300 to play or R120 if you're an Apc/ clip card holder.
Don't forget to support the Southbroom Conservancy Fundraiser Golf Day. It was postponed due to the dreadful weather on Sat 14th July so enter today for the 4th of August.

| | | |
| --- | --- | --- |
| | | |
Our Sunday Junior Special is growing!
After 12 noon school kids play at no charge and adults accompanying them pay members rates!  Let's Grow the Game!

Thanks to Friends of Southbroom Ernst & Margrit Gilg who were enjoying Carnoustie last weekend and who sent us this great pic of Brandon Stone at The Open!
Congratulations! Southbroom Pharmacy has just turned 2!  and World of Asia  iin the Ilala  Boulevard is officially opening on Thursday 2nd August – see invite below!

| | |
| --- | --- |
| | |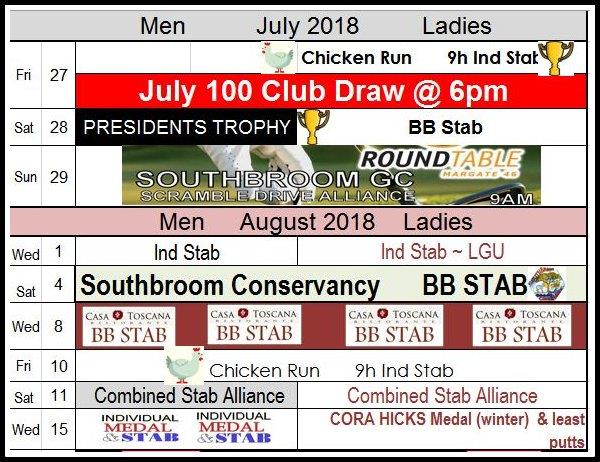 Friday 20th July – Audi Margate Business Day
1st 96 pts Kevin Murray, Nic van Deventer, Jaco Das, & Eugene Orsmond
2nd 92 pts Roger and Heleen Hissey Gary & Lesley Godley
3rd 90 pts Norman Farrell Don Osbourn, Craig Fitzgerald & John Fox
4th 89 pts Tony Westoby, Johan Wentzel, Brian Joliffe & Anton Kohrman
Saturday 22nd July – Ladies Adamson Trophy (Individual Stableford)
1st Felicity Lund 39pts
2nd Augustine d'Ewes 38 pts
3rd Jackie van Eeden 35 pts
4th Jenny Westray 33 pts
Men – Frank Eyles Trophy (Individual Stableford)
1st Malcolm Greenland 43 pts
2nd Brian Brasher 40 pts
t3rd Norman Farrell & Doug Butcher 39 pts
t5th Anton Kohrman & Dave Page 38pts
Sunday 23rd July – Surf to the Turf Day American Scramble
1st 54 Guy Spittal, Zaunru Coetzee, Deon Meyer & Jaco vd Waal
2nd 55.6 Theo Peyios, Andre Attfield, Ryan Lawlor & Mike Anthony
3rd 56.4 Kevin Murray, Nic van Deventer, Jaco Das, & Eugene Orsmond
Hole-in-one on the 8th hole Gawie van der Westhuizen his first shot of the day!
Monday 24th July
Hole-in-one on the 8th hole – Abie Cronje his first hole-in-one!
Wednesday 25th July –  Any Mix Alliance
1st 96 pts Andre Steyn, nic Van Deventer, John Lison & Craig Treherne
2nd c /o 96 pts Malcolm Greenland, Norman Jeffery, John Whitnall & Colin McKay
3rd 95pts Steve Wells, Ernie Janse, Rob Meydel & Chris Miller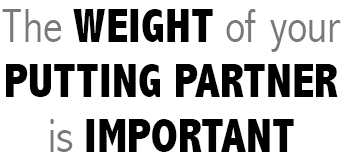 We've ticked off Putter balance; good looks; Putter length; and now we're going to evaluate 'swing weight'
as we help you find the perfect partner for the putting green.
Your Putter is your precision tool. If the
swing weight is too low it makes it more
difficult to control longer Putts.

If the swing weight's too high
you lose control.
There's a tend to shortening the
length of the putter and /
or using a heavier grip.
Both of those changes to
an existing putter,
will lower swing weight.
The final check:
tuning your stroke and
the putter loft to create
the perfect roll.

The first three 'dating steps' to find the right putting partner were focused on helping you square the face
down the target line at impact. Your perfect swing weight will help you hit much better first Putts,
and ensure your short pressure Putts are easier to handle.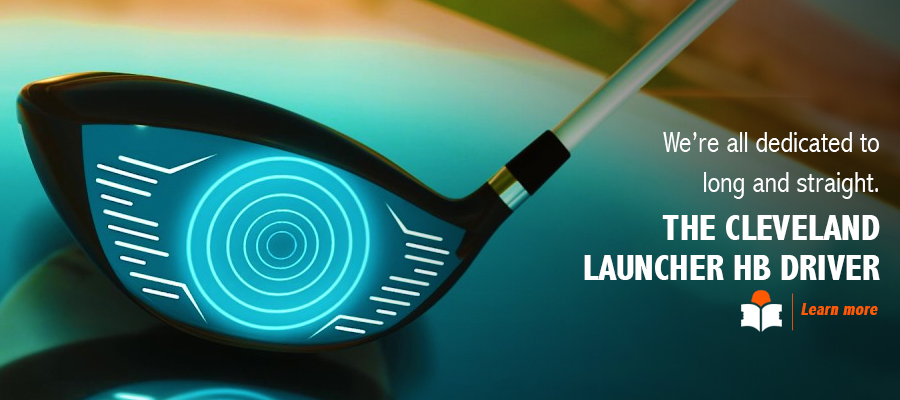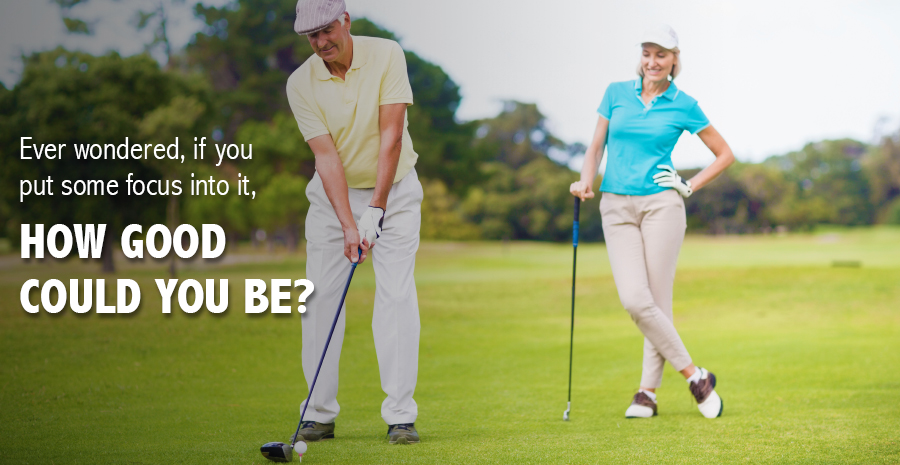 You may have played golf for health and well-being, social, and recreational reasons for 20+ years.
You have had some coaching in the beginning, but since then you've only had "fix" lessons. I
f you're shooting in the low 90's or high 80's, you have proven athletic ability.
How good could you be?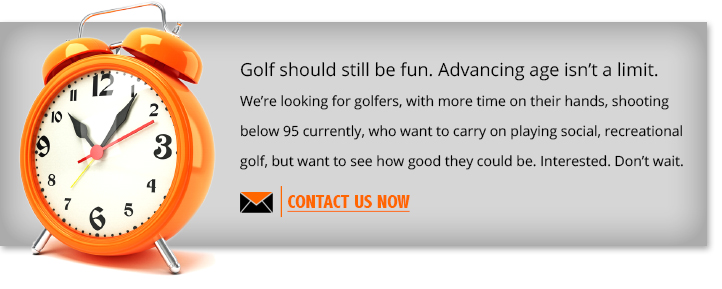 This isn't about pumping iron and becoming the young stud.
It's about maximising the potential of technique and timing. Get that right and:

If that's a golf experience that appeals to you, then please don't wait.
Start the journey to hitting even better golf shots.







Regards,
Derek and Sheena