Club news

Congratulations!
Congratulations to Heather Anderson on winning the 2018 Mary Thomson Goblet! All the voucher money gets combined and the winner gives it to a charity of her choice. Heather chose South Coast Hospice. A wonderful cause!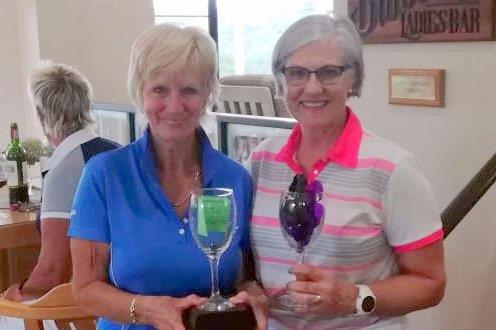 Congratulations to Heather  Anderson  (L)
Winner of the 2018 Mary Thomson Trophy  presented by Lady Captain Allyson Thomas
Beautiful Mornings…
Thanks Richard Bridgeford for these stunning photos below of the newly constructed dams & wetlands on the 5th hole sponsored by Heinz Seiser.     Thanks also to John Pole for his contribution  and especially to Liz Nortonfor her special touch with the landscaping in and around the dams.  It is still a work in progress but coming on great.

5th Hole
Of Interest : Lala Palm (Hyphaene coriacea)
This is an iconic plant for this area and for the club, so much so that it is our club's emblem. Lala Palms are very slow growers.  There are possibly more than 200 Lala palms dotted all over the grounds that are between 50 – 100 + years of age. It's the beautifully kept clean cut Lala gloves that make the most impact such as on the 1st and 9th and the Lala palm on the 9th green that was saved years ago when the green was enlarged is always a fabulous talking point.
Family golf starts at Southbroom
A reminder that on most Sundays (out of season) after 12noon school kids play for free when accompanied by an adult  and the adult gets a members rate!
Southbroom Business Day
Congratulations to Colin McKay winning the Ladies Raffle on the  Business Day.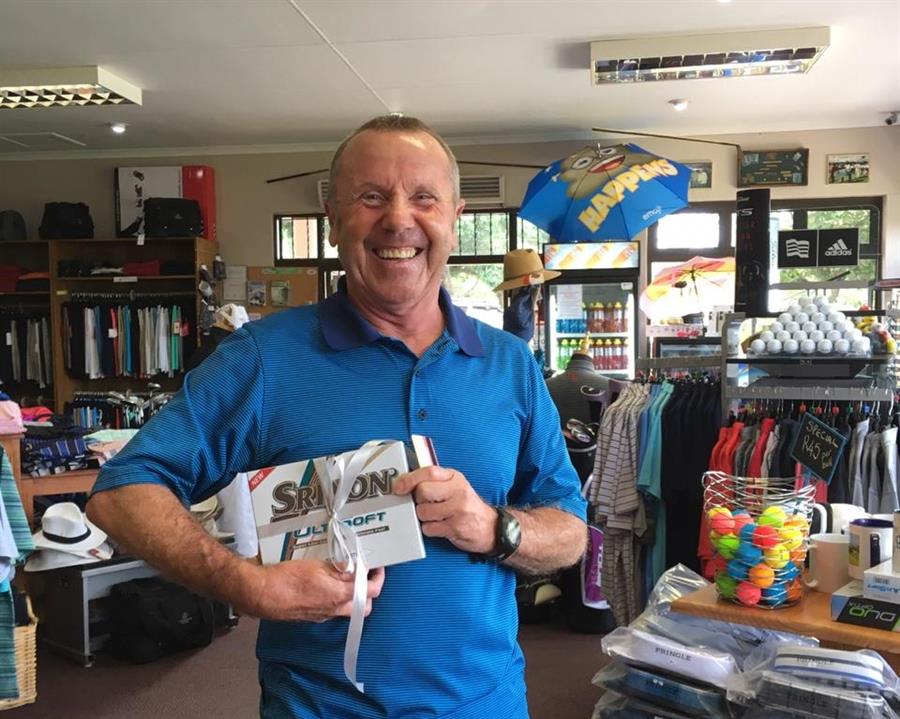 Colin McKay wins the Ladies Raffle!
2019 Southbroom International Shootout
The entries are flowing in for the 2019 Southbroom International Shootout! Enter in teams of 4 or we can match you up with others. Join us for another fun relaxed tournament!
Entry includes the Saturday night Valentines Dinner Dance Evening, with our popular local Legends Band entertaining you with their fabulous music. Enter in The Pro Shop.
Look out for Sunday Lunch!
Tasha will be entertaining you.
Sunday 27 January 2018
Buffet R175
Live Entertainment With Tascha
(Cabaret-Jaz-Electroswing)

STARTERS
A Creamy Leek and Potato Soup with Fresh Rolls
Green Salad
MAINS
Roast Sirloin with Traditional Gravy
Apricot and Almond Chicken
Chicken Breasts Filled with Apricots & Almonds,
Pan Fried in A Creamy Herb Sauce
Aubergine Parmagiana
Layers Of Crumbed Aubergine, Tomato Concasse & Cheese Sauce
Topped With Mozzarella & Breadcrumbs
Roast Potatoes
Roast Mediterranian Vegetables
DESSERT
Malva Pudding
Light Apricot & Vanilla Sponge
doused In Creamy Syrup & Served with Custard
Upcoming events
The Score Card
Friday 18th January
Business Day – Alliance 2 scores to count, 3 on the par 3's
1st – Robert Mavundla, Wonderboy Mavundla, Thabiso Puwane & Ghost 96 pts
2nd – Gavin Sole, Geoff Skelton, Derrik & Bruce Matthew 96 pts
3rd – Roger & Heleen Hissey, Gary & Lesley Godley 93 pts
4th – Jill Webster, Jean Corfe, Gerald & Sandy FitzGerald 93 pts
Saturday 19th January
Ladies – Mary Thomson Memorial Goblet, Ind Stab
1st – Heather Anderson 36 pts
Wed 23rd January
Men Ind Medal
1st – 69 nett Dave Fox
Ind Stab
t1st – 38pts Chris Miller & Piet Joubert
T2 – 37 pts Mike Lig, Otto Protzner & Joseph Stoellinger
Ladies Ind Medal
1st – 68 nett Sandra FitzGerald
Ind Stab
1st 36pts Irene Schanda
2nd 34pts Leslie Godley
3rd 33 pts Candida Amm
Revealing the lie
Manufacturers try and solve problems
Most golfers lose the ball to the right. So, some manufacturers make, especially their game improvement irons, with more and more upright lies. They're trying to find a solution to what MIGHT be a problem you have.
Research shows that for some golfers who lose the ball right, a more upright lie does change average ball flight.
It does however show that for some it has entirely different results.
Each of you is different.
Your spine tilt; knee flex; and how low or high
you prefer the handle, will not only affect lie angle;

but potentially also shaft length.
And then there's your in-swing movement.
An inside path and outside path will probably
create different lie angle needs.
But the only way to tell is an assessment
That's why we want you to start your journey to a better golf experience with a proper assessment.
Is your lie angle correct? Are your clubs making it harder to hit good shots?
Why not find out?
Book an assessment >
The best for you
Don't settle for what you have
There's a famous saying from Dr. Bob Rotella: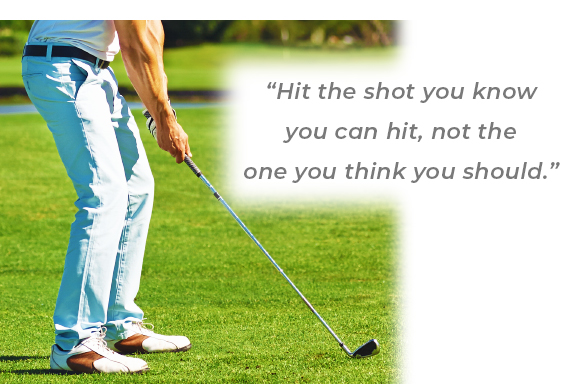 Great advice for when you're on the golf course in competition.
But for most golfers, the implication of that is "most longer clubs stay in the bag forever".
Most golfers struggle with consistency when using fairway woods, hybrids, longer irons,
and sometimes even mid-irons, so how do you apply this advice?
Do most of these clubs remain unused in the bag forever?
We have some sports psychology for you: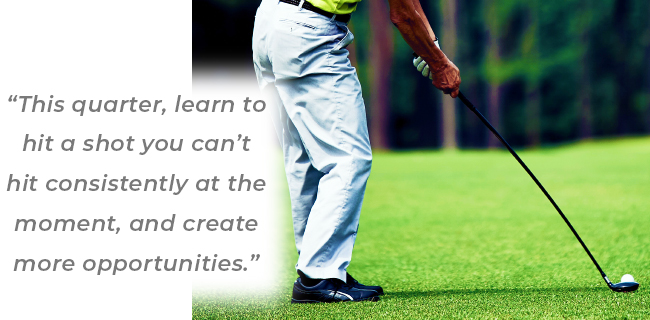 Get a better experience
By increasing the length of club that you can hit consistently from the fairway, you change your golf game.
Escape from difficult positions becomes easier. Setting up opportunity becomes easier.
Both of those lead to a better playing experience.
Contact us >
Regards,
Derek and Sheena