Greetings from Derek
Tuesday, 25 July 2017

The Open Championship has begun at Birkdale in quite cold and windy conditions. It is anybody's guess who may win with so many great players, and I don't feel that anyone is really standing out. The top 4 or 5 in the world are not really shinning. It will be interesting to see how Dustin Johnson, World No 1 does after not playing much lately.

There are a number of South Africans in the field and I would love to see Brandon Stone in the top Ten. He did play well at the US Open and he likes the big occasions. Birkdale is a wonderful golf course and if the weather is fine, the scoring will be good

There was some sparkling golf played by Colin McKay in our medal on Wednesday. He made an 8 on hole 13 shooting 82 off a 17 handicap for a nett 65. He won a lesson from me in the Conservancy Day on Saturday, but I just might be looking for a lesson from him.

| | | |
| --- | --- | --- |
| Men's Conservancy Day winners | | Ladies Conservancy Winners |


Hole Sponsors

The Conservancy Day was a huge success and raised a wonderful amount of over R46 000!
Congrats to all the winners and well done to the Dawne, Kathy & their team on organising the day. Special thanks to all the sponsors especially those on the tees! Great vibe!

Southbroom ladies won the Mercedes Ladies Golf Day at San Lameer today on 91 points. They now go to the finals in Johannesburg on 6 November. If they win there they could be jetting off to Mauritius!

Good luck, ladies!

 
Well Done Mari Fielden, Sandy Luus,  Heleen Hissey & Candida Amm

Our breakfast run/walk on Sunday enjoyed a great turn out of over 83 entrants, and it was wonderful to see all the kids, parents, grandparents and family dogs all enjoying time together. Thembi & Peds Bacon & Egg rolls together with strong club house coffees were certainly thoroughly enjoyed after the energetic start to the day.The next Fun Run /Walk is diarised for Sunday 13th Aug in the private schools' holidays!

The junior clinic was unfortunately a miserable cold and windy afternoon, but those that arrived just loved it

! It is great to see the younger families in Southbroom coming to enjoy golf at the club.

Here is a great pic of dads and sons playing golf at Southbroom. Such good time spent with the kids.
Below left: Grant Richards & Jan Roos and their sons. Below right: Hanu Potgieter, Luca & Drew Dudley attending the Junior Clinic

| | | |
| --- | --- | --- |
| | | |

The Popular Southbroom Car Wash in Ilala Boulevard  'Win a Car Wash' vouchers are starting again
as prizes for 2 Nearest the Pins  every  Saturday! So look out for them  – starting 22 July   

Southbroom Car Spa Owner 

Paul Carr

 is also offering a fabulous Wash & Play service on 

Wednesdays & Saturdays

  to all golfers – where they will collect your car from the club car park – do a good Wash & Vacuum and then deliver it back to the Club ready for you to drive home after golf – (

Keys etc can be left in the Pro Shop

) or they can bring it back down to you with a quick phone call  – whatever suits you.

They are also offering a Loyalty card which will entitle you to  to a 50% discount on your 5th car wash and vacuum  and a free wash on your 10th wash! For Vehicle Collection, contact George 083 227 3973.
Southbroom Car Spa Wash and vacuum prices =R80 for a compact car, R90 for a midsize sedan & R100 for all SUV &  Double cabs


Welcome Henk & Liquor City pictured above with Steven

Southbroom & Ilala Boulevard welcomes Henk Nortje & Liquor City

. Henk has just brought the Southbroom Bottle Store

And as it will now be part of the Liquor City franchise – that means you can look forward to a fabulous range of stock at great Liquor City Prices!

Please feel free to contact Henk for all your normal or holiday orders & deliveries etc

. He is looking forward to meeting you!  Contact Henk on 

082 785 5512

 or email him at 

henk@liquorcity.co.za

.

Fri 21st July
Southbroom Open Day
Shoot out 11.30 shot gun startSat 22nd July
Men: Frank Eyles Trophy Ind Stab
Ladies: Adamson Trophy Ind Stab

Tues 25th July
Christmas in July Dinner
There are a couple of seats left so phone the office today!

Wed 26th July
Men: Alliance
Ladies: Ind Medal LGU Draw

Fri 28th July
Murray & Roberts Corp Day
Note No Chicken Run &
Note The 100 Club Draw will be on Wed 26th at 6pmSat 29th July
Men: Presidents Trophy BB Stab
Ladies: Presidents Trophy BB Stab

Sunday 30th July
Round Table Golf Day R260 entry
Shot Gun Start @ 9am



The impact of lie angle on your approach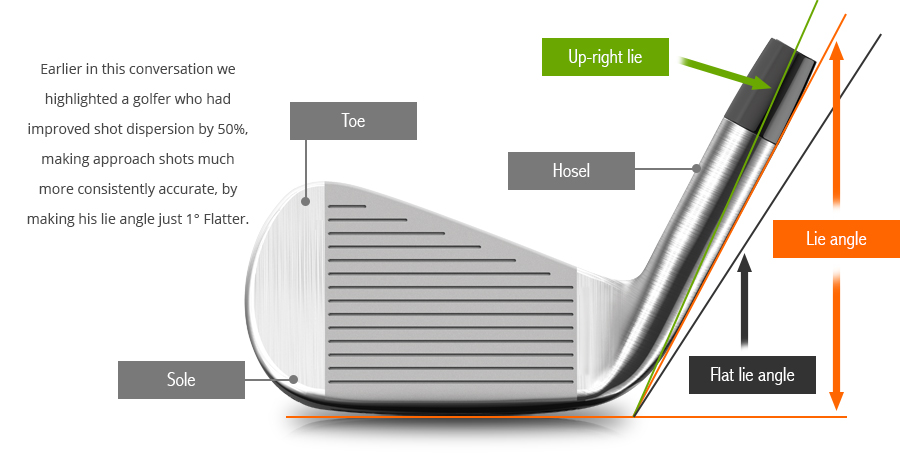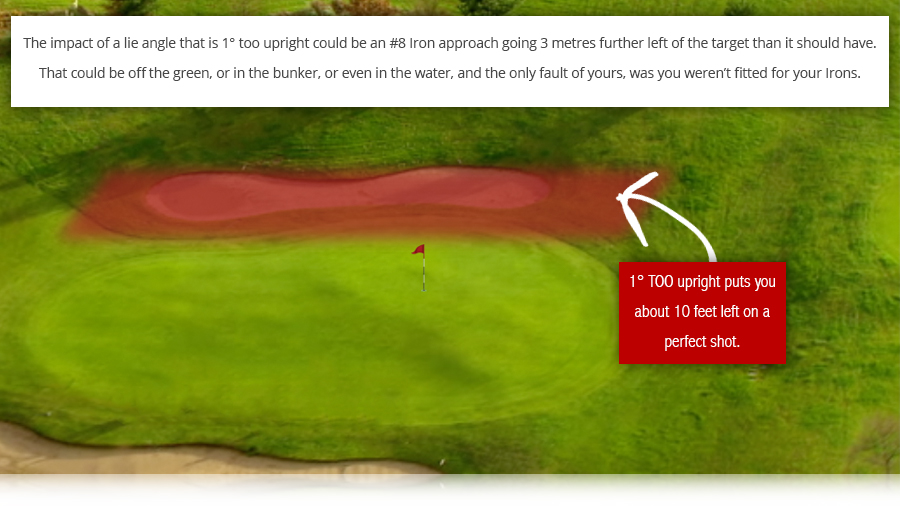 Just where you enter the scoring zone, the impact gets worse
Take a #5 Iron out of your bag and raise the toe slightly making the club a little too upright, and then imagine the line of the ball coming off the face. It's going left. Now take a higher lofted club, a #8 Iron, and do the same test and you'll notice the impact, or amount that the ball is going to go left, will increase.






Friday 14th July
Chicken Runners Ind StabGerald FitzGerald 20 pts
Geoff Skelton 18 pts
Erroll Amm 18 pts
Chris Miller 16 pts
---
Saturday 15th July
Conservancy Golf Day

Ladies- BB Stab1st- Jean Corfe & Jeanne Powell 43 pts
2nd- Irene Schanda & Margie Sherratt 43 pts
3rd- Jean Cole & Sandy FitzGerald 41 pts
4th- Della Kempthorne & Sharon Turnbull Jackson 40 pts
5th- Lee Mutch & Sandy Luus 40 pts
6th- Candida Amm & Trish Amm 40 pts
7th- Tammy Murphy & Allyson Thomas 39 pts
8th- Meryl Chambers & Rene Matthew 38 pts
Men- BB Stab

1st- John Whitnal & Erroll Amm 47 pts
2nd- Simon Shusha & Cyprian Xolo 45 pts
3rd- Kyle & Brad Flanagan 44 pts
4th- Jim Cook & Gerald FitzGerald 44 pts
5th- Rob Meydell & Chris Miller 43 pts
6th- Geoff Skelton & Brian Brasher 43 pts
7th- Rolf Gudegast & Matt Smith 43 pts
8th- Anthony Hughes & Basil Chetty 42 pts
9th- Gordon Moody & Kerry Fielden 42 pts
10th- Anton Kohrman & Brian Jolliffe 41 pts
---
Wed 19 July 2017
Men's Ind Medal1st 65 Colin McKay
T2nd 67 Peter Leeming
T2nd 67 John McLean
Ind Stab
1st 43 George Haswell
2nd 40 Jim Cook
3rd 39 Brian BrasherLadies Ind Medal
1st 34 Julie Walker
---
Fun Run /Walk
5km Run1st Chad Howard 8years old!! 24 min
2nd Matt Howard
3rd Elmo van der Spuy

Men 10km
Darren Purtell 40min
Nick Mitchell 49 min


Ladies 5km

Cayley Rossiter 29 min
Grace Hughes 30 min
Debbie Hughes and Charlie Boy (First Dog home!)Ladies 10km
Cherie Lee Ferreria 55min



There are two styles of Practice
Most advice seems to recommend using one of two practice methods, but when we watch golfers practicing, they don't utilize either. They hit a few short Wedges to warm up. Then they might hit five or six #8 Irons, before moving up to a #7 Iron, and so on.
 The two different methods
 Block Practice
Used when you want to reinforce a physical feeling in the swing. This is a repetition of the same swing many times, with a single swing thought focused on the change you're trying to implement.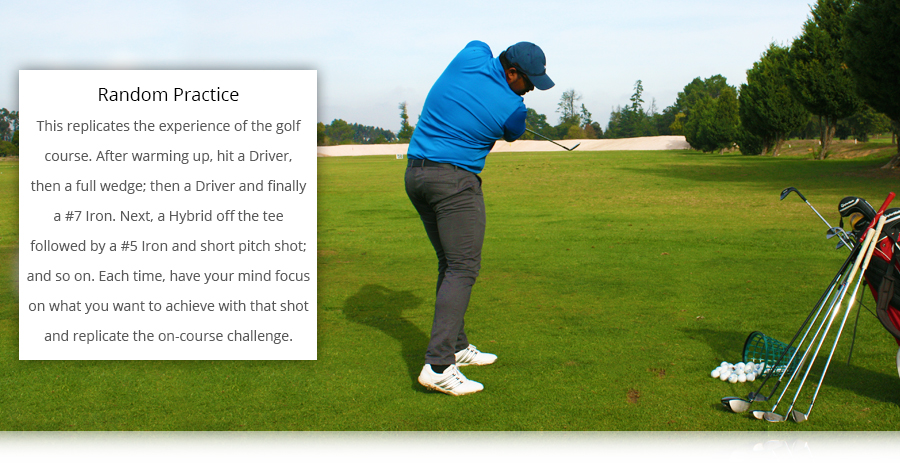 Which will you use the next time you visit the practice area.

Let's make sure that you're getting the full benefit from the time you spend practicing. You'll hit more good shots.










Regards,
Derek and Sheena