Greetings from Derek
Wednesday, 25 October 2017

What a wonderful Pharaoh Construction Mixed Classic we had at Southbroom this last weekend. The weather was a little dodgy blowing hard from the north on Saturday, then hard from the south on Sunday which just added to the challenge of mixed golf. Mike and Bev Reiner made 80 points over the two days, finishing one shot ahead of Brian and Lynne Blackstock. Jeanette Peyios and I played with Brian and Lynne on Sunday and they played some special golf in the wind. We finished 4th behind Derrik and Rene Matthew on 77 points.

Both evenings entertainment was fantastic with our Southbroom Legends band of 

Mel Davies, Josh Pretorius, Des Erasmus

 and new man on the block- 

Dion de Beer

, all playing some great catchy country music 

Winston Smile

 was as good as always on Saturday night and the dance floor was never empty. The food was voted absolutely delicious, there was plenty of laughter, fun, great outfits! dancing and plenty to drink.

Thanks to our local Décor Ladies Mari Fielden & Sandy Luus for transforming the club house and bar into the Country and Western Theme.

| | |
| --- | --- |
| Des, Deon, Josh and Mel   warming up the crowd on Friday Evening | |

Thanks to all our wonderful sponsors See poster alongside the score board! and to the players who travelled from all over the country to enjoy the Mixed Classic. We look forward to next year. The Tournament pics can all be found on facebook – 

click here

 to view them.

Incoming Mail Once again, thank you so much for one of the MOST memorable golf tournaments. From the moment we arrived to register to the final day lunch and prizegiving, we felt so spoilt and indulged. Southbroom goes out of its way to make everyone feel so special and welcome. Our friends from Country Club Johannesburg were blown away by the warmth, hospitality and generosity of Southbroom Golf Club. It was a weekend filled with lots of laughter, great food and entertainment and wonderful prizes. You guys are amazing and these tournaments just keep getting better. We can't wait for next year. All our love Bev & Mike Riemer

We would just like to congratulate you all on a really fantastic Mixed Classic Tournament. It was such amazing value for money and the attention to detail was fantastic. We had an awesome time and hope to attend many more in the future. Please could you also thank the lady captain Michelle Davies, Allyson Thomas and the rest of the committee for all their hard work and making it such a success. The food and beverage department also deserve a mention! Lovely catering. All in all, a very happy time was spent. Once again, thank you so much. Kind regards,  Janey and Charlie Spence

Just a very quick note to say a very big Thank You to all involved in your fantastic Mixed Classic!
Once again the Southbroom hospitality has been our undoing and it has taken all day to recover. It really is like being "home from home" Looking forward to next year.  Love always  Ange and Neil Stratton

Thank you for the most wonderful weekend of fun, good food, amazing and friendly service and the wonderful warm atmosphere you have created. This event is as close to a family event than any other event we have attended. We are so pleased we beat the weather this year and are so grateful for the well-chosen prizes. The thought that goes into everything that you do is incredible.  So well done! And we look forward to next year The atmosphere and energy that has been created by you surpasses any other event that we have attended, golf or otherwise. It is a firm favourite of ours and we will definitely sign-up next year and try bring more couples to share in this awesome event. Thank you once again and keep doing what you do so well.
Kind regards Anton & Louise Leal

Thank you for a fabulous weekend of fun!  Trish & Donnie Sanders

An enormous thank you to you and Derek for the time and effort that you both always put in to every event the club schedules – there is no-one anywhere who matches your efforts.  This is what makes the event such fun and the reason for all the people returning year after year.  A huge THANK YOU from Allyson and me. We played rubbish, but enjoyed ourselves – not one fight even in the greensomes.   Bob & Allyson Thomas

Thanks to Southbroom for a wonderful weekend full of fun and camaraderie.  There is always a warm welcome awaiting –
Many thanks to all involved in the organisation.  Regards  Maureen and Charlie Eastwood



Caddie Champs
The caddies played the Southbroom Caddie Club Champs a little earlier than diarised as a few of them were due to travel away. Congratulations to prize winners Terence Mgoma who won on a countout from Kenneth Nhlumayo. They both had 69. Syvion Yalo and Robrert Shusha had 73 nett   and Cyprian Nqoko had 74.


l-r  Cyprian, Kenneth, Terence (Overall Winner of Southbroom Caddy Club Champs), Syvion & Robert

Gavin Sole beat Mike Anthony in the final of the A Division match play this week.
Gavin also aced the 11th hole for his 7th hole-in-one Well done, Big Fish!


Gavin Sole & Mike
Anthony

Congratulations to Bob Thomas!
70th Milestone Birthday this week

The committee inspecting the repair job that we are doing to the back of the 12th green. It is an area that has never done well and we suspect that some fresh soil and new grass will do the job. We will also be doing the back left of the 11th green and the back of the 10th We are confident that these area well be great again and up to the standard that we expect.


12th Green Inspection

LAST CHANCE   there are a few Tickets left for the Black Lapels show on Sunday 22nd October!  5.30 for 6pm  6-9pm
Delicios Burger included R220   Book In the Office   phone 039 316 6026



The long awaited for gym CHANGING GEARS
Changing Gears has opened and is proving very popular with the Spinners Gym and yoga crowd. All ages and stages welcome Call Janet Humphrey for more info 083 652 2153. They are having an opening party on Friday 27th Oct at 5.30pm.





Fri 20th Oct
Southbroom Open Day
Shotgun start 12 noon

Sat 21st Oct
Men: Alliance
Ladies: Alliance

Wed 25th Oct
Men: BB Stab
Ladies: BB Stab

Fri 27th Oct
Chicken Run

Sat 28th Oct
Men: Alliance
Ladies: Alliance

Wed 1st Nov
Men: BB Stab
Ladies: BB Stab

Fri 3rd Nov
Chicken Run

Sat 4th Nov
Men: Casa Toscana BB Stab
Ladies: Casa Toscana BB Stab

Wed 8th Nov
Men: Alliance
Ladies: Alliance

Sat 11th Nov
Men: Captains Trophy (Years Medal Finalists)
Ladies: Curlewis Shield (Years Medal Finalists)

Wed 22nd Nov
Men
Ladies: Mary Thomson Goblet
Ladies AGM



Avoid the frustration of coming up short
With mid and longer Irons, each of you will find a point in your set where your consistency really starts to break down.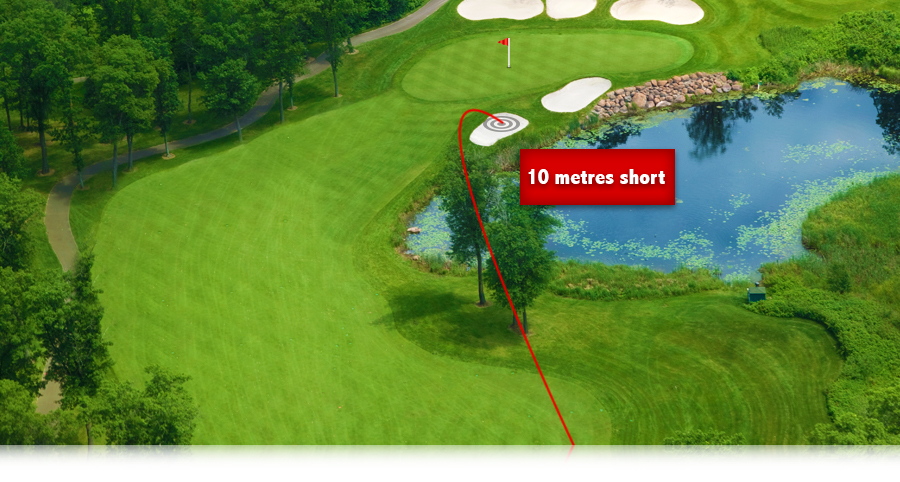 From a great lie in the Fairway, make sure you're not going to allow poor contact to leave you maddeningly short.








Chicken Runners – Friday 13th October
Nic Van Deventer 22 pts
Erroll Amm 22 pts
Mike Jacquet 20 pts
Janey Spence 20 pts
E Mackeown 20 pts
A Mackeown 19 pts
Lynne Blackstock 19 pts
Chris Miller 19 pts

Wednesday 4th October
Ladies – Foursomes
1st Sharon Turnbull Jackson & Jean Corfe 77 nett
2nd Lyn Doveton & Jackie van Eeden 77.5 nett
3rd Shelley Myers & Irene Schanda 78

Men – Ind Stab
1st John Lison 39pts
2nd John Neaves 39
3rd Mike Lig 38 pts
T4th Derrik Matthew & Art Germs 37pts
Southbroom Mixed Classic
Overall Results
1st 80 Mike Riemer Bev Riemer
2nd 79 Brian Blackstock Lynne Blackstock
3rd 77 Derrik Matthew Rene Matthew
4th 77 Derek James Jeanette Peyios
5th 76 George Haswell Jean Corfe
6th 76 Errol Amm Trish Amm
7th 76 Charlie Spence Janey Spence
8th 75 Anton Leal Louise Leal
9th 75 Gerald FitzGerald Sandy FitzGerald
10th 74 Michelle Davies Bernie Vorster

Best dressed Phil & Margaret Tanner The Kloof Golf Bandits
(Neil & Angela Stratton & Delia & Sydney Chandler

DAY 2 – score BB Stav Sat 14 Oct
First 46 Anton Leal Louise Leal
Second 45 Brian Blackstock Lynne Blackstock
Third 44 on c/o Michelle Davies Bernie Vorster
Nearest Pins
– 4th – LadiesTrish Amm
8th – MEN John Neaves
11th – LADIES Jean Corfe
14th – MEN Ivan Curlewis
Nearest for 2 – 12th (Men Coral Tree) Mike Jackson
Nearest for 2 – 13th (Ladies Coral Tree) Sherrie King
Longest drive (Ladies Café LM) Kate Jackson
Longest drive (Men Café LM) Bob Thomas
DAY 1 – Greensomes – score Greensomes stab
First 38 Mike Reimer and Bev Reimer  
Second 37 Guy English and Sherrie King
Third 37 Derek James and Jeanette Peyios
Closest to marker (1st hole) Meryl Chambers
Pharaohs Hamper Norman Archibald
Save your children from the smartphone
Last week we talked about research into smartphone use and social interaction. In those who are under 21, the increase in smartphone use, and decline in social interaction, is dramatic. The consequences for mental health throughout adolescence are catastrophic. Get children – every child you know – into golf.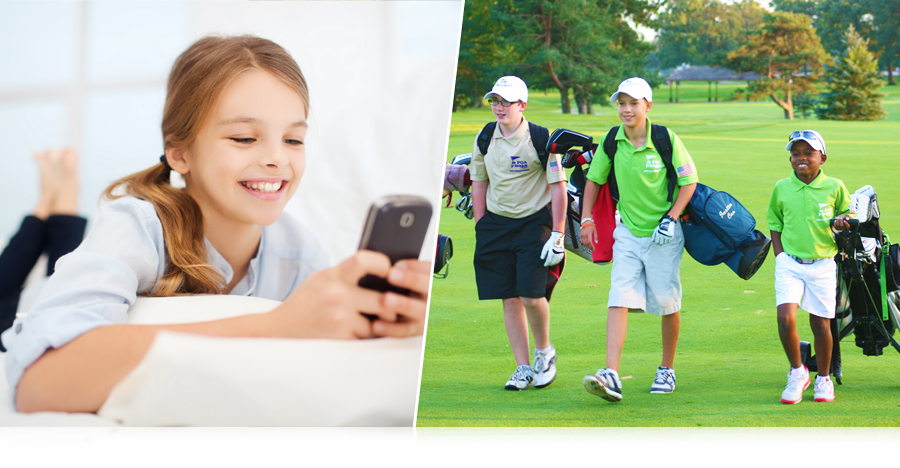 This isn't a self-interested request. It is a real need. We need to get our children outdoors, off the phone,
in social engagement, in a safe place.










Regards,
Derek and Sheena