Wednesday, 25 July 2018

So just like that, the 28th Men's Amateur Classic has come and gone. Great weather met the golfers with four glorious days showcasing Southbroom and the South Coast as the most pleasant place to spend a winter! Once again it was a hotly contested affair, with many teams in the running for most of the tournament. Taking control of the final two days and winning were Ig Erasmus & Rudie Venter  and coming second were Rob Meydell and Peter (Pierre) van der Walle. Well Done Gentlemen!
| | | |
| --- | --- | --- |
| Ig Erasmus & Rudie Venter | | Rob Meydell and Peter (Pierre) van der Walle |
Southbroom Amateur Classic Thank You's!All the teams and over 300 tournament photographs can be found on the 
Southbroom Golf Club Facebook Page.
(You may have to 'Like' the page first if you want to tag yourself or copy your picture)
Thanks to our resident photographers and especially Richard Bridgeford for his roving action pics on the golf course! A great memory!
Thanks for the feedback as always!
Immaculately presented. Many thanks, we look forward to next year.
– Tony Fuller and Gary BakerWhat an amazing week with team climax thank you southbroom for this awesome week
You are a special bunch of people and would not be the same without you
A certain highlight on our calender every year
Looking forward to next year be blessed
– Bennie Vosloo

Thanks to all for the hard work to make for the wonderful classic, you are all "STARS".
Regards
– George Haynes

Can we turn that leader board upside down please? Thanks guys for a great tournament
Kind regards,
– Robert Verseput

Thank you so much for a wonderful week of golf. As always, it was a real pleasure to play at Southbroom.
Kind regards,
– Dave Donald
Thank you and your team for organising such a great week again – it is a highlight of our year.
– Andrew Fox


It was great being part of a very well organized tournament. You've done a great job…congratulations.
– Rudie Venter
Thanks for a great classic last week …as usual it was superbly run and the course was great … and the weather was perfect. Looking forward to next year already !!! Regards
– Stephen Anticevich
Thanks Fabulous time and definitely back next year! Hopefully with a better golf swing …
– Nick Sproule

My sincere thanks for another fantastic week in Southbroom.
As per usual it was great to see all the Southbroom staff and especially you guys in the best pro shop in the country. Look forward to seeing you again next year , hopefully sooner. Kind regards,
– Grant Harding

A total of 12 South Africans have made it to the Open Championship at Carnoustie this year. It is fantastic to see us so well represented. It is always fun to watch 'links golf' as the players plot their way around the course, it seems as though staying out of the bunkers this week is an absolute must!

The Titleist British Open Special is buy any dozen balls of Titleist and go into a Southbroom draw to win the Titleist Limited Edition Golf Bag!
The Srixon special at the moment: Buy 1 dozen Srixon and stand a 1/100 chance of winning R10 000 to spend in the Southbroom Pro Shop!

Soccer World Cup Draw
With the Soccer World Cup concluding on Sunday evening, so did our World Cup Draw. Well Done to Doug Butcher Winning R800 (France) who won the World Cup Draw from Don Osbourn R400  (Croatia)
Thank you to everybody who participated in the draw! The Club scored R400!
| | | |
| --- | --- | --- |
| Doug Butcher | | Don Osbourn |
Lizzy takes down the competition!Last Sunday Southbroom GC Hosted the South Coast Regional Championships with our very own Lizzie Currie edging out Port Shepstone's Kim Strauss. Well Done Lizzie!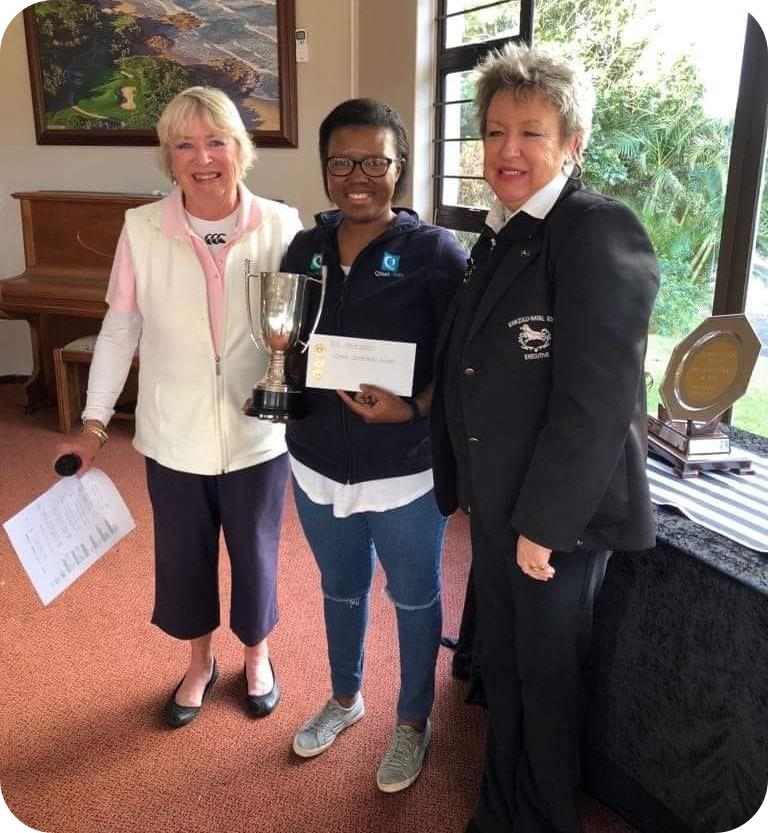 Lizzie Currie

Couple of Aces!Congratulations to both Howard Kelly & Mike Slade who picked up holes-in-one at Southbroom over the last two weeks. Howard picked up his second ever ace on the 11th hole with a sweetly struck 7 iron. Mike had is first ever hole-in-one on the 4th hole, great hole for your first!
| | | |
| --- | --- | --- |
| Howard Kelly | | Mike Slade |

The Surf to the Turf Golf tees off this Sunday (22nd July) and there are still a few spots, so if you'd like a game phone the Pro Shop and book! We have the popular Gentry Band playing in the Club house from 3pm Golfers in the comp get in free, others pay just R50, see poster below!
Audi Margate Business Day on Friday 20th July
Saturday 21st July will the the Men playing for The Frank Eyles Trophy (Ind Stab) and the Ladies playing for the Adamson Trophy (Ind Stab).
| | | |
| --- | --- | --- |
| | | |
The weather really didn't play it's part for the Southbroom Conservancy Golf Day last Saturday. Fortunately the day has been postponed till 
Saturday the 4th of August
, for bookings phone the Pro Shop.

Wednesday 11th July – Alliance
1st Dave Page, Bob Carmichael, Geoff Skelton & Graham Volck 98 pts
2nd Cyril Botha, Robbie Botha, Melchoir Botha & Wiehan Van Niekerk 95 pts
3rd Andre Steyn, Nic Van Deventer, Johan Palm & Ernie Janse 93 pts
Saturday 14th July – BB Stab
1st Gordon Moody & Clive Miller 45 pts
T2 Bob Carmichael & Dave Page 43 pts
T2 Bob Clark & Rob Meydell 43 pts
T2 Riaan Croucamp & Johan Wentzel 43 pts




To help you find the perfect partner for you on the putting green, we've highlighted the importance
of matching balance to your putting stroke; and then ensuring the visual appeal is right BEFORE we get to a fitting.
But now we need to look at the length of the perfect partner for you.
Two putting styles, same golfer, two Putter lengths required. The style on the left is a pendulum style,
while the one on the right has the stroke controlled by the left shoulder and elbow.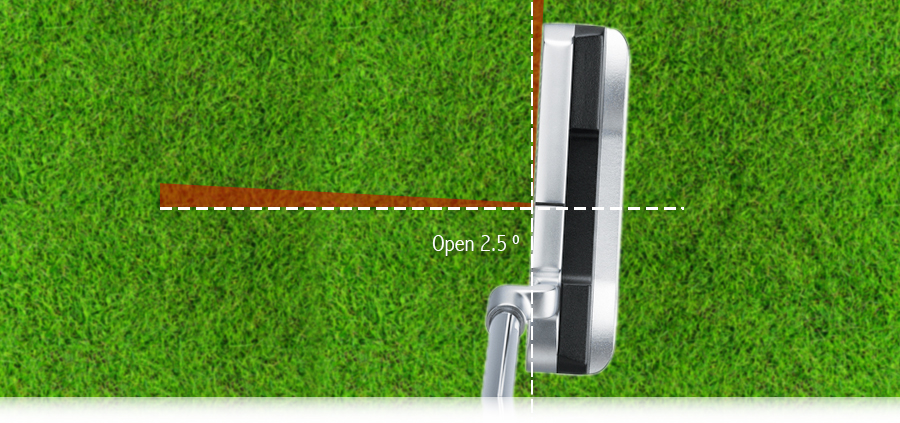 What if I told you that many, not some but many, golfers are playing with a Putter too
long to encourage the proper rotation and therefore can't square the face at impact?


Making sure your Putter length suits your putting style, setup and size will allow you to make a
technically sound putting stroke and to repeat it time after time.
That doesn't just lower your scorecard, it brings you the thrill of more Putts that drop.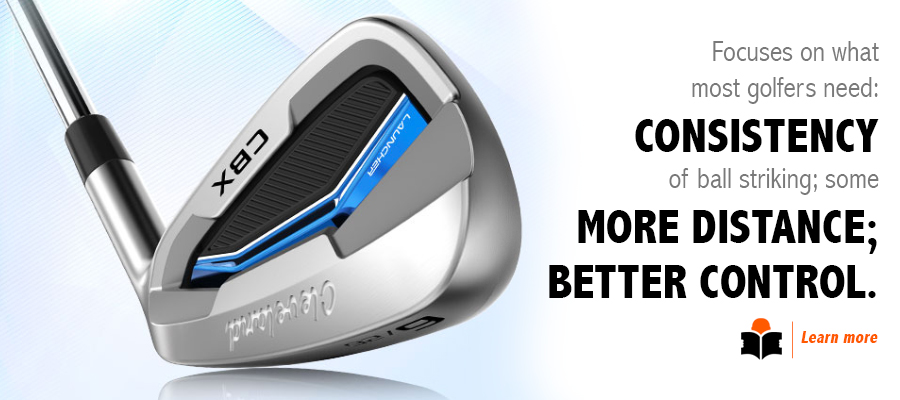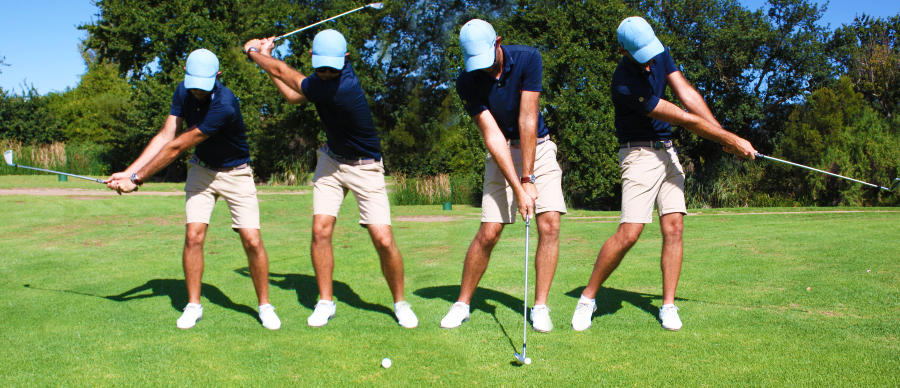 If you've already shown the athletic ability to get to 90 or threaten that score,
then it's highly likely that we can help you improve your swing quickly to the point that you're in the low 80's.
The question is how quickly and easily?


If that's a golf experience that appeals to you, then please don't wait.
Start the journey to hitting even better golf shots.










Regards,
Derek and Sheena