Friday, 02 November 2018
Distance is in the details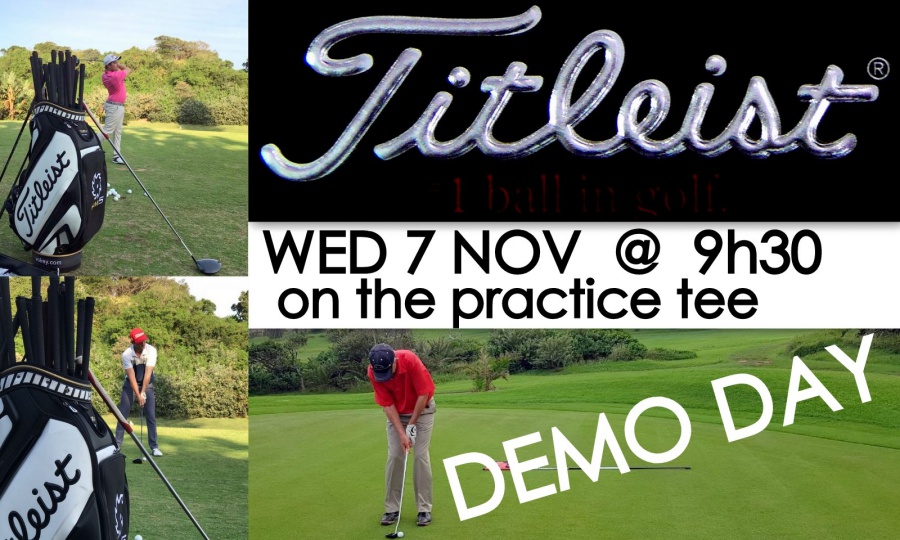 All Welcome! 
We have a Titleist demo morning on 
Wednesday 7th November.
 Feel free to join Ryan Birnie and myself from 
9.30
 on the practice tee to try out the latest clubs from the Titleist Range, including the TS Drivers & Woods, 718 AP Range, Vokey Wedges & Scotty Cameron Putters.

KZN Ladies Interclub 2018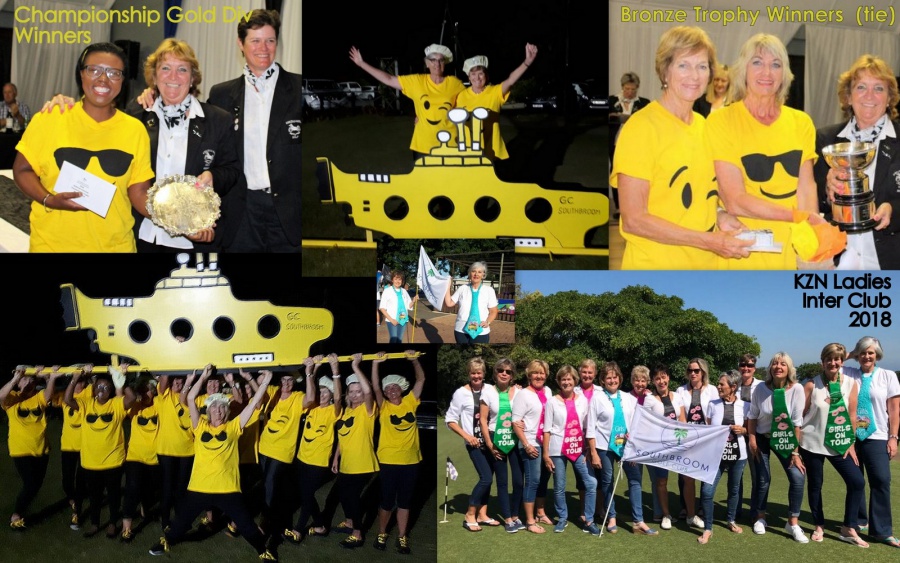 Ladies KZN
Inter-Club at Port Shepstone last weekend! 
The Ladies Interclub team so enjoyed Port Shepstone last weekend and they had a great tournament. The theme was the Olympics and  the 3 teams from South Coast region were given the colour yellow. Our ladies had fun dressing up as Golf Emojis and then arriving at the finale dinner in a Yellow Submarine made by the ever-creative 
Erwin Schanda
!
Southbroom's Lizzie Currie partnered Tanya Lyon from Eshowe and enjoyed a convincing win in the Championship Gold Division.
The Bronze Division was hotly-contested – so much so that Southbroom's Irene Schanda and Solange Fox shared the silverware on 101 with Margate's Grace Fourie and Rina Rito.  Di Morris & Shirley Jeffery  played well and came 3rd.
The winners all received their trophies at a jovial prize-giving attended by 260 golfers, KZNLGA executives and invited guests on Saturday night.
"It was absolutely fantastic and a huge success. We had perfect weather throughout the tournament, the course was magnificent and everyone played their part," Jenny Hulley, Interclub convenor from Port Shepstone Country Club, reported.
"Everything went smoothly… we didn't have a single hiccup, and most importantly, the players all said they had a great time. It was an absolute honour for us to host the 2018 Interclub,"
2018 Caddie Club Champs!
| | | |
| --- | --- | --- |
| Syvian Yalo | | Well played, Guys    |
Southbroom Caddie Club Champs was hotly contested in a vicious wind lasy Monday. Congrats to Syvion Yalo winning the title. Nett winner was Justice Mhlagana. Thanks to 
Jannie Ackerman, Brian Hoggart, Dave Page & Paul Lawson
 for their great sponsorships towards the day!

Rugby Mania
This Saturday 3rd November we have the final Casa Toscana BB Stab Competition for this year followed by the Springboks vs England Rugby at 17h00.  Thanks to Casa Toscana for their amazing sponsorship over the past few years!
Come and enjoy the rugby (support the Boks) while enjoying our delicious pork roast and a cold beer.
Booking Essential! Phone Gavin 039 316 6026 or pop into the Office & see Gavin or Cindy!
Upcoming Competitions.
The Annual Captains Trophy and The Curlewis  Shield will be played for on Sat 10th Nov. Lots of Qualifiers will be vying for the Trophies!
The November 100 Club Draw takes place on Friday 30th November! Have you got your
R50 per month lucky number yet?  If not, there are a few left.
Saturday 3rd November
Men: Casa Toscana BB Stab
Ladies: Casa Toscana BB Stab
Wednesday 7th November
Men: Alliance
Ladies: Alliance
Friday 9th November
Chicken Run
Saturday 10th November
Men: Captains Trophy –  The Years Medal & Stab Finalists qualify for Trophy
Ladies: Curlewis Shield – The Years Medal & Stab Finalists qualify for Trophy

Friday 26th October
Chicken Runners
Brian Hoggart 19 pts
Jill Webster 18 pts
Paul Lawson 18 pts
Maeve Mullane 18 pts
Richard Derman 17 pts
Saturday 27th October
Ladies Alliance
1st– Lorraine Cook, Jean Corfe, Janice Lang & Candida Amm 84 pts
2nd– Felicity Lund, Jackie Van Eeden, Lynn Doveton & Karen Bridgeford 79 pts
Men's Alliance
1st– Piet Joubert, John Lison, Arthur Lee & Malcolm Moorley 91 pts
T2– Bruce Matthew, Derrik Matthew, Jim Cook & Brian Brasher 90 pts
T2– Roger Hissey, Nic Van Deventer, Andre Steyn & Olliver Ransome 90 pts
Wednesday 31st October
Ladies BB Stableford – 9holes due to rain
1st– 21 pts Sharon Turnbull Jackson & Janet Humphrey
2nd– 19pts Ellie Bachmann &Jeanne Powell
c/o Rita Kinghorn & Felix Lund
Men's BB Stableford
1st– 48pts Dave & John Fox
2nd– 46pts Geoff Skelton & Paul Lawson
3rd– 45pts Norman Farrell & Mike Lig




Making more putts, reducing three-putts, has a direct impact on your scorecard.
Find a putter that best suits your technique and the conditions of the courses you play.

Putters can be adjusted to fit your
exact putting technique, specifications,
and preferences to ensure you make more
putts more easily.

What you think you're doing wrong versus what
you're actually doing wrong is probably skewed.
Let us improve your putting.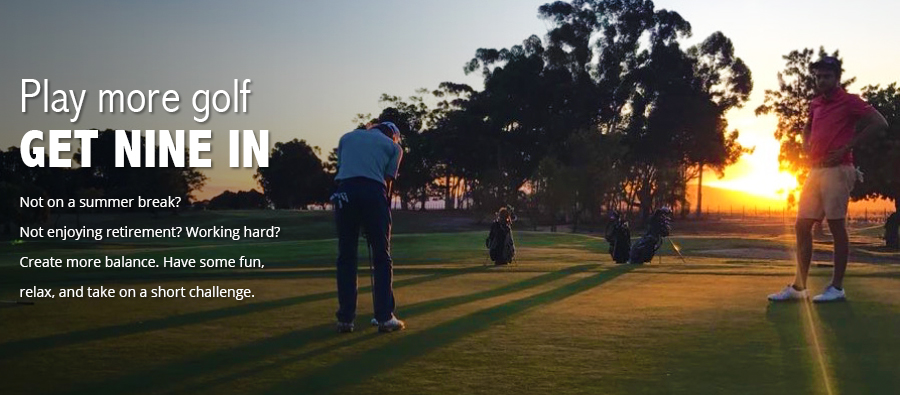 What a great way to start a day or end the day. Keeps your swing in the groove.
Helps with physical and mental well-being. Keeps you in touch with friends. If you only have an hour,
then why not play 4 holes with a Professional and use it
as a fun way to get some coaching?







Regards,
Derek and Sheena