It's a busy time!
Please note the course is closed Friday 19 October, Saturday 20 October and Sunday 21 October as we are the main host club for the KwaZulu-Natal Men's Inter Club Tournament 2018.
The kitchen & restuarant are open. We wish our Southbroom team well in the tournament and hope to see them in the finals at Southbroom on Sunday. The other host clubs are Margate & Port Shepstone.
Congratulations
Congratulations to Lady President Irene Schanda who won the Cora Hicks Winter Medal with 72 Nett. Irene also won the Least Putts Prize!
Lady President Irene Schanda  crowned Cora Hicks Champion!
Day 1 Mixed Classic
Cool and cloudy but great golfing weather!
Southbroom Mixed Classic
We had the most wonderful 
Southbroom Mixed Classic
 on the weekend. There were 
64 couples
 playing Greensomes on Saturday and Better Ball on Sunday in pretty good conditions which was really quite a luck as we had seriously adverse weather either side of the weekend. After a relaxed welcome on Friday evening and a few putting tips on Saturday morning the players teed off.
Greensomes is not an easy format and the best stableford score of the day was 37 points by Bob and Gesi Graham, so no runaway scores. We then had a proper party on Saturday night with the help of our local band The Legends… Mel Davies, Richard Bridgeford, Des Erasmus and Dion de Beer played up a storm of music with some guest appearances by Bob Dylan and Elvis and so much dancing. Such a fun evening. Day 2 started with a fabulous breakfast, a short golf clinic and a shotgun better ball tee off. The weather was great and all set for a great day.
A huge thanks must go out to our main sponsors 
Johan Kinsey Allers
 and his 
Audi Centre Margate
 who had a super display of cars and ladies on the first and fourteenth tees. Audi Centre Margate have been a wonderful sponsor of Southbroom all year and we are looking to our members and visiting guests to please support them in turn. So think of them the next time you are up for a car and I will show you how to drive!
Once again Deanne Purtell and Realty1 Southbroom were very active on the 10th tee with a smile, coffee and some drinks if needed, together with valuable knowledge & advice on accommodation, property services & where to rent & buy in Southbroom. So thank you Realty 1 once again for your support. Also to Colin McKay and Applied Outsourcing for his on going support of our major events and Dave & Liz Page of Coral Tree Colony – Always a pleasure to work with.
A special thanks to Garath Arnold from Cleveland Golf for being here with the wonderful wedges that Cleveland have produced. The new design and grooves are brilliant and when used properly really do work. Great wedges are underrated and with the right technique will save all golfers so many shots Day two and better ball brought home some interesting scores with the new handicap system having a definite effect. Bob and Gesi Graham only needed 41 points to go with their 36 from day one to win with a very good total of 77 points. Well done to Bob and Gesi for staying focused and only winning by one point over Rory O Donnell and Colleen Anderson. Brian and Lynne Blackstock after countouts had another good finish in 3rd place with 75 points. All in all a wonderful Classic
Thanks to our local Ace Décor Ladies: Michelle Davies, Allyson Thomas, Irene Schanda, Shelley Myers & Shirley Jeffery for transforming the club house and bar into the 1920's Gatsby Era!
Thanks to all our wonderful sponsors and to the players who travelled from all over to enjoy the Mixed Classic.
Over 300 Tournament pics can all be found on Facebook. Click Here.
(remember to like the Golf Club page first then you can tag and save the all pics you want to)
For all the results, click here.
We are receiving some great feedback after the Classic.


A brief, but most sincere, word of thanks for the marvellous event that you all so capably hosted.
I have no doubt that all the participants thoroughly enjoyed the week-end as much as we did.
Congratulations and thanks to you both and all the Southbroom GC staff.
– Neill & Jenny Edwards
What a wonderful weekend we've all just had!! Thank you again for your hospitality and for just organising the most awesome mixed golf competition – it's just superb in every way!
Looking forward to next year….
– Gordon & Wendy Huddy
What a FANTASTIC weekend of golf and fun. We loved every minute, the organisation was perfect, the weather behaved, the food was delicious and the atmosphere so uplifting.
Thank you Team Southbroom!
– Jen and Graham Holford

Thank you for a wonderful Mixed Classic. It was as usual a great success and please could you convey our thanks to everyone concerned. Much love
– Malcolm and Tracey Fick
Well done on yet another wonderful Mixed Classic Event. We had such fun, it's a real privilege to play in such a special event Fun from start to finish……….. Well done well done!!
Thanks guys Cheers
– Anton & Louise Leal
THANK YOU – for a fabulous weekend of golf and fun –
Wonderfully organised – lovely gifts – great clinics DJ – great laughter – thanks so much guys
Xxxxxxxxxx
– Erica and Grant Walker
Sheena James many thanks to you and Derek plus all the staff and committee members. It was a great weekend but I must confess, your husband stole the show.
– Mike & Wilma Lig

Thank you to both of you and your committee for yet another wonderful weekend of golf, laughter, friendships and entertainment.
Everything was so well organized. The golf course was superb and the food delicious. What fun.
Thank you for all your hard-work.
– Colleen Anderson
Thank you for a wonderful weekend. Our golf left much to be desired but we had such fun.
Xx
– Geraldine and Richter van Niekerk
What a wonderful time you gave us. From all of us at Zimbali we had fun and so enjoyed every aspect of the weekend. Your coaching tips were fantastic Derek, especially the putting with the string . Brenda and I look forward to going down to Southbroom soon.
– Neil MacNeillie

Yes please……can we come next year…..we promise to be good….well maybe!
– Ange & Neil Stratton
Thanks for a fun weekend with lots of laughter.
– Petra Michelson
This was our first event and it certainly will not be out last.
We really want thank you both and the Club for an outstanding weekend and really appreciate the unbelievable thought and effort that went into entertaining us. Thank you so so much.
Happy to say, too, that my putting has improved considerably and working on my long game!
With appreciation and love, 
– Barry and Di Beningfield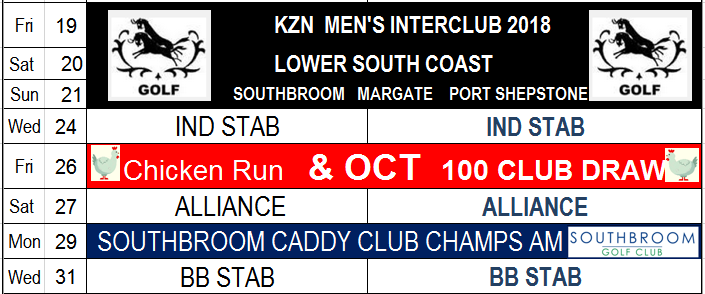 Wednesday 10 October
Ladies – Cora Hicks Winter – Ind Medal
1st – Irene Schanda 72 nett
2nd – Jill Webster 73 nett
3rd – Sharon Turnbull Jackson 74 nett
Men – Ind Stab /Ind Medal
Medal Winner – Gary Godley 69 nett
Stab
1st – Derrik Matthew 39 pts
T2 – Roger Hissey 35 pts
T2 – Piet Joubert 35 pts
T2 – John Lison 35 pts
T2 – John Neaves 35 pts
13 – 14 October: Southbroom Mixed Classic OVERALL

1st Bobby & Gesi Graham 77
2nd Rory O'Donnell & Colleen Anderson 76
3rd Brian & Lynne Blackstock 75
4th Mike Lig & Meryl Chambers 75
5th  Bernie Vorster & Michelle Davies 75
6th Theo & Esther Enslin 75
7th Pat & Penny Cronin 74
8th Arnold & Gail Bottiger 74
9th John & Marie Louise Steyn 74
10th Dave & Solange Fox 73


Our Senior Frogs Interclub Team
Paul Lawson,  Don Osbourn & Brian Jolliffe
Play Well Gentlemen! 
As mentioned earlier, all the results for the Southbroom Mixed Classic can be found 
here.
Best Dressed went to Margaret & Phil Tanner, Neil & Ange Stratton and Delia & Syd Chandler.
The winner of the Cleveland RTX 4 Wedge was John Winton.
Wednesday 17 October
All rained out!



Golf is a simple game actually. The swing is a circle. It returns a relatively large clubhead
to a ball that hasn't moved. And when you hit the sweet spot, it's a great feeling.
How easy is it to find the sweet spot if the heel of your club is making contact with
the turf and the toe is raised? Which way is the club face pointing if you do find the
sweet spot? Would this be a great swing spoiled by a lie angle that was too upright?

Many manufacturers today are
building 'standard' clubs with very
upright lie angles. They think that
compensates for an over-the-top swing.
But do you have such a swing?
And how much over-the-top is it?

Let us help you hit more great shots. Let us check out your lie angles.
Get that right, and you'll be amazed at how much more accurate you are.
This applies to all golfers. Why waste a great swing?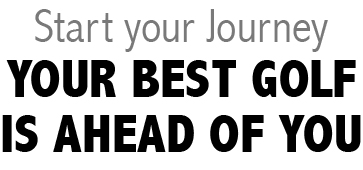 One of the greatest things about golf is that with a little commitment to improvement and practice
we can be like the finest wine, and get better with age.
Of course at the elite level power matters, but for most of us, a better technique, a sweet spot found more often,
and better game management, will all help us play better and better golf. Golf is rhythm and timing,
allied to the use of that special muscle: your brain.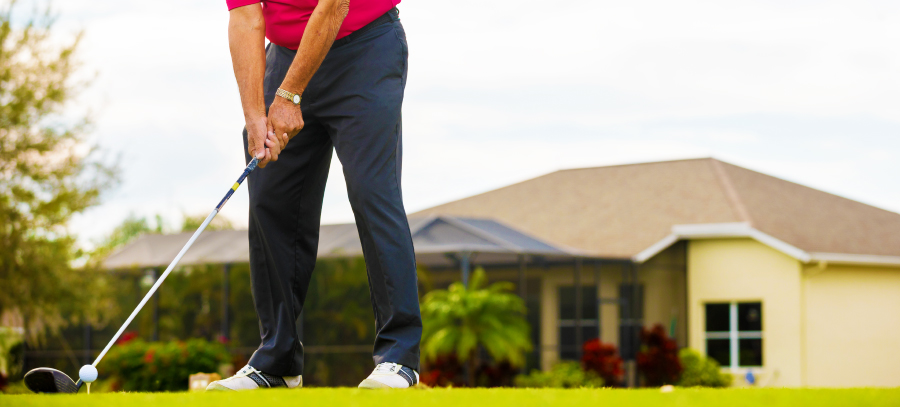 Investing in better golf makes the game more enjoyable. If it's more enjoyable you'll practice and play more frequently.
The more golf you play, the more exercise you're getting, the more supple you'll remain.
Maybe more than your best golf is ahead of you.

If you're a golfer who's settled for their game throughout their playing experience,
or you're a golfer worrying about the impact of a slowing swing speed, we want you to come and see us.
We want to help you set a new level of playing experience.







Regards,
Derek and Sheena