Greetings from Derek
Monday, 26 June 2017

 
Arial pic taken by Sheena last week
How Beautiful is Southbroom?!


The new trees between the 17th & 18th Fairway

We have been doing some tree planting on the course as seen in this photo between 17 and 18

. We have also planted some trees up the right side of the 5th hole which is all looking good. Planning and planting of trees is an ongoing project which goes toward making this the special golf course that it is. We have also done a light dusting of the greens and they should be really good for the classic in three weeks.The

US Open

is on this week and looks to be another exciting major. They are playing on a links type golf course and trying to pick a winner with all the good youngsters around is almost impossible, but I do think that the course will suit our own

Louis Oosthuizen and Branden Grace

.

Phil Mickleson

was another, but he seems destined to miss the Open as he needs a 4 hour weather delay to make it to the tee on time. His eldest daughter graduates on Thursday. I would also love to see

Brandon Stone

have a great week. There are a number of South Africans playing which should make for good viewing.

The Southbroom Slam BB points will be gathered again this Saturday and the big board will be up next week.


Thanks to Steve Lamont for this stunning twilight golf pic

Is our Club Manager and Ace Amateur Golfer

Gavin Sole

sinking this putt? Gav has put up a bottle of wine for the fastest

e-mailed answer

back to us. (

photographer excluded??

)


Going in the hole or what?

| | | |
| --- | --- | --- |
| Well done to Gerald and the Captain's Team! | | Allyson and her victorius Vice Captain's team! |

Last Saturday you could feel a great team spirit as all the players enjoyed their BB stab games and the match to match tussles to determine the winners of the Captain vs Vice.

Captain Gerald Fitzgeralds

comfortably took the honours with 13.5 games to Vice Don's team with 3.5 games, but there were some incredibly close scores within the afternoon.

The Ladies were all dressed in shades of purples and pinks, and Vice Captain Allyson Team scooped the honours with 4.5 games to 2.5 games.

The Bar was packed later with everyone enjoying the Boks win against France and the delicious Ribs & Chips and Fish & Chips! All in all a great day!

Week at a glance

Friday 16th June
Union Motors Business Day AllianceSat 17th June
Men: Bilton Trophy BB Bonus Bogey
Ladies: Noelle Edwards BB Stab

Wed 21st June
Men: Monthly Medal & Ind Stab
Ladies: Ind Medal LGU draw

Fri 23rd June
Men: Bilton Trophy BB Bonus Bogey
Ladies: Noelle Edwards BB StabSat 24th June
Men: Casa Toscana BB Stab
Ladies: Casa Toscana BB Stab

Sunday 23rd June
Southbroom Men's Open
36 holes Medal R260 entry APC pay R100
A Div 0-9 B Div 10-15



Are you giving yourself a better chance to score?

From your full pitching wedge distance, how many clubs (excluding your putter) are you carrying in your bag?
What's the loft on your pitching wedge? Is it 46° or stronger? Do you have a club to fill the gap between the PW and sand wedge?
 Rather than a ¾ pitching wedge that runs out a little,
would you be better off adding a wedge with a loft that allows you to play a full shot, generating more spin and control?
Do you have a club that allows you to land 40-metre pitch shots softly?
Is this a 60° wedge or a wedge that allows you to open the face?

Your scoring clubs are critical to the number of shots you finally register.
If you've never had a short-game or scoring club assessment,






Friday 9th June Individual Stableford
Chicken Run WinnersChris Miller 20 pts
Geoff Skelton 20 pts
Colin Iddon 20 pts
Terry Sheppard 19 pts


Saturday 10th June
Ladies- Capt v Vice BB Stab1st– Augi D'ewes & Anette Scholgen 45 pts
2nd– Lorraine Cook & Eileen Neilson 45 pts
3rd– Karen Asbock & Mary Carolan 43 pts

Vice Captain Allyson Team 4.5 games
Captain Michelle Team 2.5

Men- Capt v Vice BB Stab

1st– Gerald FitzGerald & Bob Clark 49 pts
2nd– Richard Derman & Nic Van Deventer 49pts
T3– Chris Miller & Olliver Ransome 48 pts
T3– Howard Kelly & Dix Vorster 48 pts

Captain Gerald Team 13.5 Games
Vice Capt Don Team 3.5



The 40-metre game
Whatever standard of golfer you are, try and find time to play 9 holes of 40-metre golf regularly.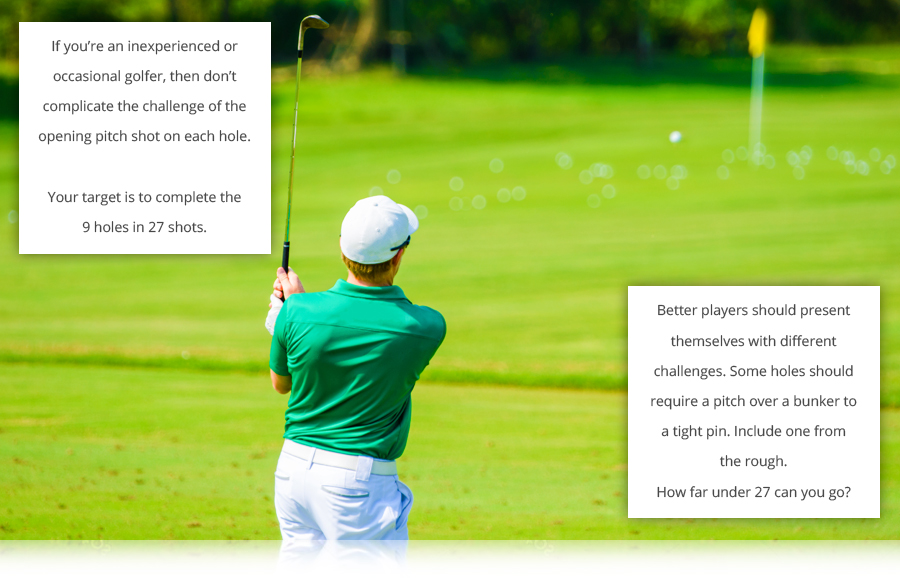 Invest in your short-game, it pays off. Invest in your knowledge and technique, invest in your practice,
invest in concentration. Expect more, and enjoy your golf.










Regards,
Derek and Sheena