Club News

Club Champs weekend!

We are looking forward to a great Club Champs weekend!

Hole-in-one for Derrik Matthew

Derrik Matthew enjoyed his second hole-in-one on Saturday 10 August and no better place to have it than on the 4th hole! Congratulations Derrik! We have now had 3 members with holes-in-one at Southbroom within 3 weeks, that sure feels like a record!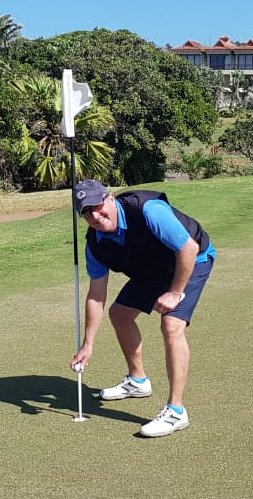 Derrik Matthew hole-in-one on the 4th!
The Presidents Trophies
The Presidents Trophies were played for on Saturday 3 August. Congratulations to Lesley Godley & Jill Webster on winning the Ladies Presidents Trophy. Lady President Irene Schanda presented all the prizes and spoiled the ladies with her signature baking and Mozart treats. It was a lovely afternoon. Sad to say goodbye to Jenny Westray who is moving to Cape Town. We know you will love being closer to your daughter Jen, but you will be missed at Southbroom!
| | |
| --- | --- |
| | |
| All the winners! | Best wishes Jenny Westray |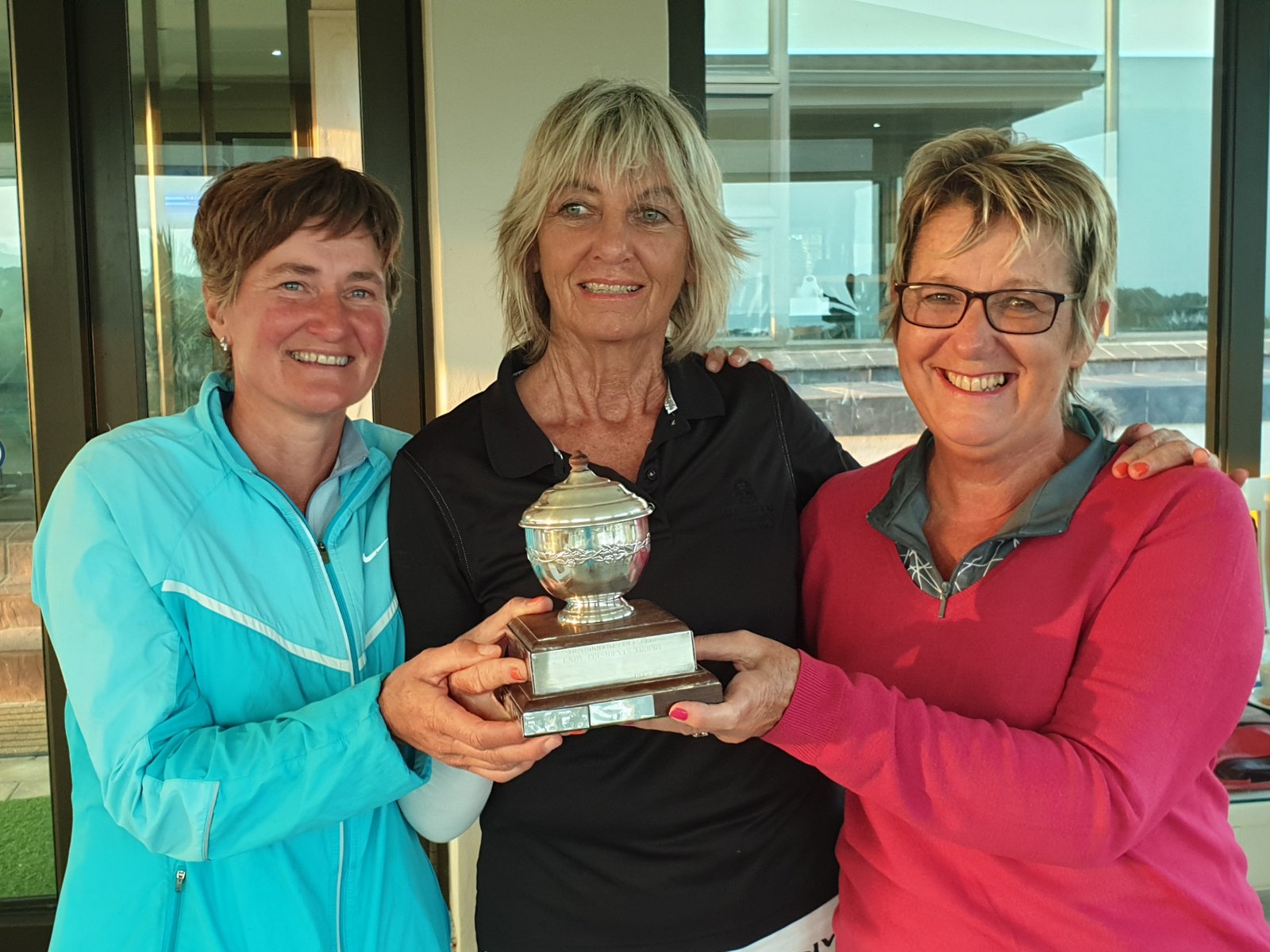 Lesley Godley, Lady President Irene Schanda & Jill Webster!
The Men's Presidents Trophy was presented to Phil Verwey & Martin Hutton by Club President Vic Pretorius. Well played, gentlemen.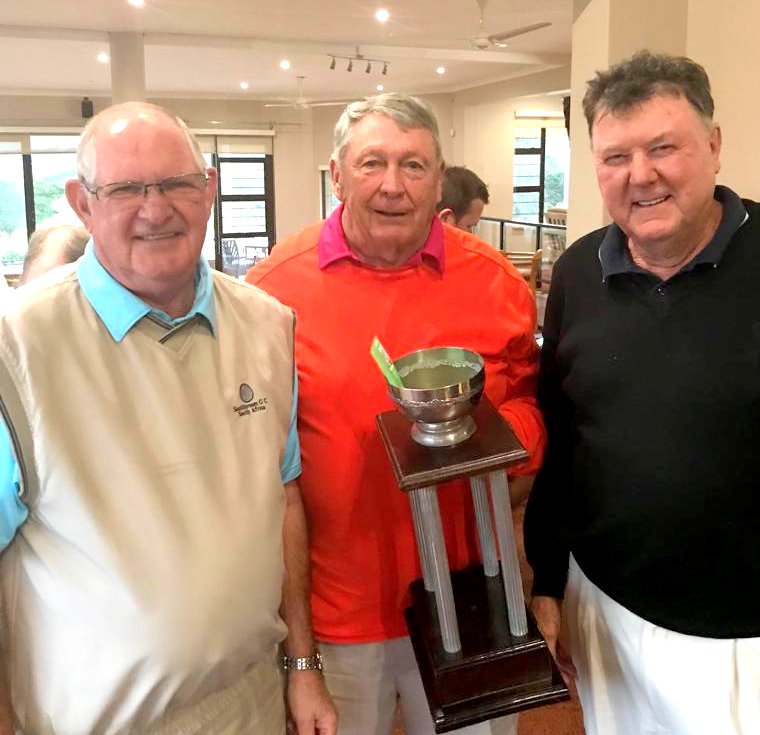 Phil Verwey, Club President Vic Pretorius & Martin Hutton
Condolences | Mary Halle
Well known & well loved Southbroomer Mary Halle passed away this week. We extend our sincere condolences to her beloved husband David Halle and her 3 sons Mark, Ian & Craig Adendorff and to all their families & many friends. A very special, kind lady with an awesome smile and a gardening guru who loved her roses. There will be no memorial as per her request. Rest in Peace Mary.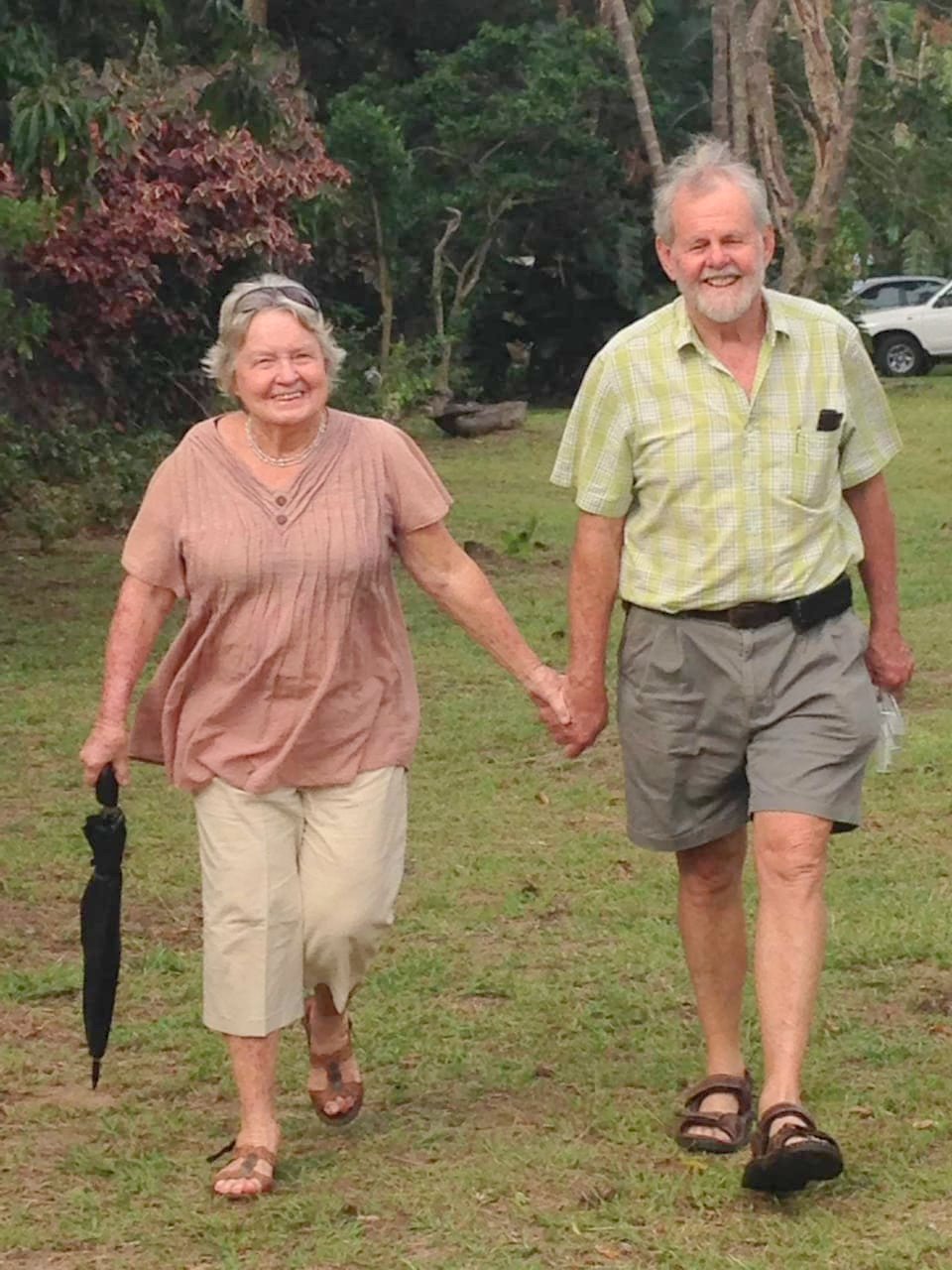 Mary & David Halle
Course maintenance
A touch of course maintenance was underway this week removing the excess silt from the 8th hazard deposited by the excessive rain in April.
What's coming up?
Don't miss the Spring Dinner Dance on Saturday 31 August. Also commemorating Southbroom Golf Club's 80th Anniversary. Book in the office.
The next big tournament coming up is the 6th Mixed Classic in October.See invite below and don't delay if you want to enter as the  maximum field is 28 players! If you can't make it this year but would like to be on the 2020 invite list, please hit the reply button and let us know.
The Score Card
Friday 2nd August
Chicken Run
Colin Mckay – 20 pts
Malcolm Greenland & Wilhelm Steynberg – 19 pts
Saturday 3rd August
Ladies Presidents Trophy – BB Stab
1st – Jill Webster & Lesley Godley – 45 pts
2nd – Margot Vd Gaag & Ghost – 43 pts
T3 – Jean Cole & Trish Amm  & Lynn Doveton & Felix Lund – 42 pts
Men – Presidents Trophy – BB Stab
1st – Phil Verwey & Martin Hutton 51 pts
2nd – Gerard Olivie & Sean Miller 47 pts
3rd – Dennis Kemper & Jonas Molner 43 pts
4th – John Neaves & Rob Meydell 42 pts
5th – Bruce & Derrik Matthew 41 pts
Sunday 4th August
Surf to the Turf Golf Day, Scramble Drive Alliance
1st – Ronnie Mtshaka, Koko Zithumane, Sbu Ntozakhe, Zwe Gumede – 108 pts
2nd – Graham Massyn, VZ Greyling, Matt Cowley & Melissa Eaton – 105 pts
3rd – Sizwe Mbili, Rob Ndovela, Ngilane & Nelson Nhlumayo – 103 pts
4th – Geoff Evans, Glynn, Raeffe Dyer & Lynx Dyer – 100 pts
5th – Theo Peyios, Neville Storbeck, Mark Snyman & Ronnie Wesner – 99 pts
Wednesday 7th August
Ladies – 3 Ball Alliance 2 Scores to count
1st – Shelley Myers, Irene Schanda & Val Volck – 73 pts
2nd – Heleen Hissey, Carol Lamb & Della Kempthorne – 70 pts
Wednesday 7th August
Men – BB Stab
1st – Paul Lawson & Jim Cook – 46 pts
2nd – Derrik & Bruce Matthew – 45 pts
T3 – 43 pts Alec & Ken Crawford – Andre Steyn & Craig Treherne – Gerald FitzGerald & Bob Clark
Friday 9th August
Chicken Run
Andre Steyn – 23 pts
Alec Crawford – 21 pts
Andrew Leckie, Malcolm Greenland, Jan Roos & James Fergus – 17 pts
Saturday 10th August
Open Alliance – 2 Scores to Count
1st – Arthur Lee, Juri Matthee, Malcolm Moorley & Piet Joubert – 87 pts
2nd – Steve Wells, Shelley Myers, Irene & Erwin Schanda – 84 pts
T3 – Dave Page, Bob Carmichael, Derrik & Bruce Matthew – 83 pts
T3 – Derek James, Di Morris, Eli Bachman & Andy Bossard – 83 pts
Wednesday 14th August
Ladies – BB Stab
1st – Sandy FitzGerald & Lorraine Cook – 48pts
2nd – Trish Amm & Sandy pivot  – 43pts
3rd – Heleen Hissy & Della Kempthorne – 40 pts
Men – BB Stab
1st – Vic Pretorius & Bob Carmichael – 42 pts on count out
t2nd – Brian Brasher & Jim Cook, Martin Hutton & Van Zyl Greyling – 42 pts
Spin: friend or foe?
This impacts better players too
Last week we showed how many golfers have a simple swing fault that is robbing them of 21 metres. They strike their tee shots with a slightly descending blow (just 5°) rather than a slightly ascending blow.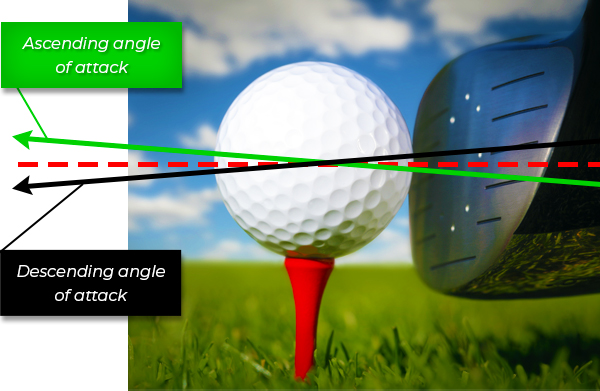 One of the characteristics of better players is a better swing, but it's also often a faster swing speed. However, when we look at most of our better golfers, while they don't strike the ball on the tee with a descending blow, they're often "neutral", so even for them, the distance they're being robbed of is substantial.

Don't let spin rob you
Book an assessment with us and let's find your personal launch DNA: the perfect match of launch and spin for the ball speed you're creating.
Contact us >
It's time to do something
This is wrong, let's reverse the trend
Between 2002 and 2012, the incidence of type-2 diabetes in children increased by 5% according to research done for the Center for Disease Control and Prevention. Further research indicates that we can expect to see an even faster acceleration by 2022.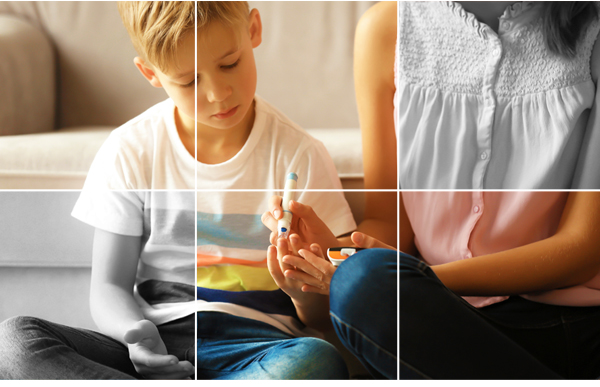 You might think that golf isn't a sport or activity that burns the most calories. You might think that there are more intense sports. But you'll struggle to find a sport that gives a child so much.
We know golf is good for children
If you have a child or grandchild, then let's get them started playing golf. We'll make it fun and enjoyable, social, and active. We want them to be healthier for their whole life. We want them to have those 5 years back. It's time to do something.
Contact us for an assessment >
Regards,
Derek and Sheena