"When you need security for yourself, business or your home, you want to feel confident that protection is top priority."

– Maser Security, leading the security pack Visit our website.

| | | |
| --- | --- | --- |
| Lovely pic taken by Julie Hoste | | 14th Green    |

The US Open is under way at Shinnecock Hills and with the wind blowing, it looks like a really tough test. It looks like a magnificent golf course and someone is going to have to do something special to win. Patience will be one of the keys because it is not the sort of course offering many birdies, so par is all important. Picking a winner is impossible, but Dustin Johnson must feel great after last week and it is always interesting watching the progress of Tiger Woods. I also think Shinnecock Hills has the most beautiful clubhouse in all of golf.
Shinnecock Hills Clubhouse
The winner of the US Open will be great on the greens as 
Retief Goosen
 was when he won at Shinnecock a few years back.


Lady Capt  Michelle  congratulates Vice Captain Allyson on her
team's win

Vice Captain Don Osbourn  presenting the Captain vs Vice Captain  Trophy to Captain Gerald FitzGerald   13/3
Last Saturday was the Captain vs Vice Captain Tournament!
Congrats to Southbroom Captain, Gerald FitzGerald and his team on their resounding 13/3 matches won, and to Lady Vice-Captain, Allyson Thomas who enjoyed a 4 ½ / 1 ½ win.
All the players in the winning teams will receive their token R20 note.  Errol Amm shot a 2 under par 70. One helluva round to break his age and an amazing achievement. He and Gerald came in with a resounding 52 points. Mari Fielden was delighted to break 80 and scored 50 points, together with Di DiMambro.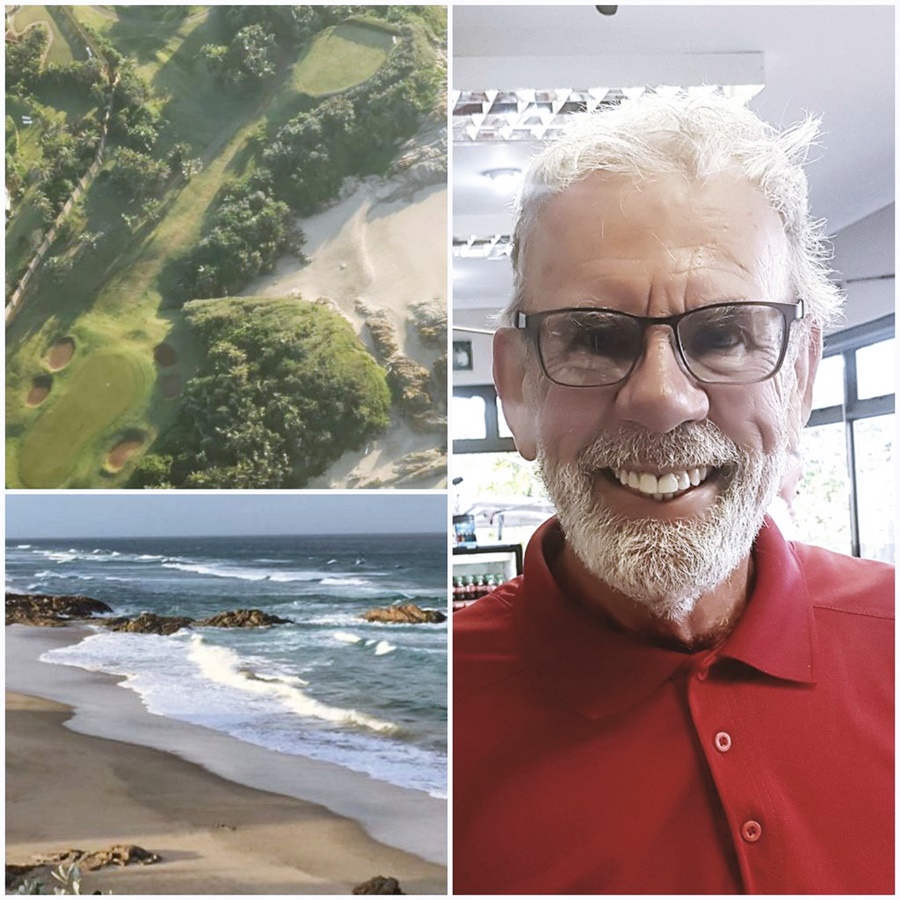 JIM COOK   HOLE-IN-ONE!
The Exciting moment of the day was the news from the course that 
Jim Cook
 had aced the famous 4th Hole. For his 3rd hole in one in his golfing career. Well done Jim!

Rugby & World Cup Soccer season is here! And we look forward to enjoying the big screens in the clubhouse.
Friday– Fish & Chips day Special R60 from 11H00
Saturday – Springboks vs. England 17h00 @ Southbroom Golf Club
Curry Buffet R85
Chicken Curry Veg Curry Pork, Prawn and Butternut Curry with Basmati Rice/Sambals/Poppadum/Chutney/Coconut
For your booking, please call 
039 31 66026
.
The World Cup Soccer lucky draw for teams was done and the board is in the Pro Shop!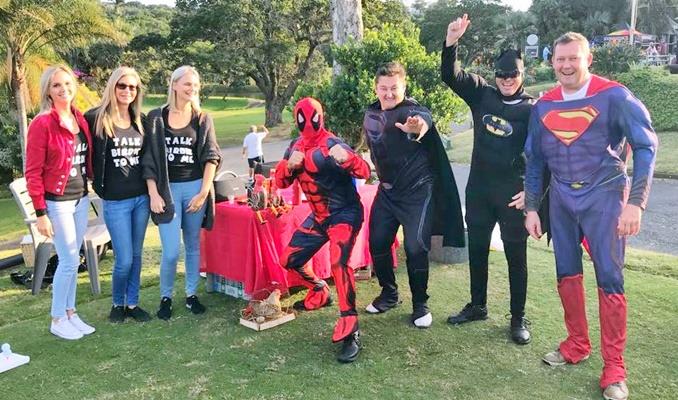 Fun on the first tee  sponsored by Gayridge Poulty Farm
Sharne', Lisa  & Jamie  supporting the  best-dressed Golfers on the first tee,  Super Heroes! John, Billy, Bruce & Richard!
The Annual Tuna Angling Club Fundraiser was another festive day and social media is enjoying a load of fun group pics from the various hole sponsors. It's always great to see the younger local business owners and their families & mates playing and enjoying Southbroom ~ especially with all the energy and vibe that they bring. The best dressed team made everyone smile – hidden in their crazy costumes are John Caple of Gayridge Chicken Farm (
Our awesome sponsor of the Friday Chicken Run!
).
Billy Lorenzo-The Tuna day Organizer. Richard Mills of Hibiscus Hospital & Bruce Cunningham.

The 28th Men's Amateur Classic
The Classic is but a few weeks away on the 9th, 10th, 12th & 13th July We have a great entry with over 160 players coming from all over South Africa. There are a few limited spaces still available.
Enter to play in the 28th Southbroom Amateur Classic – 4 days of BB stableford at "The most popular club in KwaZulu-Natal" -Compleat Golfer, where you can look forward to an action-packed week of spirited competition, great prizes, live music & entertainment.

Players 19 years or older and affiliated to any recognized golf club are welcome.
The maximum handicap for the tournament is 21 and players must be able to verify their handicaps.
Entry is limited to 180 players, so don't delay, enter today!

Spoil your dad this Father's Day, 17 June
Srixon Special – Get 2 sleeves of Srixon Soft Feel, UltiSoft or AD333 for just R100, you save R80!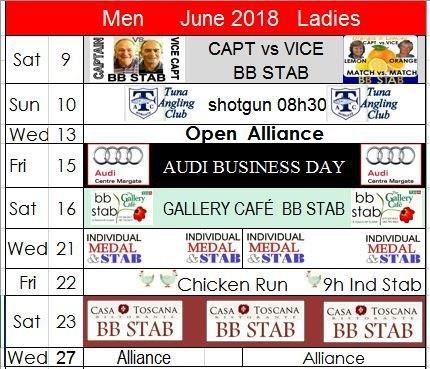 Friday 8th June – Chicken Run
Chris Miller 24 pts
Bones Coertzen 22 pts
Nic Van Deventer 21 pts
Geoff Skelton, Paul Lawson & Dave Fox 20 pts
Saturday 9th June – Ladies- Capt v Vice Capt
Captain Michelle = 1.5 Vice-Captain Allyson = 4.5
BB Stableford
1st– Mari Fielden & Di DiMambro 50 pts
2nd– Allyson Thomas & Heleen Hissey 47 pts
3rd– Jenny Westray & Rita Kinghorn 46 pts
Men's- Capt v Vice Capt
Captain Gerald =13 Vice-Captain Don = 3
BB Stableford
1st– Gerald FitzGerald & Errol Amm 52 pts
2nd– Bruce Matthew & Det Wichmann 50 pts
3rd– Gordon Moody & Kerry Fielden 49 pts
4th– Dave Page & George Wright 47 pts
Winner of the La Cappannina Voucher – Nearest the Pin 14th: Janet Humphrey
Sunday 10th June – Tuna Angling Golf Day- Scramble Drive Alliance
1st– Grant Richards, Walter Kuhn, Heinz Engelbregt & Rowan Schoeman 117 pts
2nd– Jarryd Charlton, Kobus Van Wyk, Colin Whitely & Dimitri Courtelis 115 pts
3rd– Henk Nortje, Henk Nortje Snr, Etienne Du Plessis & Johan Meyer 114 pts
4th– Craig Jolliffe, Brad Elliott, Johan Neethling & Jaco VD Vaal 114 pts
5th– Chris & Jo Ledden, Grant & Erica Walker 110 pts
6th– Derek James, Dane Adendorff, Howard Kelly & VZ Greyling 109 pts
7th– Gary Bollinger, James, Donovan & Craig 108 pts
Wednesday 16th June – General Alliance
1st– 96pts Bob Thomas, Allyson Thomas, John Neaves & Lizzie Currie
2nd– 93pts John Fox Norman Farrell, Don Osbourn & Russell Mackenzie
3rd– 92pts Mike Lig, Colin Steyn, George Haswell & Jean Corfe
c/o Gerald & Sandy Fitzgerald & Errol & Trish Amm
Winner La Capannina Voucher – Nearest the Pin 4th: Gavin Sole



Course designers are clearly
in league with golf ball manufacturers.

How many golf courses have a
Par 3, about 5 Iron distance,
with water on the right?

They know that an Iron over 38"
long and less than 28° of loft
has a good chance of going right.
Ten years ago, we told you that your
4 Iron loft had strengthened to become
the same loft as the previous year's 3 Iron.
Your 5 Iron will today will have the same
loft as that 3 Iron.
Without question, most golfers ought to be
replacing their 5 Iron with a Hybrid.
They should be investing in improving
their technique. And smiling as they walk
up to their ball on the green. It makes it easier
to enjoy the geese! It also means you're
buying less golf balls.

Bring your problem distance to us. Let us spend time whether improving your technique with an existing club,
or filling the gap with a better solution. Come and spend 45 minutes with us,
and let's see how best to fill that gap.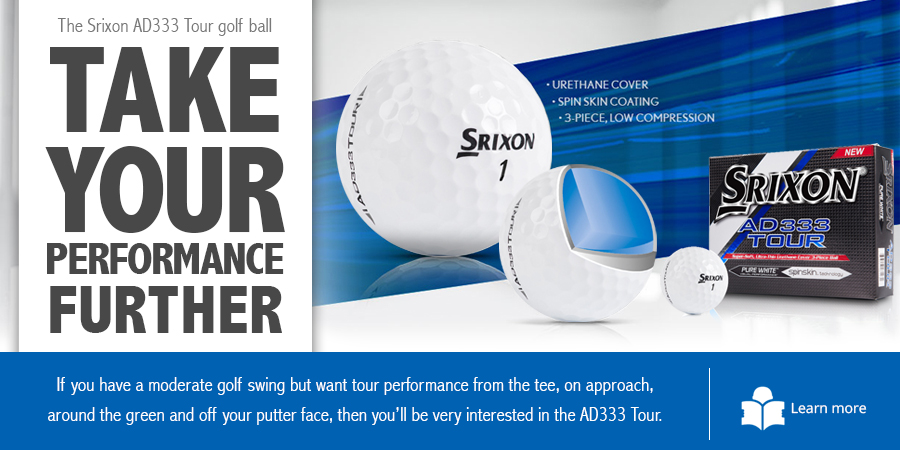 We want more golfers to have a great experience out on the golf course.
To do that, you don't have to take on the same challenge as
Tiger Woods, Rory McIlroy, Jason Day, Louis Oosthuizen, Shangsan Feng or Lexi Thompson.
In fact, you already don't play the same length golf course they do.

So, let's play more formats that make it more enjoyable for more golfers.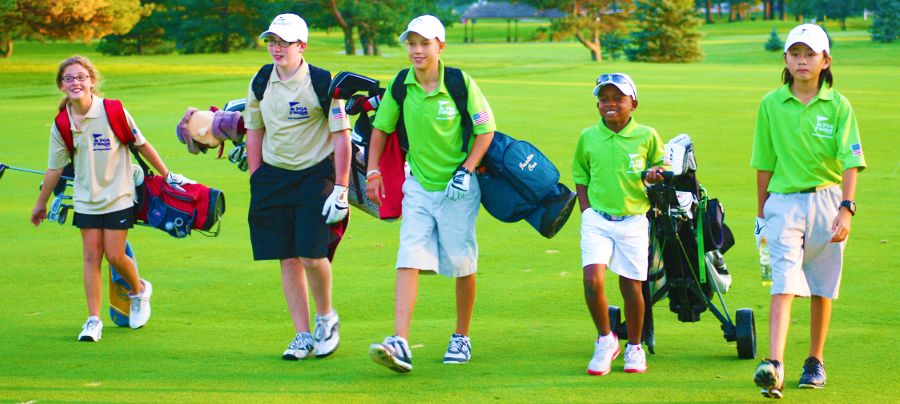 PGA Junior League is a format that combines a competitive element with a game that stays 'in play' longer
(2v2 over 3×3 holes), with the playability benefits of a Scramble format.

There are 3 'flags' to be won. If you're playing 18, why not play 2v2 better ball scramble, over 3×6 holes?
 And actually, why not find time to
play nine in this format (3×3 holes),
before or after your day?

Or nine on a Sunday afternoon
with the family?
You can still have friendly competition, but it's likely that this is a much more social format:
you come together on the tee; for the 2nd shot; and on the green. That's more fun together.

Try it. Try and think of different ways to play the game, to allow the less skilled the opportunity to
get much more enjoyment from the experience. Or for you to change it up and enjoy yourself more.

And if you need help finding more fairways on your own, then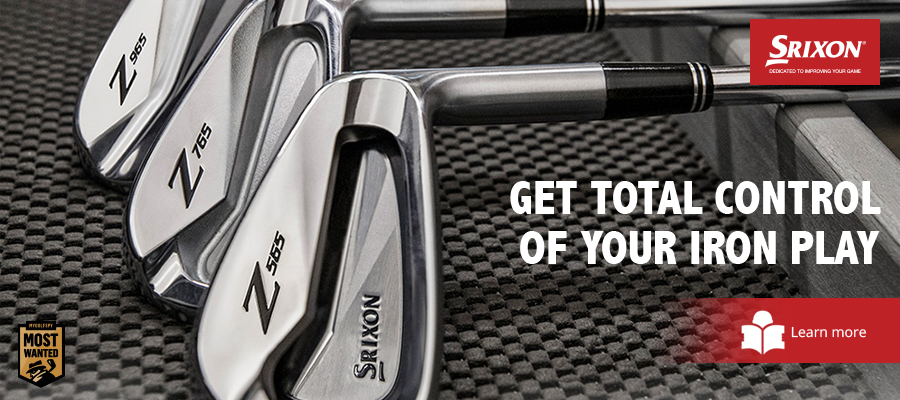 Regards,
Derek and Sheena