Greetings from Derek
Saturday, 16 December 2017

Well done to Heiner Spoerri for his hole-in-one this week on the 11th hole at Southbroom. A hole-in-one is always very special, but even a little more special when it is a beautiful hole like the 11th where you can watch the shot all the way! Heiner hit a superb little 5 wood for his second ace  in his golfing career and his first in a competition.

| | | |
| --- | --- | --- |
| Heiner Spoerri | |  Di Morris, Lady President Irene Schanda and Augustine D'Ewes |

And to the Ladies 2017 Gerrys Jug Winners – Di Morris & Augustine D'Ewes knocked out Jeanette Peyios & Mari Fielden to scoop the honours.


Ladies Christmas fun! 

The Ladies Christmas Golf 9 Holes followed by lunch was well attended and the ladies embraced the bush safari christmas theme. They found some tees in interesting wild places and played some quite different holes. The fun alliance was a real challenge in a ridiculously gusty wind! The Kitchen produced a delicious meal along the theme, including a biltong and feta quiche and delicious cranberry ice cream in sugar cones!

To quote from the ratepayers newsletter:

Exciting news, our wonderful local chef, Brandon Bisset, is now the consulting chef at the golf club so delicious food has become the norm…but at golf club prices…which is an exceptional benefit to have on our doorstep. Add to this the magnificent setting of the club, the welcoming staff and the family-friendly ambience – and we are onto a winner! Throughout the holiday season "Supper on the Patio" will be a welcome feature, with special menu options for the little ones. So Moms take note: after a long day on the beach don't head for the hot kitchen – head for the long cool drink on the golf club patio, followed by a relaxed supper …now that's a real holiday!

Southbroom Golf Course is looking wonderful, if a little wet, after all the rain. Our greens are great and we hear daily how golfers are enjoying playing the course!

Our shop is full of wonderful goods for Christmas and going into the new year, so  miss the crowded malls  come in for a really good shopping experience. We do look forward to giving our members and guests a great time.


New Stock arriving daily 


The Junior Club Champs is on Tuesday and the Club House is going to be rocking on Thursday night with The Gentry live band. There are some great events coming up,so be sure to book in the office!

The Spooner Rose Bowl Trophy

 is a Mixed Greensomes format on Sunday the 17th.

Junior Club Champs is Tues 19th from 7.30 onwards  – all Juniors welcome!


Save the Date
Carols in the Park : Sunday 17th December @ 6pm    Special guest Winson Smile
Southbroom Golf Club AGM : Tuesday 19 December @ 6pm
Ratepayers AGM at Southbroom Golf Club : Saturday 23 December @ 9am
Southbroom Conservancy AGM Sat 6th Jan 9am 2018




 
 Great news is O'Nelly's Vintage Grill has opened in the Driftwood Centre! 039 316 6126
They will be open from 7am till 8pm.   Serving Gourmet Burgers, Ribs and  Breakfasts to Go with good coffee
You will find them next to O Nelly's Pizza, Ola's and Artisans Republik!

The Southbroom New Years Beach party is happening again, see poster below!

| | | |
| --- | --- | --- |
| | |  Southbroom Main Beach |

Fri 8th Dec
Chicken Runners
Bob Clark – 21 pts
Derek James – 20 pts
Russell Mackenzie – 19 pts
Mike Jacquet – 17 pts
Tim Hayter – 17 pts

Saturday 9th December
Ladies – BB Stab
1st – Sharon Turnbull-Jackson & Della Kempthorne 39 pts
2nd – Solange Fox & Di Morris 38 pts
3rd – Irene Schanda & Augie D'ewes 36 pts

Men – BB Stab
1st – Dave & John Fox 45 pts
2nd – Malcolm Greenland & John Whitnall 45 pts
T3 – Art Germs & George Haswell 44 pts
T3 – Olliver Ransome & Mike Jacquet 44 pts
T3 – Malcolm Moorley & Cleve Walker 44 pts

Wednesday 13th December
Ladies – 3 Ball Alliance
1st – 87 pts Janet Humphrey, Sandy Luus & Tammy Murphy

Men – Alliance
1st – 95pts: Roy Deakin Roger Hissey, Graham Sole & John Whitnall c/o
2nd – 95pts: Jannie Ackerman, Russell Mackenzie, Malcolm Greenland Colin McKay
3rd – 94pts: Derrik Matthew, Bruce Matthew, Kevin Daly & Andy Bladon

Hole-in-One: Heiner Spoerri, 11th Hole

Thurs 14th Dec
Ladies Bush Christmas Golf 9h Alliance
1st – 63ts Lan Yeadon, Maeve Mullane , Anne Faber & ghost Candida
2nd – 62pts Candida Amm, Jenny Westray, Lyn Doveton & Jackie van Eeden

Nearest the Pin : Jenny Westray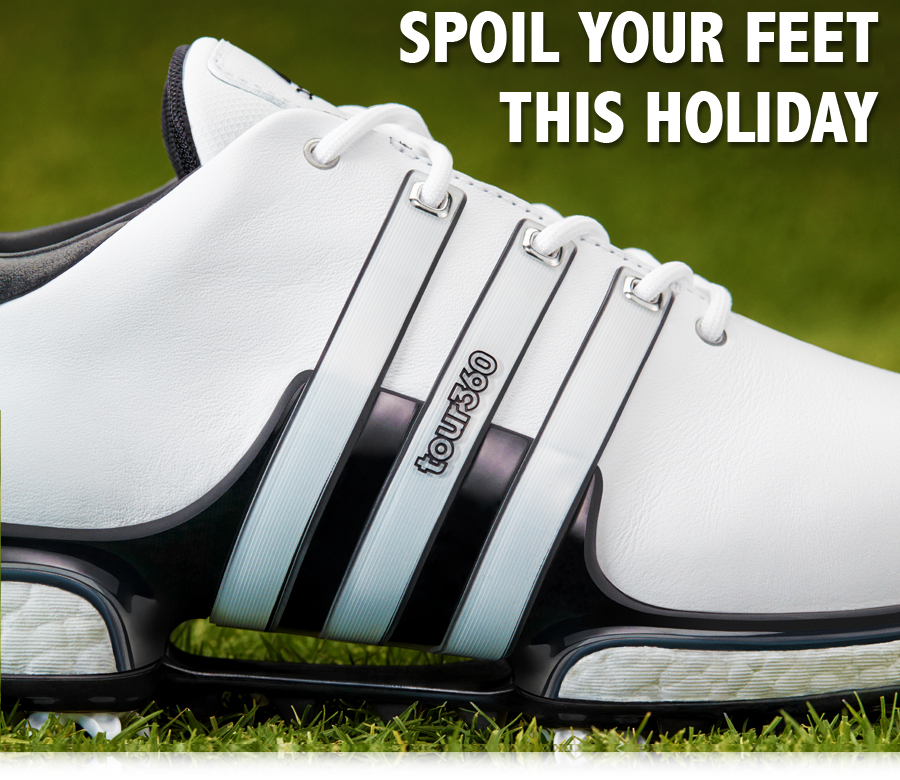 Come and see us in the shop and let us find the perfect-fitting golf shoe.
adidas TOUR360 Boost.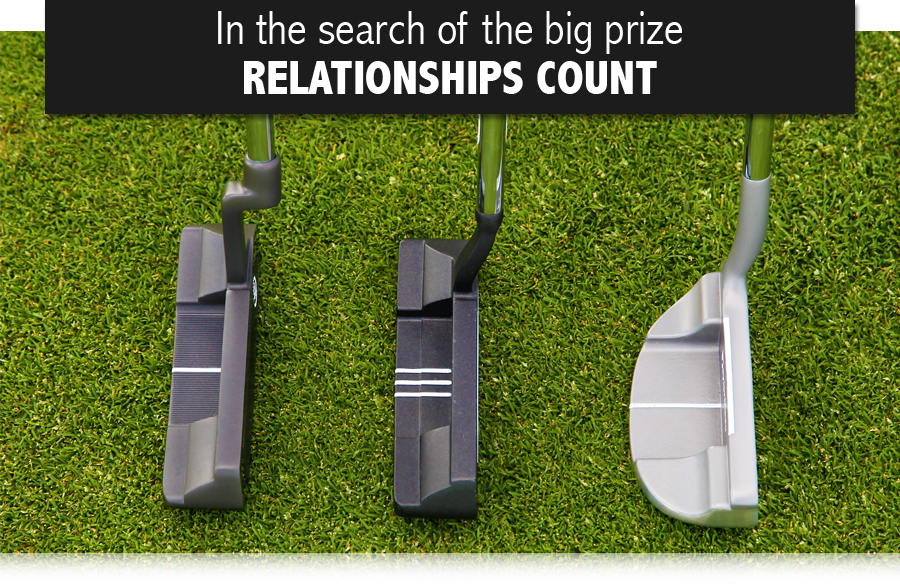 If your putter face is just 2° open at impact and you miss from 6 feet, then consider
the impact of the different designs above.










Regards,
Derek and Sheena