Greetings from Derek
Saturday, 13 January 2018

| | | | | |
| --- | --- | --- | --- | --- |
| 7th green | | Holed it! | | Tranquil sunsets |

It's been a quieter week as many holiday makers with school kids start to leave the coast after a great summer break, but daily we start to welcome back all the swallows from Europe and the other travellers who take advantage of the less frenetic post holiday season! The various committees are starting to meet at the club and we look forward to a great year of golf ahead.

Dates to diarise for our '2018 Majors' are:

Southbroom International Shootout
Southbroom Ladies Classic
Southem Men's Amateur Classic
Southbroom Mixed Classic
Feb 9, 10 & 11 2018
May 6, 7 & 8  2018
July 9,10,12 & 13  2018
Oct 13 & 14 2018

The 2018 Ladies Committee is …

… and we will take a pic of the new Executive Committee (EXCO) when the Bridgefords arrive home shortly!


Peter Volck and Paul Lawson Winners of the 2017 Bertie Brown Knock Out!

The 2017 Bertie Brown Knockout Winners are back in the village s: 

Peter Volck & Paul Lawson

 were presented with the Trophy and vouchers on Saturday evening by Club Chairman John Fox.

Congratulations Gentlemen – the Honours boards should be updated shortly!


Norman Farrell & Arthur Lee

The last Dad's Army competition of 2017 was played on the 19th of December.
Arthur Lee won the competition with Norman Farrell coming second.

Nicci & Massimo Negra have recently opened The Swallow Bar serving drinks and tapas alongside the Trattoria Restaurant. It's open from 1pm onwards, and it's a gorgeous setting to relax by the river. Later on in the evening +/- 7.15 pm watch out for the swallows circling before they come in to roost for the night in the Umkobi River reed beds.

Thanks again

to all our Members who enjoyed 

The 21st Pro Day

 on 23rd December 2017, and a HUGE thank you to all our amazing Sponsors who make the day so special.




Everyone has at least one hole that
spoils the card or round too often.

If it's a long Par 4, for most of us,
it's usually not the tee shot that causes us the challenge.

The approach shot often requires a long iron / hybrid.

Imagine you've hit the perfect shot.
Now just three simple questions.




"As you walk down the fairway of life, you must smell the roses, for you only get to play one round " ~ Ben Hogan
"Golf is the infallible test. The man who can go into a patch of rough alone with the knowledge that only God is watching him and play his ball where it lies, is the man who will serve you faithfully and well " ~ P.G. Wodehouse
Saturday 30th December
Southbroom Major Alliance
2 scores to count ,3 scores on 7.8.16 &17 All 4 scores on 9 & 18
(Lighting interfered with play so Comp reduced to 9h scores )
Front 9
1st 61 pts Gary Purtell, Malcom Greenland, Colin McKay & Ross McKay
2nd 51 pts Chris Ledden, Udo Goedeke, Frank Goedeke & Russell Gibson
Back 9
1st 53 pts Mark Burnett, Dean Middlemas, Charlene Diner & Craig Treherne
2nd 52 pts Michelle Davies, Gordon Huddy, Gill Huddy & Dale Huddy
Nearest the Pins
4th Ross McKay
8th Nick Riemer
11th Ian Omand
14th Biffy Dunn
Wednesday 3rd January
Ladies- Alliance
1st– Allyson Thomas, Glynis Nisbet, Wendy Huddy & Laura Bekker 92 pts
2nd– Shirley Jeffery, Augi D'Ewes, Lindsay Owen & Ghost 87 pts

Men- Alliance
1st– Bob Thomas, Chris Miller, Wilfred Bessell & Paul Cole 101 pts
2nd– John Whitnall, Peter Leeming, Malcolm Greenland & Colin McKay 95 pts
3rd– Kerry Fielden, Dave Page, Steven & Gordon Moody 94 pts

Saturday 6th January
Ladies- Alliance
1st– Sandy Luus, Jeanette Peyios, Shelly Myers & Irene Schanda 96 pts
2nd– Michelle Davies, Rene Matthew, Allyson Thomas & Jean Corfe 95 pts
Men- Alliance
1st– Jim Cook, Garth Strong, Chris Miller & Paul Cole 99 pts
T2nd– Arthur Lee, Stuart Janvier, Piet Joubert & Rob Williams 98 pts
T2nd- Pierre van der Walle, Kerry Fielden, Gordon Moody & Dave Page 98 pts
Wednesday 10th January
Ladies- BB Stab
1st– 47 pts Shelley Myers & Jean Corfe
T2nd– 45 pts Solange Fox & Margi Sherratt
T2nd– 45 pts Lorraine Cook & Sandy Fitzgerald
Men- BB Stab
1st– 51pts Craig Treherne & Roman Slepika
2nd– 50pts Gerald Fitzgerald & Paul Cole
3rd– 49pts Roger Hissey & Derek James
2017 Bertie Brown Knockout Winners
Paul Lawson & Peter Volck

R/up Gerald Fitzgerald & George Haynes




Operation 36: A shot to Master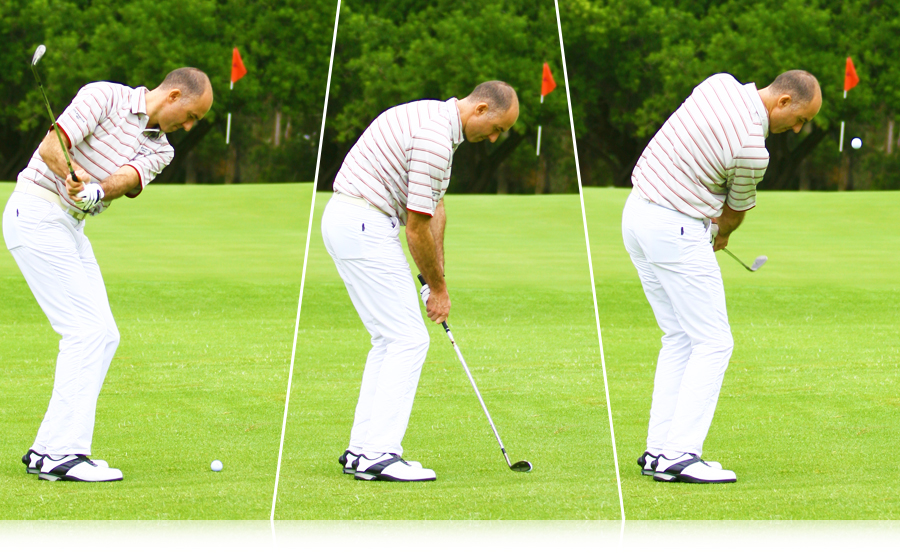 If your handicap is 15 or above, then review your performance and technique on this shot.
It's the short-pitch shot (between 15 – 50 metres). For most golfers, a 27 – 55 metre shot.
If you're taking 3 or less to get down from here, every time, then your handicap should be dropping.
It's worth investing some time and effort into improving and practising your technique.










Regards,
Derek and Sheena