Club news

Wishing all our readers the very best for 2019!

Now that was a non-stop season! Southboom was 'choc-a-bloc' full as was the beach with many happy families enjoying all the village facilities. Christmas Lunch at the Club was full and the New Year's party was good fun. The morning  06.30-08.30 times for golf were extremely popular as always and the afternoons were steady. Always great to see the returning home owners and regulars, especially the families with all the different generations. A few commented they had been to Plett for the last few years and couldn't wait to get back to Southbroom with its lovely laid-back, relaxed vibe! There were also many first-time visitors to the club and course, which is always lovely to see and listen to their feedback & their reactions!
Welcome 2019!
Main Beach at capacity!
Umbrellas as far as the eye could see
Thank you!
Thanks to Tim & Lee Hutchinson for their great sponsorship of theannual  Douglas Green Bellingham Golf Day!Always a popular day and  this is one of the longest standing sponsor days we have!
 Sharon Turnbull Jackson & Della Kempthorne
Delighted First Place winners in the Ladies field
Cracking the Day with First Place honours, John Pinnoy and Bones Coertzen. Just thrilled to finish first!
Thanks to the Pro Shop suppliers for helping make The Pro's Day a special one. Hearty congrats to first place finishers Dave Page & George Wright & Karin Asbock & Hannah Hierhold.
Another thanks to all the Members for supporting The Major Alliance Club fundraising day on the 5th Jan 2019. A great way to start the year!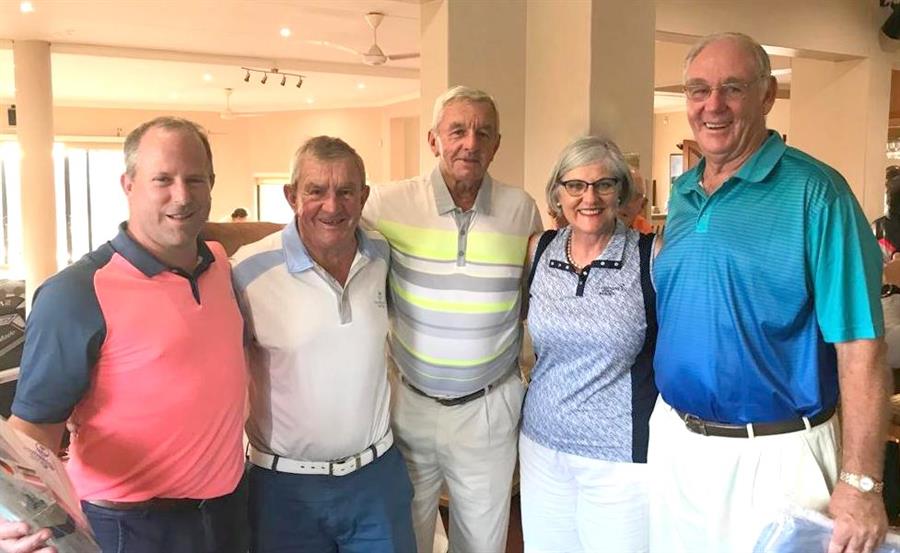 Lady Captain Allyson Thomas enjoyed presenting First Place team with their winnings
Congratulations Greg Fox, Dave Fox, John Fox and Bob Thomas!
Bob shot 69  breaking his age on the day  & on the Pro Day!  Awesome Golf Bob!
Congratulations …
The FootJoy Cooler Box Sock promotion was drawn and won by Warren Petersen. Here is his delighted son Bradley collecting it to take home to the family! We so enjoyed seeing this awesome family & friends pic posted on facebook. Thanks to all involved for letting us use it as well! Great people, lovely vibe. Hope to see you all at Easter if not before!
 Bradley Petersen
Making great holiday memories!
Super pic of the  Petersens, Omands, McDonalds, De Klerk and Edwards families
The Ladies Christmas Hamper was won by Lynn Blackstock and 2nd place Gjetrud Kok.
Upcoming events
The Score Card
Pro Day: Saturday 22nd December 2018
Men – BB Stab
1st – Dave Page & George Wright 44 pts
2nd – John Neaves & Norman Farrell 43 pts
3rd – Johan Wentzel & Riaan Croucamp 43 pts
4th – Gary Brackley & Simon Shusha 42 pts
5th – Anton Verster & Pippie Kemm 42 pts
Ladies – BB Stab
1st – Hannah Hierhold & Karin Asbock 41 pts
2nd – Candida Amm & Jean Corfe 41 pts
3rd – Biffy Dunn & Michelle Davies 40 pts
4th – Jeanette Peyios & Lynne Blackstock 39 pts
5th – Karin Asbock & Christa Sistermann 38 pts
DGB Day: Saturday 29 December 2018
Men – BB Stab
1st – John Pinnoy & Bones Coertzen 44 pts
2nd – Dave Fox & Greg Fox 43 pts
3rd – Cyprian Xolo & Simon SHusha 42 pts
4th – Bob Carmichael & Brian Hoggart 42 pts
5th – Bruce Matthew & Paul Lawson 42 pts
Ladies – BB Stab
1st – Della Kempthorne & Sharon Turnbull Jackson 42 pts
2nd – Lan Yeadon & Jeanette Peyios 39 pts
3rd – Irene Schanda & Candida Amm 37 pts
4th – Lynne Blackstock & Lee Varrie 36 pts
Wednesday 2nd January 2019
Alliance
1st – Kevin Murray, Eugene Orsmand, Nic Van Deventer & Dawie Rynners 79 pts
2nd – Dominic, Grant & Darrel Caister & (Ghost) 73 pts
Saturday 5th January 2019
Major Alliance, 2 scores to count, 3 scores on 7 & 8; 16 & 17, all scores on 9 & 18
1st – Bob Thomas, Greg Fox, Dave Fox & John Fox 104
2nd – Allyson Thomas, Sandy FitzGerald, Lynne Blackstock & Janet Humphrey 102 pts
3rd – Rhona Topka, Helene Linder, Piret Vilborn & Hannah Hierhold 101 pts
4th – Malcolm Greenland, Colin Mckay, Peter Leeming & Gary Purtell 98 pts
Wed 9 Jan 2019
Men's Alliance, 2 scores to count
1st – 91 pts Norman Farrell, John Neaves, Olliver Ransome & Rob Meydell
t2nd – 86 pts Andre Steyn, Craig Treherne, L Van Schalkvwk & Christer Solgevik
t2nd 86 pts Jim Cook Malcolm Dunn, Mark Becker & Laurie James
Ladies Alliance 2 scores to count
1st – 81 pts Candida Amm, Sandy Fitzgerald, Michelle Davies & Janet Humphrey
t2nd – 79 pts Jenny Westray, Di Morris, Lynn Doveton & Felix Lund
t 2nd 79 pts Biffy Dunn, Lesley Godley, Jeanette Peyios & ghost
Revealing the lie
The key to accuracy is flawed
We suspect that you all realise that the lie angle on your irons is of paramount importance to your
ability to hit solid and accurate approach shots.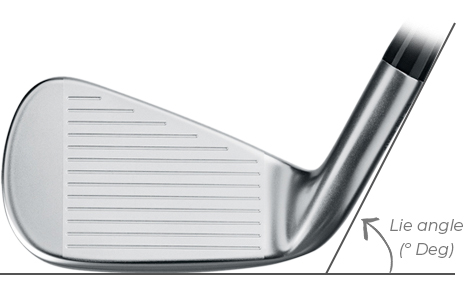 You may even have read the research that reveals that for every 1° your lie angle is
too flat or upright, you'll be 10 feet wide of the target with a perfectly hit #5 iron.
So you'd appreciate why we're alarmed by some research we did ourselves.
The standard lie angle for different brands is different!
That's right, the first three models we checked (all game improvement models)  from three different brands,
all had different standard lie angles! That means you might be standard with one
model and 1° upright with another.
Every purchase needs a fitting
No one should buy golf equipment (any golf club)  without a fitting. As this research shows,
even for the most important component of an iron; the part that controls accuracy; it's critical
to get fitted for your swing AND the model being selected.
Make it easier to hit better golf shots.
Get fitted >
The best for you
Why make this journey?
We want to help as many of you as possible find new levels  of joy and fulfillment from your golf.
Experience that sweet moment, when you make perfect contact and the ball flies high and long,
and you know why you come back again.
We want more smiles. More times that you follow your shot and think "How cool is that!".
More moments of joy. More causes for celebration.
If inconsistent ball striking
blights your game
let us improve your ability to make solid,
square contact.
Get a better experience
What would cause you to smile more often on the golf course? What would give you cause for celebration?
If "greater consistency" of ball striking will help deliver a smile or celebration,
Contact us >
Regards,
Derek and Sheena