Southbroom Golf Club, 
Captain Smith's Road, Southbroom
GPS:  30°55'03.26″S  30°19'20.48″E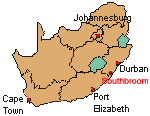 The pleasant, scenic drive to Southbroom takes just over an hour from Durban International Airport and its freeway all the way.
Travel south from Durban along the N2 (which later becomes the R61).  There is one toll plaza en-route at Port Shepstone. The village of Southbroom is at the end of the toll road, 7 kilometers after the Margate/Ramsgate off-ramp, and is served by two entrances, north and south.
At the Southbroom north entrance traffic lights, turn left into Southbroom Avenue and follow the signs to the clubhouse.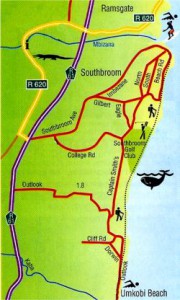 The Southbroom south entrance is convenient to those traveling up from the Eastern Cape. Turn right and keep right into Outlook Road, then turn left into Captain Smith's Road. The fairways will lead you to the clubhouse and parking area, past the pro shop on your left. Both routes have directional signage to the Club and any number of friendly locals that will help you along the way should the need arise!
Allow yourself enough time to enjoy the scenic drive through the tropical village and along the main beach coastal headland. The ocean views are terrific. The Southbroom Pro Shop experience also warrants an early arrival.
There are fabulous bed & breakfast establishments and guest houses in the village, click the link to go to our accommodation listings,  and the Southern Explorer ensures that golfers, and their non-golfing partners, can explore the treasures of the South Coast.
The Southbroom website has loads of information on the area and if you intend touring and golfing in South Africa, contact a preferred  golf tour operator.